Fonacab IFA Junior Cup
Willowbank     1
Enniskillen Rangers     1
(AET, Willowbank win 4-2 on penalties)

WILLOWBANK clinched the Junior Cup in dramatic circumstances at Shamrock Park on Tuesday night as a penalty shoot-out success prevented Enniskillen Rangers from a fourth successive win in the competition.
The West Belfast side, who ply their trade in Division 2A of the Northern Amateur League, took the lead just before the break when captain Eamon Hughes scored a contentious penalty.
They looked to have done enough to hold on, but a goal from Jason Keenan, who had looked dangerous all evening took the game to extra-time while the holders were reduced to 10 late on when defender Michael Kelly was sent off.
Willowbank then lost their numerical advantage deep into extra-time when Pearse Devine picked up a second booking as the game went to a shoot-out.
Goalkeeper Ciaran Kelly proved to be the hero for Willowbank as he scored his side's third spot kick before saving from Richard Johnston to ensure a famous victory for Declan McCrory's men.
Speaking after a highly entertaining decider, McCrory paid tribute to the determination and desire of his charges.
"We were the better team by far and in possession, they couldn't get near us – they were chasing shadows in the first half," said McCrory.
"In the second half, it was unchartered terrority for us and some of the boys began to sit a bit deeper and invite pressure.
"They got a bit of a soft goal and they managed to hold on for extra-time. We brought on young Declan Gill, he is only 16, and he was carrying the game to them. He picked up a bit of an injury late on, but I felt we deserved it.
"I still can't believe it. These boys are unbelievable. Not a person gets one pound off this club. They've been here from U10 right through and they wouldn't be anywhere else. They could all play at a higher level, but they want to play for Willowbank."
Portadown's Shamrock Park was in pristine condition for Tuesday night's final, played behind closed doors and the first chance of the game fell to the lively Connor McCullough, but the Willowbank winger couldn't get enough on his shot and it drifted wide of the target.
Willowbank probably enjoyed the bulk of possession early on, but Enniskillen showed just why they had landed the last three Junior Cups when they created a great chance against the run of play.
Mark Cutler's delivery into the box found Keenan unmarked, yet the striker fired over the bar with the goal at his mercy.
Devine and McCullough had half chances to open the scoring for the West Belfast outfit while Keenan remained the man most likely to score for Rangers.
Indeed, with 30 minutes gone Keenan pinched the ball from Willowbank defender Ciaran Manson, but his shot was palmed away by Kelly.
Manson recovered well to ensure Keenan didn't get a second bite of the cherry.
McCullough then forced Gareth Barbour into action at the other end following a great cross from Ryan McAreavy.
Moments later, Willowbank looked to have been denied a clear cut penalty when Ciaran Winchester appeared to be bundled over inside the box by Enniskillen's Michael Kerr.
The Amateur League side continued to press late in the half before they were awarded a penalty on the cusp of half-time.
The same two players, Winchester and Kerr were involved, but the claim wasn't as obvious as the previous one, but referee Gavin Morgan pointed to the spot and Willowbank skipper Hughes smashed home the penalty in emphatic style to put his side 1-0 up at the break.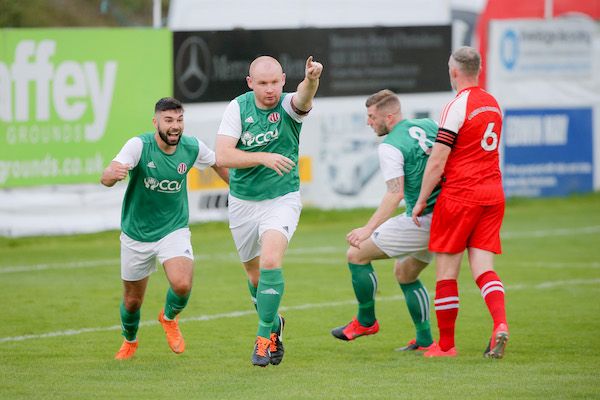 They should have doubled their advantage on the restart as a great move involving Thomas McCrory and McCullough played Devine through on goal, but his shot crashed off the crossbar three minutes into the second half.
A foul on McCullough on 55 minutes gave Hughes a chance to bag his second from a close-range free. Despite an excellent strike, the ball sailed narrowly wide of the post.
Minutes later, Rangers almost scored the equaliser when James Turley's ball played Keenan in behind. He looked certain to score when Kelly committed too soon, but his chip drifted left and hit the post as Willowbank breathed a sigh of relief.
Midway through the second half saw the Fermanagh and Western side enjoy a sustained period of possession, but with Hughes acting as his side's defensive anchor, shots on goal were hard-earned.
As both management teams made changes, the game became a little disjointed and that seemed to suit Enniskillen and the plundered an equaliser with 77 minutes played.
Christopher Currie's cross took a deflection and Keenan managed to get enough on the ball to direct it past Kelly while substitute Stuart Rainey made sure the officials knew the ball had crossed the line with his follow-up effort.
Willowbank substitute Declan Gill threatened a few times when introduced and he was about to get on the end of a long delivery when he was taken out by a reckless challenge from Kelly. After consulting his linesman, Morgan deemed that Kelly had used his elbow to impede Gill and a red card was the correct call.
The final chances of normal time fell to Willowbank. Another sub, Richard McAvoy had a fine opportunity to seal the game when he found himself unmarked on the right hand side after Enniskillen had failed to clear their line, but his shot flew across the face of goal and wide.
A late free-kick from Hughes threatened to nick the win late on and, in contrast to McAvoy, his rasping effort was wide of the near post as the game went into two 10-minute periods of extra-time.
Gill and Liam Prigent had half chances for Willowbank in extra-time while Nathan Khan's effort could only find the side-netting for Rangers.
Devine picked up a second booking late on for a late tackle on Jamie Robinson, but neither side could muster a winner so penalties were required.
Having dispatched his earlier penalty with aplomb, Hughes stepped up to the mark first and the result was the same to give Willowbank the early advantage.
Keenan replied in kind for Rangers before Ciaran Manson made it 2-1 to the West Belfast side.
Rangers captain Neil Coulter then missed the target and Willowbank 'keeper Kelly beat his counterpart Barbour with a fine strike to put his side in the driving seat at 3-1.
Ciaran Smith held his nerve for Enniskillen by scoring the next penalty and Prigent did likewise for Willowbank.
Richard Johnston's penalty, his side's forth had to find the net, but Kelly was equal to the shot as he got down low to his right-hand side to give Willowbank a famous victory.
Recalling the penalty incidents in the first half, McCrory admitted the one which wasn't awarded was probably more of a penalty than the one which was.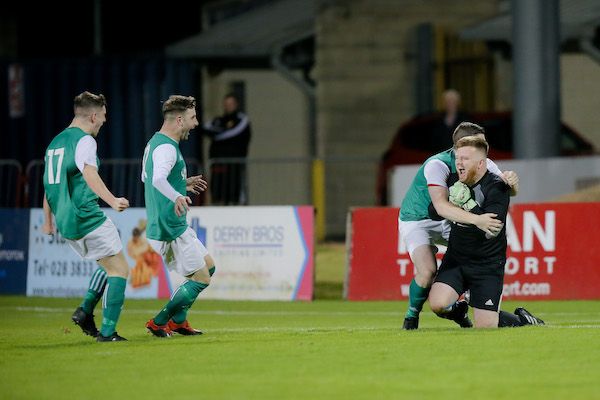 "I think that's why we got the second penalty. He (the referee) didn't give the first one," added the Willowbank boss.
"I think it was definitely a penalty, but the referee didn't fancy awarding it because his linesman didn't back him up. He then gave the second penalty, which was more 50/50 if you like.
"In the shoot-out, Ciaran Kelly was the hero for us. He was immense for us. He is as good on the ball as our our-field players and I'm delighted for him and all the boys."
Willowbank captain Hughes also hailed the character shown by the West Belfast side on an historic night for the club.
"I think Declan (McCrory) tries to implement a positive style of play, but as the game went on we kept dropping back a bit more," said Hughes.
"Fair play to Enniskillen, they were going for four in-a-row and we knew they would come at us. We sat back too much and they pulled one back.
"The sending off maybe changed things a bit, but when we are in the trenches, we'll stick together and I think that epitomises everything about Willowbank."
 
WILLOWBANK: C Kelly, C Heaney, Gary Manson, E Hughes, Ciaran Manson, Nathan Garland-O'Neill (R McCabe 79mins), R McAreavey (M Savage 45mins), P Devine, T McCrory (D Gill 79mins), C Winchester (L Prigent 77mins), C McCullough (R McAvoy 45mins). 
 
ENNISKILLEN RANGERS: G Barbour, C Watson (J Brown 61mins)), M Kerr, M Simpson (N Khan 95mins), R Johnston, N Coulter, M Cutler (S Rainey 61mins), C Smith, J Keenan, J Turley (J Robinson 90mins), C Currie.
 
REFEREE: G Morgan