JAMES Tennyson added another title belt to his bulging collection as he blasted through Gavin Gwynne in six rounds to claim the vacant British lightweight strap at Matchroom's HQ.
The West Belfast man showed patience and power, taking what the Welshman had to offer and coming back with much better to find the equaliser and take the Lonsdale Belt that completes a set of titles outside of world honours that is now in his sights.
'The Assassin' lived up to his ring moniker, remaining cool as Gwynne tried everything to deter him, but ultimately Tennyson caught up with him, forcing the Merthyr Tydfil challenger to take a knee after landing a vicious right hook to the temple and whilst he did rise, the writing was on the wall and a trademark assault forced referee Phil Edwards to step in and wave the contest off with 30 seconds remaining in the round.
The victory saw the 26 year-old Poleglass man improve to 27-3 with 23 wins now inside the distance to make up for his British featherweight title defeat to Ryan Walsh four years ago and send out a warning to the lightweight division that he means business.
"It means everything," he said after.
"Gav is a really tough lad and he gave a good account of himself, but I got him out of there early.
"I'm happy with my performance. He's a tough lad and it was a good fight.
"It's a shame there wasn't a crowd in there to back it up but it was great to get the win."
Tennyson strode to the ring through the back garden of Matchroom's impressive estate to the strains of 'Run This Town Tonight' and that was clearly his objective as, under his fight as a fully-fledged member of Eddie Hearn's roster, he was intent on claiming the limelight.
Gwynne, who had the height and reach advantage, began by popping out his long jab, but Tennyson was quick to close the distance, getting in range and unloading heavy hooks to head and body. Gwynne was happy to trade but a lot of his shots were blocked and there were early signs Tennyson's power was making a dent.
In the second, Tennyson was again on the front foot with Gwynne backing off and finding a home for his jab, but he didn't have the power to deter Tennyson who got though with a big left uppercut. The Welshman retaliated with one of his own and had joy downstairs, but it was clear the heavy artillery of 'The Assassin' was starting to tell as there were glimpses that Gwynne's legs stiffened slightly.
As expected, this all-action battle was highly entertaining with Gwynne starting the third off the jab, but the action quickly moved to the trenches. The pace was relentless with Gwynne matching Tennyson's aggression, but a right hand to the temple from the West Belfast man was the punch of the round as he began to pull away on the cards.
Gwynne continued to be competitive and made his own case, but the better quality was coming from Tennyson who was blocking or evading most coming his way, whilst sinking in his own left and rights, varying his attacks. Tennyson was having to get through punches to land his own, but clearly wasn't deterred as he was always able to answer with better.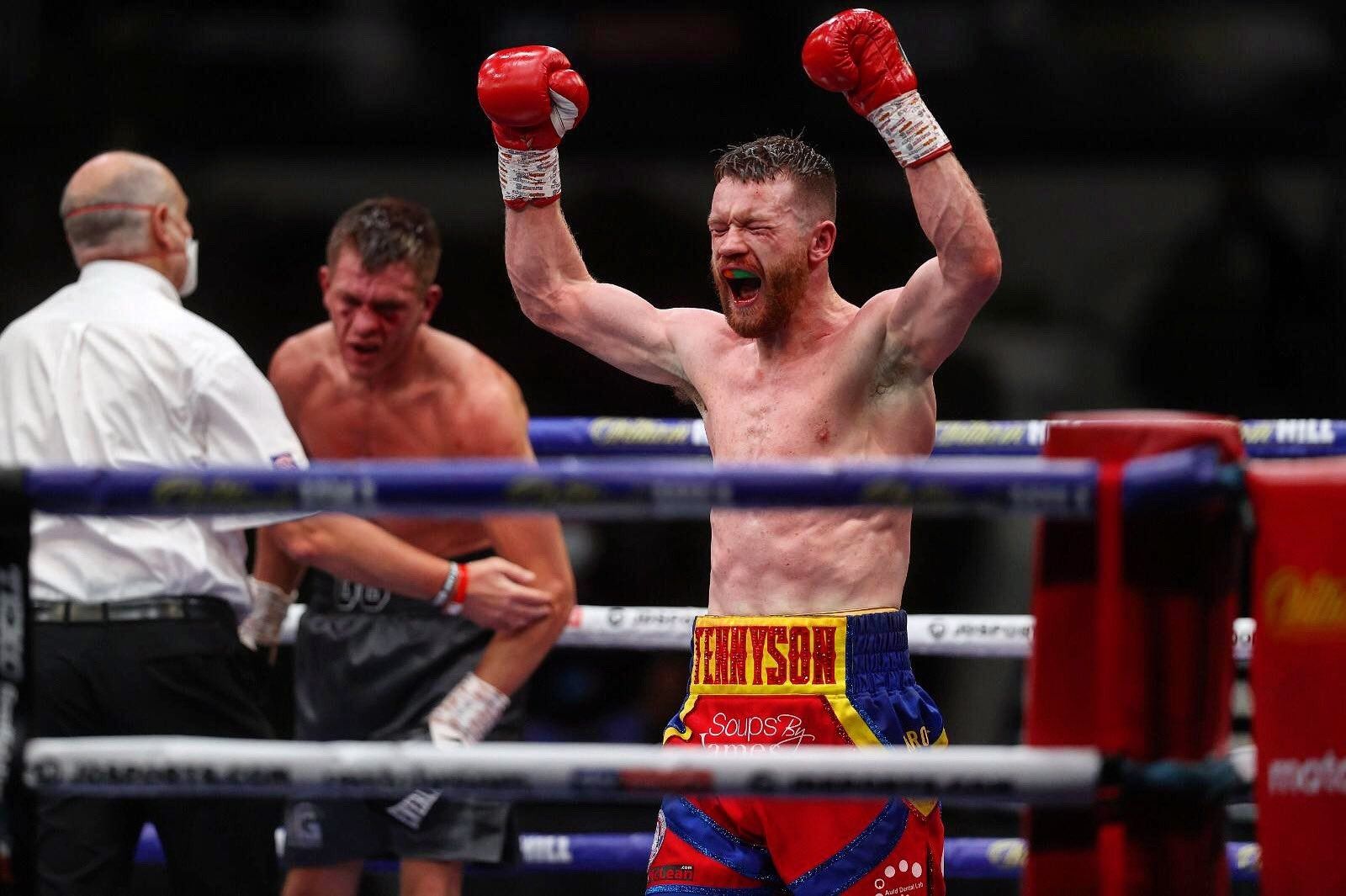 The pattern continued in the fifth with Gwynne remaining busy to try keep the Belfast man off him. It wasn't working as Tennyson got inside and went to war. He was landing cleaner than Gwynne, but towards the end of the round found himself on the ropes. There was no real danger, but Gwynne was growing in confidence with his work-rate impressive. However, he was beginning to look badly marked with Tennyson's heavy fire leaving its mark.
In what proved to be the final round, Tennyson opened with a stiff jab and was back on the front foot, marching forward to land to body and head, an uppercut making a dent and the Welshman found himself down from a flush right hook. It was a delayed reaction as Gwynne stepped back and took a knee. He did rise, but the damage was done as Tennyson sensed the end and didn't need asked twice, pouring on with huge shots as Gwynne sagged onto the ropes and referee Phil Edwards had seen enough, saving the Welshman from himself after 2.30 of the round.
"I just stuck to the plan and stuck to what Tony (Dunlop, coach) told me," added the new British champion.
"Tony told me to be patient, move around and pick the shots. If I ran about trying to use the power it could have backfired, so just be patient and keep working away."
For promoter, Eddie Hearn, Tennyson's performance was all he had hoped as he now plans to move the Belfast man through the rankings, targeting a dust-up with Francesco Patera or even former world champion Jorge Linares as Tennyson's stock rose considerably following this seismic win.
"James Tennyson is always in great fights," he said.
"He's got the equaliser all the time. There were times when Gwynne looked like he could find a way, but when James is in there, he has dynamite in his hands - especially at 135lbs.
"You can see he is tougher now as when he gets hit to the body, he keeps coming forward and is so exciting.
"I want to see him move on now. As far as I'm concerned, at British title level he's done.
"A great fight for him is against Patera for the European title. I love the Jorge Linares fight. These are the fights you are going to see James Tennyson just light up the place.
"What a fighter, what an entertainer. Just non-stop action so these are the fights the fans want to see."