As a bona fide Belfast Ambassador — and he has the medal to prove it — American restaurant owner Francis Schott has one event in the calendar which is sacrosanct: September's Belfast International Homecoming.
Given the global pandemic, the cratering of transatlantic air travel and the mandatory 14-day quarantining of US visitors — not to mention the many challenges facing his own famed eatery Stage Left Steak in New Brunswick, New Jersey — the option of taking a rain-check on this year's conference did cross Francis' mind.
For a nano-second.
But then, he says, he asked himself, what exactly does a Belfast Ambassador do — and his answer: "stand by the city when the going gets tough".
"I was very proud to be honoured with the Belfast Ambassador Medal at the Homecoming in 2018," Francis told belfastmedia.com. "While this Covid hurricane is also decimating the restaurant sector here in America, Belfast's hospitality heroes have been in my thoughts. So I decided to do the one thing I am good at: invite the people of Belfast to have dinner with me."
That'll be a Zoom Wine Dinner to be precise, of the type Francis, who created the Belfast Cocktail (see video below) at the first Homecoming, has pioneered in the US, earning his home town the title of ZoomTown from international business magazine Forbes. 
"I have been coming to the city for many years now and am a big fan in particular of the cocktail bar at the Merchant Hotel and of Hadski's Restaurant in the Cathedral Quarter," explains Francis. "Nothing cheers me more than meeting up with friends, often pals from around the world who have flown in for the Homecoming, and enjoying a great meal and superb wines. I thought it would be a shame to let Covid-19 stop that most basic and rewarding of human interactions thus my proposal for a Zoom Dinner to replace the lavish City Hall reception we usually have at Homecoming."
Francis has earned plaudits in New Jersey for keeping his business open — in limited form in line with state coronavirus guidelines – through the ravages of the pandemic.
"I always say we were in the social network business before anyone heard of Facebook or Twitter," said Francis. "For myself and business partner Mark Pascal, it has always been about bringing people together and building community through food. And when that's your guiding light, turning off the lights and walking away — regardless of whether that's the wiser thing to do in terms of dollars-and-cents — is never an option."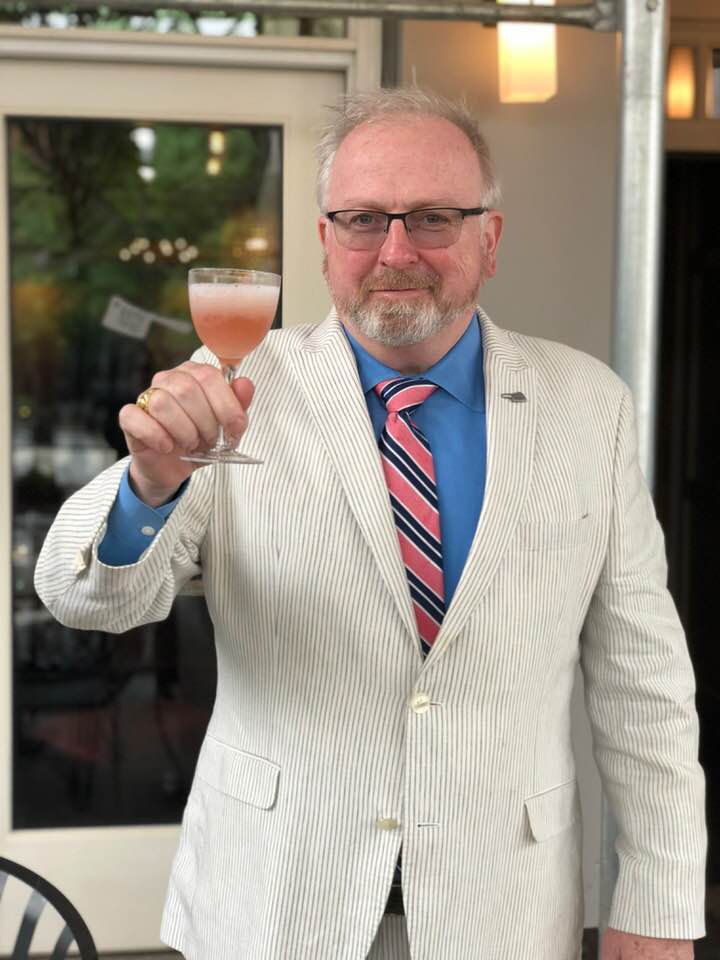 Instead, Francis reconfigured a tradition which has helped establish Stage Left Steak's reputation as New Jersey's finest eatery and saw it named last year by Wine Spectator as one of just nine outstanding US restaurants for its stunning selection of wine-by-the-glass: The Wine Dinner.

"In most restaurants, a wine-tasting involves an agent giving a little talk and singing the praises of a brand of wine but at Stage Left, we had always prided ourselves on bringing the vineyard owner to our diners in an old-fashioned format," said Francis. "Our message was, this is one of the country's greatest winemakers and we are bringing him and his wine right to you – there's no wholesaler or agent between you and the person who made the wine. "

When the state ordered all restaurants across New Jersey closed in March, Francis was well-positioned to respond with the first of what has now been 13 Wine Zoom dinners where his customers, from their own kitchen, could finish cooking meals prepared in the Stage Left Kitchen while listening online to the winery owner.
 
Customers availed of a meal curb-side pick-up service from Stage Left, including wines matched to each course, and then Zoomed in at a set time. "It was clear that people were looking for human contact — or as close as possible to human contact in the era of Covid — and it was completely different from just getting takeaway and eating at home alone," explained Francis. "It was crucial to us that everyone was following the cooking instructions and eating the same food at the same time. We are sharing a meal together which is something very precious at this challenging time."
That's amazing. It's sorbet! https://t.co/Go6MrpVsCJ

— Francis Schott (@FrancisSchott) July 23, 2020

When the virus restrictions were loosened in New Jersey and diners allowed to eat outside, Francis continued with the Zoom Dinners – in the company of some of America's most famed winemakers streamed in from their wineries. And when the state pushed back indoors dining, indefinitely, Francis felt the pivot towards Zoom dining had served him well.

"I had a couple of reasons for wanting to stay open throughout the crisis," he said. "Some of my staff weren't eligible for benefits so I was keen to find a way to keep them on and to keep some revenue coming in. And while it may have been a good call in simple monetary terms to close and thus eliminate all costs, the Zoom dining initiative keeps a connection both with my staff and with my guests. With the Zoom dinners, I can honestly say that I have had dinner with hundreds of my guests, in the company of a celebrity winemaker, and remained a part of their lives by going the extra mile."

And while Francis plans to continue with the Zoom Dinners when the pandemic is over, he doesn't see that much-longed-for day coming any time soon. "I don't think we will get indoor dining in New Jersey in 2020," he said, "and I fear that unless the Federal Government substantially ramps up its support, half of the independently-owned restaurants in the state will not survive. Restaurants depend on Thanksgiving, Christmas and New Year as well as parties and celebrations to keep going but if you remove October, November and December from the restaurant calendar then you are really taking a sledgehammer to our industry."
Francis plans to ensure his Zoom Wine Dinner at the Homecoming has a strong Irish theme. "I am searching for an Irish winemaker as we speak and I hope to work with a local restaurateur to create a meal which will be picked up, two-thirds-prepared, from the Homecoming partner restaurant, and finished at home. Our guests will be able to join Homecoming attendees from around the world, time zones permitting, to raise a glass to better days ahead for New Belfast and for New Brunswick."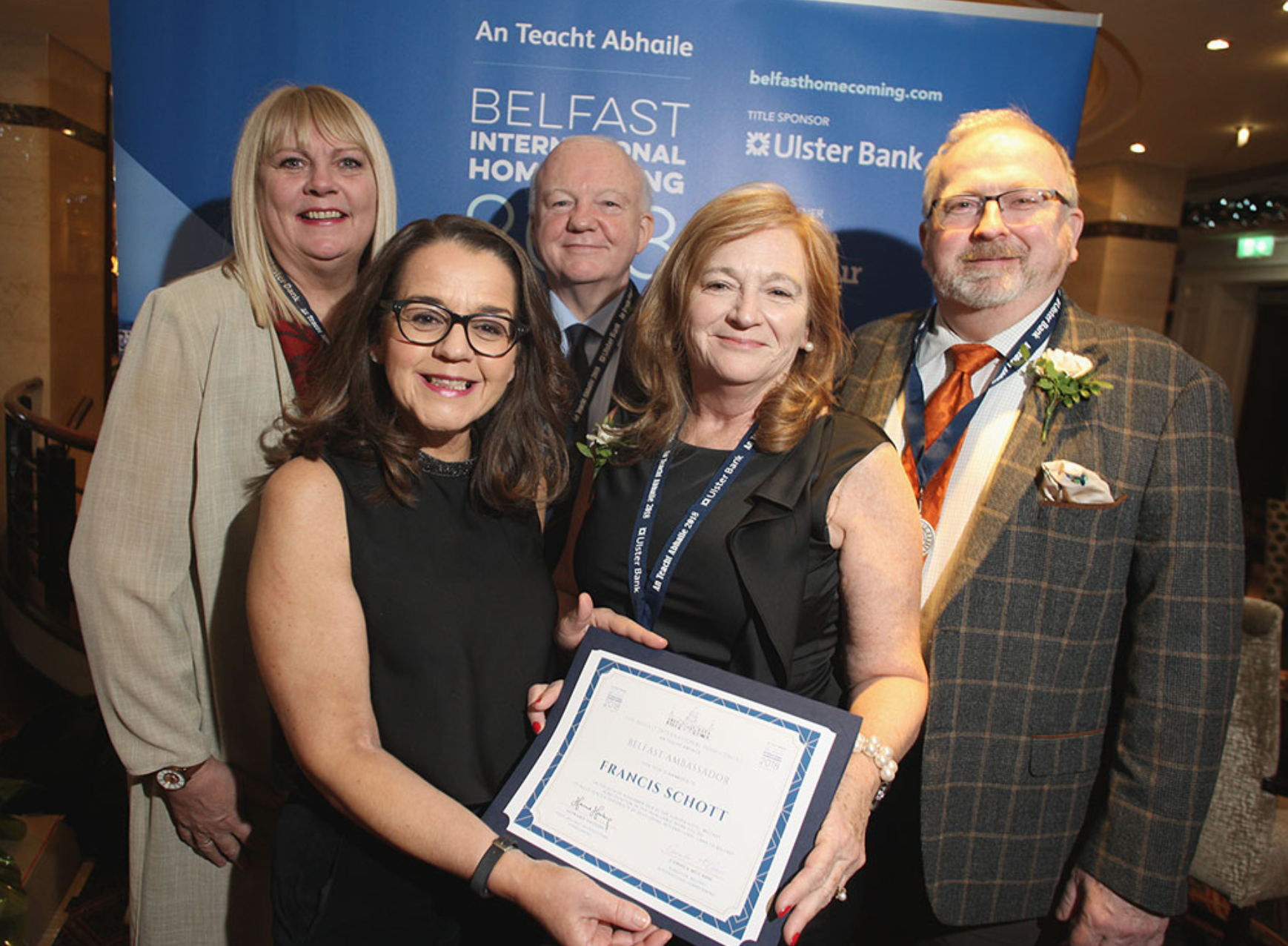 Belfast International Homecoming host Connla McCann said Francis' Zoom Wine Dinner would be just one highlight of the event on 24-25 September. "We plan to ensure the bridge from Belfast to our global family remains open despite these tough times and no better way to do that than with a dinner hosted by a fab friend like Francis."