Morgan Fuels Down Senior Hurling Championship 
Ballygalget v Bredagh (Tonight, 7pm, Mitchel Park) 
BREDAGH dual star Donal Hughes hopes Down clubs are permitted to return to the Antrim leagues again next year when the Covid-19 restrictions are, hopefully, a thing of the past. 
The South Belfast were set to compete in Division Three of the Antrim hurling league this season along with rivals Carryduff. 
Ards sides Portaferry, Ballycran and Ballygalget also compete in the Antrim leagues as to Tyrone side Dungannon and Na Magha of Derry. 
After clinching the Down Intermediate hurling Championship last Autumn, Bredagh had targeted promotion as one of their major objectives of this season. 
Everything changed back in March when the sporting world went into shutdown as the global Covid-19 pandemic worsened. 
Months of speculation about the return of sport followed with the club season dramatically shortened across the board while the inter-county season resumes in October. 
Speaking ahead of Bredagh's Down senior hurling Championship opener at Ballygalget tonight (Friday, 7pm), Hughes believes expose to competitive games in Antrim is the best way for the Down clubs to raise their standards. 
"We'd obviously be hoping we can get back into the Antrim leagues when things calm down a bit," said Hughes. 
"This year, we were really targeting the Antrim league. We wanted to get out of Division Three and get into Division Two and play at a high standard week in, week out. 
"We see that as a way to then be competitive in the Down senior Championship. 
"Another way to look at it is that at least the other teams aren't getting games in the Antrim league either. 
"Maybe that's when they would be ahead of us because they'd be used to playing the North Antrim teams and Rossa and St John's – team at a higher level. 
"Maybe it levels the playing field a little this year." 
OPPORTUNITY
Down, like several other county boards, have taken the opportunity to revamp their Championship formats to ensure a greater number of games for club sides. 
Bredagh will take on the three Ards teams on a home and away basis in the Championship this year and Hughes feels the schedule will be of great benefit to Bredagh's progression.  
"I think the Down county board have done a good job with the senior Championship for this year," said Hughes. 
"Everyone is getting plenty of games with every team guaranteed at least six games.
"For us in our first year back at senior, it is good to get the experience of that. 
"It will let us know where we are at. In the first game against Ballygalget, we might not be used to playing at that level and it might take us a game or two to get adjusted. Having six games should help us get accustomed to playing at senior level. 
"I think the last time we played at senior was eight or nine years ago and we played Portaferry in the first round and were beat by between 15 and 20 points. The following year, the Championships were restructured and we ended up being down at junior. One year at senior isn't going to be much good whereas six games should stand to us."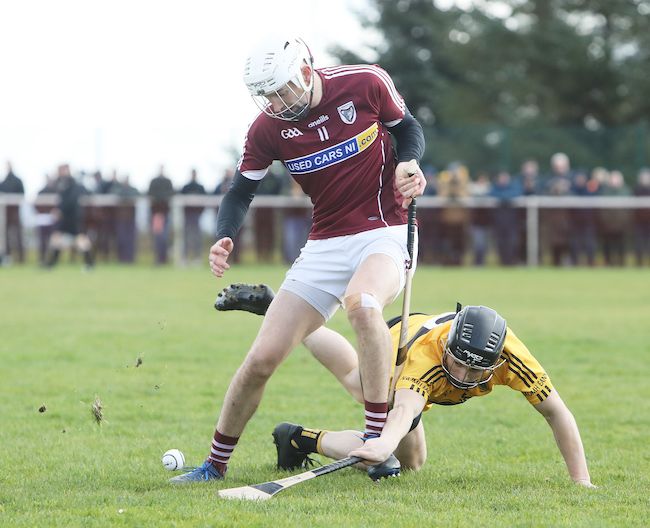 Hughes played a pivotal role in Bredagh clinched the Down Intermediate title last year following a replay victory over Carryduff. 
The first game at Newcastle failed to produce a winner so the sides went head-to-head under the lights at The Dub with Ian Galway and Hughes plundering goals at the end of a remarkable first half. 
Carryduff had led by six points at one stage, but found themselves a point down at the break and Bredagh pulled away for a 2-13 to 1-8 success. 
They then claimed an away win in Ulster over Castleblayney before taking eventual champions Naomh Éanna to extra-time in a tense semi-final at Lámh Dhearg. 
At the end of the season, Simon Wilson departed for Lavey of Derry with Donal Hughes's father Danny taking over alongside Donal Sheehan. 
Last year's exploits along with a renewed hunger for competitive sport following lockdown has led to a surge in numbers at Bredagh and Hughes says they are relishing tonight's Championship opener. 
"We have big numbers this year, certainly in comparison to what we have had in previous years. 
"We have had a number of strong minor teams over the last few years and they are coming through. We've been playing Down league games and we've had two teams out on the same night (senior and reserve) which would have been unheard for us in the past. We've a squad of about 45 players and we are getting good numbers out at training. 
"I think maybe with everything that has gone on this year, everyone wants to come back and play hurling." 
A big squad could certainly be an advantage as a testing series of games gets underway this weekend. 
After tonight's game at Ballygalget, Bredagh host Portaferry on Wednesday night, August 12 before travelling to senior champions Ballycran on Sunday, August 16. 
Bredagh are then in action every Sunday until their final game at Cherryvale on Sunday, September 6 against Ballycran. 
The schedule will be even tougher on the club's dual players with the senior footballers set to start their senior Championship campaign on Saturday, August 15 against Castlewellan at Darragh Cross – 24 hours before the hurlers take on Down hurling champions Ballycran. 
As a key player on both teams, Hughes is likely to line out in both games. Yet, following a period of uncertainty earlier this year, the dual star is just glad to have Championship games to look forward to. 
"The schedule for the dual players is pretty chaotic to be honest," added the Bredagh ace. 
"There isn't much more the Down county board could have done with the way things are this year. 
"There probably won't be too much training over the next few weeks for the dual players because you are going to have Championship games every three or four days. 
"Again, there was a stage a few months ago when we didn't think we were going to have any games so we can't really complain. 
"It was hard to keep training away on your own when there was no real end goal. Thankfully, we've now got a schedule of Championship games to look forward to."