IT'S a bird Dúlra never thought he'd see. Ever. A magical bird so specialised it seems fictional. One that appears to have jumped the immutable divide created millions of years ago that separates animals, birds and insects.
Because this wonder of the world feeds on nectar, just like a bee.
Hummingbirds – dordéan in Irish – only live in North and South America. They are absent from everywhere else on earth, even hotspots in Africa and Asia that seem perfect for them.
There are an incredible 366 species in the Americas – almost as many bird species that have been recorded in Ireland. One of them is the smallest bird in the world – the bee hummingbird – while another has one of the longest migrations in the world, travelling twice a year from Mexico to Alaska (yes freezing Alaska, where it breeds).
Dúlra never really considered the possibility of ever seeing one. Even when he was in Cuba last week, he never gave it a second thought. There's so much to do and see in the Caribbean island that birds were way down the list. 
There were plenty of majestic birds of prey overhead – some were definitely giant eagles – and at one stage we drove past a roadkill which was being feasted on by a half-dozen vultures, their scary-looking bald red heads straight out of a classic Western.
They say the early bird catches the worm, and so it appeared in Cuba. The group's early riser Jake was sitting in the porch of our 'casa particular' – a home where tourists stay with families just like students in the Gaeltacht – watching the sun rise over Varadero when a hummingbird landed just feet away. Well, landed is an exaggeration – it hovered in front of the big orange flowers in the garden and drank the nectar through its long bill.
Next morning Dúlra was up with the lark, as they say in Ireland, to sit on the porch. And he discovered he already had company – not Jake who was enjoying his morning swim across the way in the warm Atlantic on what is officially the world's second best beach – but Andersonstown News photographer Thomas. It appeared that a hummingbird was on his bucket list too.
And so we sat in quiet conversation on the porch deckchairs as behind us breakfast was being prepared by the host family on the beautiful peninsula. It might have looked like two guys just chewing the fat, but, like two sharpshooters at the OK Corral, Dúlra's eyes were scanning the many garden flowers while Thomas's fingers were poised over the shutter button.
It wasn't to be. Soon breakfast was served, the sun was high in the sky and the busy day had begun. We met again on the deckchairs next morning – our penultimate day on the island – more in hope than expectation. Sparrows were our only avian company. But again it wasn't to be.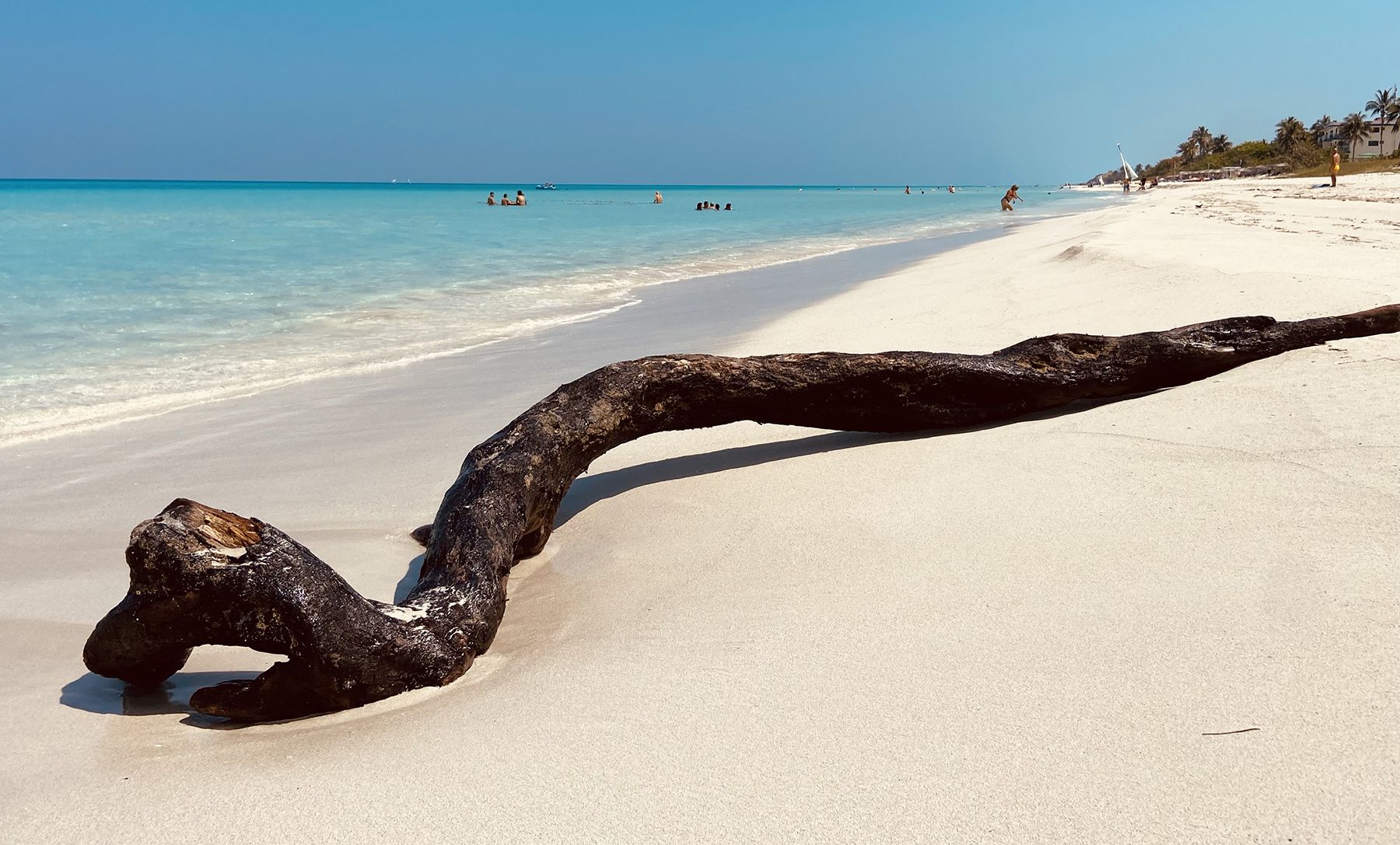 We were all up early on our final day in Varadero, bags packed and waiting for the taxi back to Havana. There was time for a swim in the ocean across the road before sunrise, which was an unforgettable experience. There was barely a wave worth mentioning as far as the eye could see. And not a sinner in the dark water. It's safe here – you can be a couple of hundred yards out into the ocean and still find sand beneath your feet to stand on. Dúlra just floated in the water and watched the world wake.
When the sun slowly rose, it set the water alight like a massive sparkling diamond. The views changed literally by the second – so much so it was almost too much for your eyes and your brain to take in. It was as close to sensory overload as you could get. 
Back at the casa, a new day was dawning. It was still an hour before breakfast and so Dúlra and Thomas had one last shot at the hummingbird. Then, suddenly, it appeared. Not at a flower, but actually sitting on the telephone line that ran between the homes. There was no mistaking it – it was much smaller than a sparrow, narrow in silhouette with a long, thin, curved beak.
Cuba has two native hummingbirds, including the bee hummingbird which is only found here and is the world's smallest bird. It's on many a birdwatcher's bucket list and it must appear more like an insect than a bird, considering it's smaller than our own tiny goldcrest. The bird on the line was bigger – it had to be the Cuban emerald, which sounds fittingly Irish! Locals call it zunzún, like we'd call it zoom-zoom.
It probably had its eyes on the garden flowers, but there was just too much human activity this morning. Instead, it darted on to a flowering tree just outside the casa's walls. It was hard to spot the tiny bird in the thick foliage, and finally it darted out then rose high into the sky before dropping back down in the distance.
It was a fleeting visit but we had seen a dordéan, even if we hadn't got the sought-after picture.
Hummingbirds have it all. They're named from the sound made by their beating wings, up to 80 beats a second. They're the only bird able to fly backwards and upside down. And they have the widest diversity of plumage colour among all birds.
As for the bee hummingbird, well... Dúlra's got a good excuse to return to wonderful Cuba some day.
• If you've seen or photographed anything interesting, or have any nature questions, you can text Dúlra on 07801 414804.