IT was the biggest, heaviest book Dúlra had ever seen – and with an equally impressive name – The Migration Atlas: Movements of the Birds of Britain and Ireland (right).
Dúlra never knew such a book existed – but it's exactly what's needed. Even today when we think we know everything, bird migration is largely a mystery – they just appear and disappear and we don't really know what happens in between. The book was on a second-hand stall at the BTO birdwatching conference at Oxford Island in November. It was by far the biggest book on show – a total of 884 massive pages bound by a hard cover. So heavy you could only lift it with both hands.
The guy behind the stall noticed Dúlra's interest. "That's a special book," he said, "you can pick it up if you want – if you can!"
Dúlra held it like an ancient treasure, imagining the secrets that lay inside. It was in pristine condition. The inside cover revealed it was published in 2002, and the price sticker was still on the back – £65. These sorts of books are hard to come by, editions usually have a limited print run and are snapped up by enthusiasts on publication. 
Their price only goes one way – up. Dúlra never even considered buying it as it was well out of his price range. Wasn't it? 
"How much would that be worth now?" Dúlra asked the stall holder. 
"Give me a fiver and it's yours," he said, "I'm just hoping to get rid of everything today."
Dúlra was stunned. The book was so big it would have cost a fiver in fuel just to get it here.
Like many atlases, it was probably meant to be part of a series. But it seems it was the only one about migrating birds here ever produced.
It relied on a century of bird ringing to gather its data – and we have our own band of dedicated ringers in Belfast whose work is doubtless included.
For decades, they've gathered at dawn at the Bog Meadows and their meticulous note-taking – even from 30 years ago – made them a cause celebre worldwide, giving truly quantitative information. They ringed their birds on the same days year after year, at the same time, using the same nets at the same place. Funded professional studies wouldn't have been as disciplined. 
Other methods of studying birds are included in the book, from simple 'moon-watching' – counting birds migrating at night past a full moon – to more modern radar results. Those methods, however, only count numbers, not species. Ringing remains the main source of data to this day.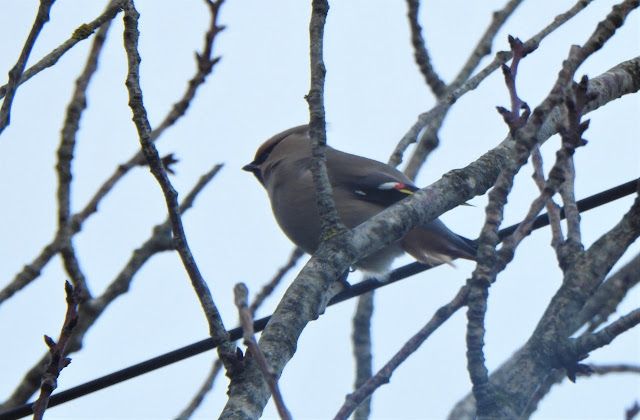 The book points out that there are several species that we would know nothing about if it weren't for ringers – like the storm petrel, a sparrow-like nocturnal sea bird which lives on the ocean waves. In 2021, Dúlra helped ring them in the early hours of the morning as they came ashore to breed in Mayo, a magical experience he'll never forget. And although we're only a tiny part of the earth's surface, Ireland and Britain occupy a special position on the globe as far as migrant birds are concerned. We're like an international air hub from and to which they are distributed.
On Tuesday, Dúlra found himself reaching for the book once more – lifting it from the shelf is like doing a dumbbell session at the gym. Seven glorious waxwings – síodeiteach in Irish – had just touched down in Whitehead on the Antrim coast and were feeding in the village. There is no prettier bird – Dúlra experienced them for himself a couple of years ago when he spotted them feeding on trees on the lower Ormeau Road. 
Dúlra was transfixed for hours, residents had no idea who this madman was staring up at what seemed like a bare tree.
But The Migration Atlas: Movements of the Birds of Britain and Ireland fully gets the magic of waxwings. It reports that there's "an almost mystical unpredictability" about their arrival from Norway and Russia and they are so rare in Ireland that they are recorded "less than annually".
It puts into words something that Dúlra knows, having experienced them at first hand. It reports that three things make "the waxwing a bird that few people will ever tire of seeing" – its beautiful plumage, confiding nature and its like of berries in towns and cities.
It's also among our fastest fliers, easily covering 1,400km a day. Considering Whitehead is just 32km from Belfast, it could make it here in just 43 minutes. Maybe it's time for Dúlra to head over to the lower Ormeau again…
•  If you've seen or photographed anything interesting, or have any nature questions, you can text Dúlra on 07801 414804.