Wednesday (all games 7.30pm)
 
Northern Switchgear Antrim SFC
Group 1
Portglenone v Creggan
WITH all respect to Ahoghill, the biggest surprise of Sunday's games was Portglenone being turned over by St Mary's.
Things don't get any easier for Barry Dillon's men and they'll need to regroup quickly as Creggan visit Kelly Park after beating Lámh Dhearg in their league opener.
The Casement's aren't a side to underestimate, but their confidence would have taken a blow after last Sunday and the Kickhams should prevail.
 
Group 2
St John's v Rossa
A DERBY game will always be a 'mist-win', but for St John's the prospect of losing their opening two games will surely focus the minds ahead of Rossa's visit to Corrigan Park.
A Brendan Herron goal gave Lámh Dhearg a three-point win over St John's at Hannahstown on Sunday and the Johnnies will be without new goalkeeper Ciaran McCloy for their second Championship outing after he was sent off at the weekend.
Pearse Donnelly went into goals for the remainder of the contest, but they also have the option of returning Padraig Nugent to goals.
Rossa suffered a one-point defeat at home to Ahoghill in the league, but that result doesn't look as bad in hindsight after the weekend's results.
Both Michael Armstrong and Christopher McGuinness missed the league clash against Ahoghill and their return would greatly boost Rossa's chances in a game which is likely to be keenly contested.
 
Group 3
St Brigid's v Aldergrove
BOTH St Brigid's and Aldergrove will be seeking their first Championship wins after losing out to Aghagallon and Cargin respectively.
While St Brigid's were hit by the concession of a late 1-1 salvo, Aldergrove were outclassed by the county champions – losing 3-14 to 0-4.
Paddy Nugent's side ought to be much more competitive against St Brigid's, but the South Belfast men are a tough nut to crack at Musgrave Park.
Attacker John Blaney missed out last Sunday after picking up a groin strain against Naomh Éanna in the league and isn't expected to feature against Aldergrove.
If St Brigid's show a bit more composure in front of the posts, they have enough fire power to edge out last year's Intermediate winners.
 
Cargin v Aghagallon
AS far as warning shots go, Cargin's demolition of Aldergrove at the weekend was a loud one.
Aghagallon should provide a sterner examination of Damien Cassidy's side and should improve following their gutsy win over St Brigid's.
Ruairi McCann and Adam Loughran were a handful in attack while Gareth Magee was nerveless from frees.
Yet, Cargin have the skill, craft and experience to dismantle even the most organised of sides and Aghagallon probably lack the know-how to go toe-to-toe with the Toome outfit just yet.
 
Group 4
Gort na Móna v St Gall's
THIS West Belfast derby clash would have been considered a miss-match not that long ago, but the fortunes of both clubs have changed in recent seasons.
Gort na Móna are an established Division One side these days while St Gall's are rebuilding after falling short of their lofty standards over the last few years.
Paddy Murray is the man tasked with bringing back the glory days to the Milltown Row side, but the former St Gall's netminder will be aware things won't change overnight.
An opening league defeat to Portglenone will have provided an indication as to what work is required and Gort na Móna will relish the opportunity to claim a famous win on their own soil.
Niall Ward's side suffered a three-point defeat to Naomh Éanna on Sunday at Hightown and the Turf Lodge side know they will need to be at their very best if they are to have any chance against St Gall's.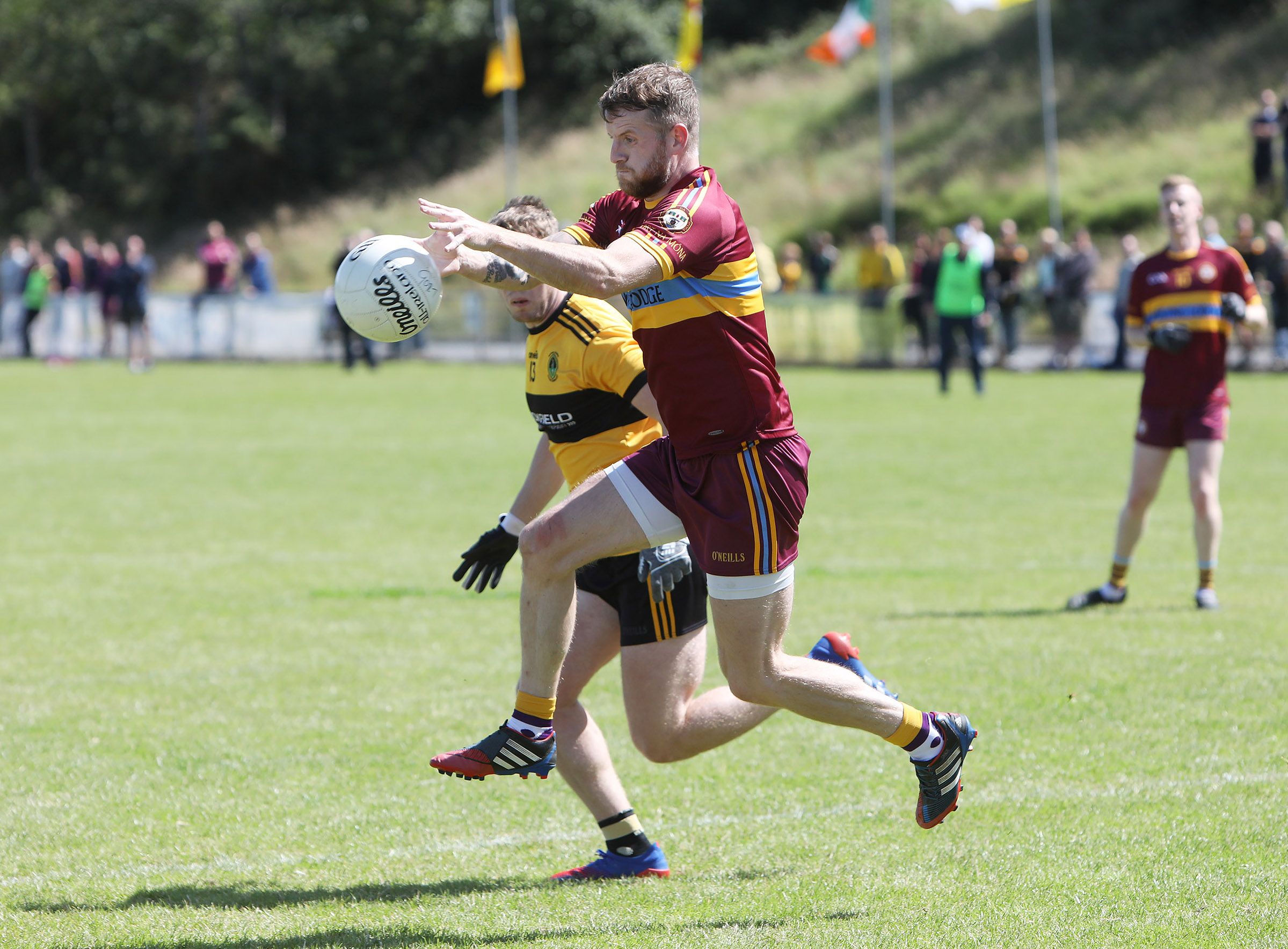 Larkin Cassidy Solicitors Antrim IFC 
Group 1
Dunloy v Davitt's
DUNLOY will be hopeful of making it two wins from two when they host Davitt's on Wednesday night.
After Sunday's 3-11 to 0-7 victory at Sarsfield's, the Cuchullains will want to build on that showing ahead of a crunch trip to Moneyglass this Sunday.
Davitt's played well in stages of their Group 1 opener at home to Glenravel last Sunday, but the concession of four goals undermined Sean O'Neill's side and they must do better against a Dunloy side who can rack up big scores if they get on a roll.
 
Glenravel v Glenavy
GLENRAVEL picked up a good win at Davitt's on Sunday, but they'll have more on their plate on Wednesday night.
Glenavy lost out to Moneyglass by five points and they wouldn't have things all their own way, especially with Eamon Fyfe in such good form having plundered 3-3 at the weekend. Yet, the visitors should be too strong for Con Magee's.  
 
Moneyglass v Sarsfield's
A FINE display saw Moneyglass claim a five-point win over a strong Glenavy team on Sunday and they'll be hotly fancied to repeat the feat at home to Sarfield's.
The Paddies suffered a 3-11 to 0-7 defeat to Dunloy at the Bear Pit at the weekend and this is, arguably, a tougher assignment for Jim McMenamin's side. Indeed, Sarsfield's tagged on four points in the closing 10 minutes against Dunloy to put some respectability on the scoreboard.
However, a vast and swift improvement will be needed if they are to avoid a second successive Group 1 defeat.
 
Group 2
St Paul's v St Teresa's
ANOTHER local derby game sees St Paul's take on close neighbours St Teresa's in an intriguing Group 2 battle.
Having suffered a surprise loss to Davitt's on their comeback game in the league, St Paul's bounced back with a four-point win over St Pat's Lisburn last Sunday.
St Teresa's, meanwhile, put Rasharkin to the sword on a 2-16 to 0-14 scoreline, but both West Belfast sides will have more on their plate on Wednesday night.
St Teresa's competed at senior level for many seasons while St Paul's enjoyed a good run in the Intermediate Championship last season. While it is still early in the campaign, St Teresa's are the form pick to emerge victorious.
 
Rasharkin v Ballymena
RASHARKIN look to be up against it in Group 2 and they are likely to struggle to contain a Ballymena side that had seven points to spare over Randalstown last Sunday.
Albeit, Rasharkin had a tough opener away to St Teresa's last Sunday, they may have to wait until Sunday's home tie against Lisburn before recording their first win.
 
Randalstown v St Pat's Lisburn
RANDALSTOWN manager Ronan Rocks will have been disappointed at the manner of their 0-14 to 0-7 defeat to Ballymena last Sunday and he will be seeking a response from his charges on Wednesday night when they host last year's Junior champions St Pat's.
The Lisburn side opened their Intermediate campaign with a four-point defeat at home to St Paul's and they will be big underdogs against Randalstown as well.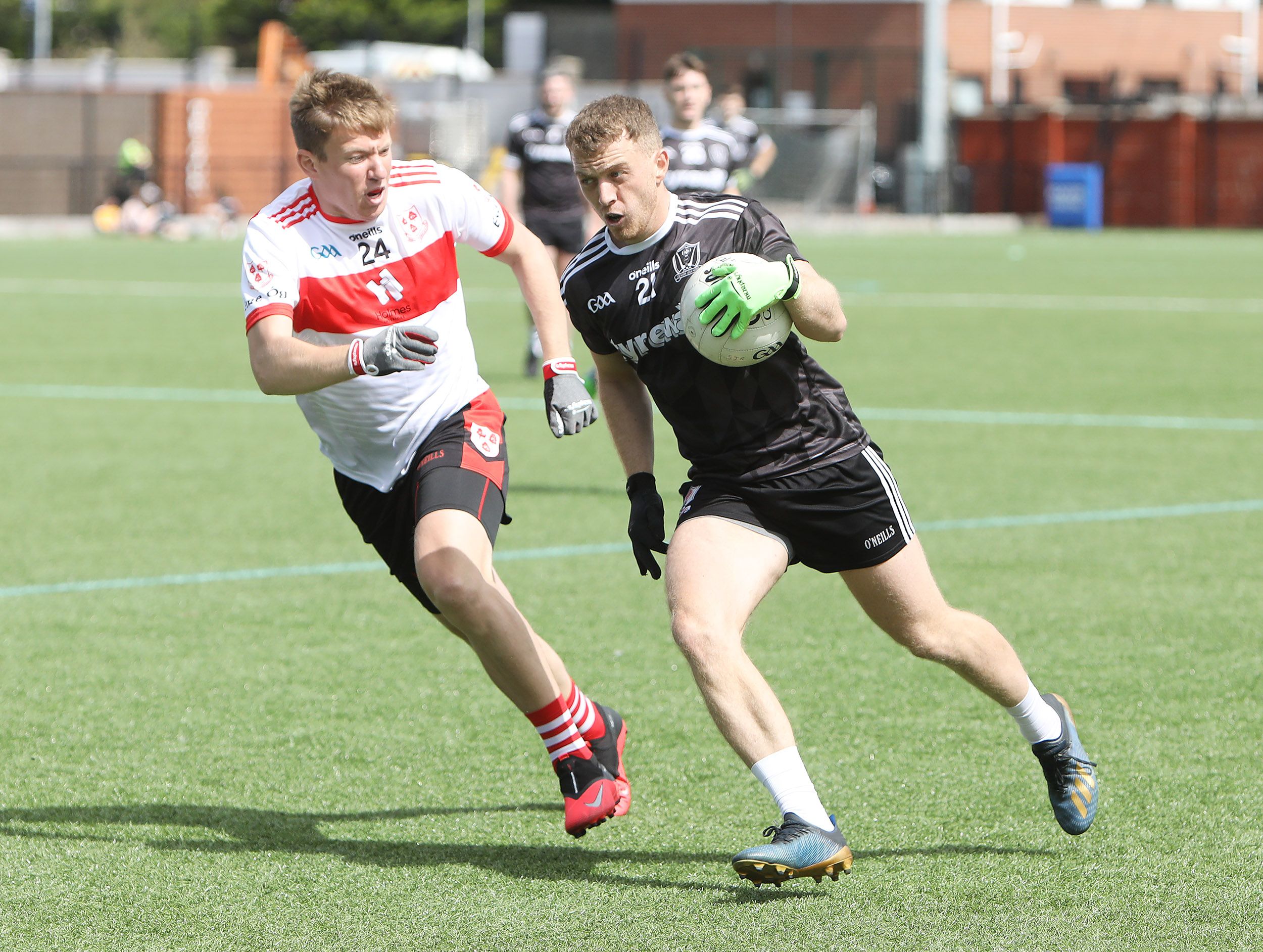 Gym Co Antrim JFC
Group 1
Pearse's v Ballycastle
PEARSE'S open their Junior campaign with a home game against Ballycastle at the Cricky on Wednesday and will be confident of making a winning start.
The North Belfast side returned to action with an impressive 3-10 to 1-13 win at St Agnes' in their Division Three league game earlier this month.
Ballycastle were in action last Sunday and sealed a 3-7 to 1-4 win over Laochra Loch Lao, but this will be a much tougher test for McQuillan's and Pearse's should prevail.
 
Laochra Loch Lao v St Malachy's
THIS team experienced contrasting fortunes last Sunday with Laochra Loch Lao losing out to Ballycastle by nine points while St Malachy's edged out St Agnes' by two.
Given those respective results, it is hard to not envisage a victory for the Market men on Wednesday night and Seamus McKenna's side will be keen to maintain momentum ahead of a tricky tie against Pearse's next Sunday.
 
Group 2
St Comgall's v O'Donnell's
ST Comgall's may have had a bye in the first round of the Championship, but the Antrim town men have played two league games since the restart and have looked very inpressive.
They defeated Éire Óg by six points before hitting St Malachy's for 3-14 in their next outing in a 13-point rout.
O'Donnell's scored a facile win of their win when they hosted Mitchel's last Sunday, but they are extremely unlucky to post a tally of 8-25 against St Comgall's and the home side will be favourites for this one.
 
Mitchel's v Ardoyne
It is different to make any case for the home side given they suffered a 48-point loss to O'Donnell's on Sunday. This is probably an even bigger challenge for Mitchel's as Ardoyne were unlucky to lose out to St Pat's in the JFC decider last year and made a winning start to their Group 2 campaign with a comfortable 1-13 to 0-5 win over Éire Óg last Sunday.