THE TV programme was called 'Lady Gregory: Ireland's First Social Influencer' (RTÉ ONE), but it wasn't exclusively about her work and influence on the Anglo-Irish revival. The  programme's two presenters – Senator Lynn Ruane and Miriam Margolis – were the focus of attention as much as Lady Gregory. Margolis especially elbowed her way into the limelight.
Ruane is a senator and a Dublin woman, but  even she had to yield the limelight to Margolis. She's in a wheelchair pushed by Lynn and wisecracks come off her like sparks from a Catherine wheel."I'm an elderly character actress," she tells us, but she's shown signing copies of her book in Clapham. Hair is mentioned: "You lucky bugger!" Miriam comments, and mentions  her own bodily hair in a daring manner, details of which don't fit in a family newspaper.
Lynn and Miriam travel by motorhome to Roxborough, the big house in which Lady Gregory was born and which was  destroyed in 1922 during the Civil War. There they talk with Judith Hill, a Lady Gregory historian, who tells how as a child, Augusta Lady Gregory was a bit of a tomboy. Her mother told her she was unlikely to marry well, since she was "too plain". Very harsh, Miriam and Lynn agreed – Lady Gregory might not have been pretty but she  had strong "handsome features".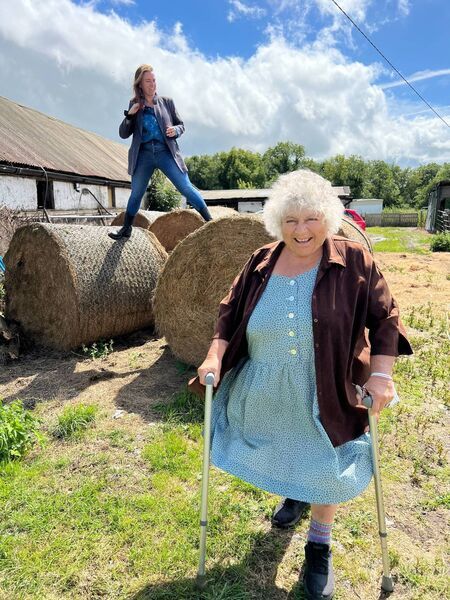 Lady Gregory went on to marry William Henry Gregory, a man several decades her senior, which may explain why she had at least two affairs. The first was with Wilfrid Scawen Blunt, an English anti-imperialist and poet she met in Egypt. He liked to stride around in Arabic robes. "They inflamed each other," we were told. Another love affair was with John Quinn, an American lawyer. He gave her a Tiffany watch, which we can still see.
Miriam and Lynn visit Coole Park – "the epicentre of the Anglo-Irish revival." There's a tree on which the initials of big names from the revival are carved, Shaw and O'Casey among them, although time has made them difficult to decipher.
Then they visit the Aran Islands: "I hadn't realised that Lady Gregory visited the Aran Islands before Yeats and JM Synge," Miriam declares. "These islands represented the uncorrupted heart and soul of Ireland."   Lynn gets to steer the boat across to the island. "The next stop is Newfoundland in Canada," the boatman tells Miriam.
At the programme's end, Miriam muses on what she's learned: "I find myself getting closer and closer to this woman, and I find I don't much like WB Yeats. Love his poetry. But he drank the wine and stayed and stayed [at Coole Park], and he ate the food. And he did f••k all."
Now do you see what I mean about hogging the limelight?