NAFL Clarence Cup, Round Four
St Oliver Plunkett 7-0 Saintfield United
On a cold crisp afternoon, St Oliver Plunkett turned the heat on as they struck seven past a sorry Sainfield United at Lenadoon Park on Saturday.
The hosts started the game slowly and had to weather a storm from Saintfield United but it was Plunkett who opened the scoring with an expert finish from Mark Sloan who went on to finish the game with a hat-trick.
Plunkett gained control after 10 minutes of growing into the game. Plunkett right-back Michael Mervyn put a long ball into the right channel and Saintfield thought they had caught Conor Nolan offside with their high line, but he timed his run to perfection and crossed to Mark Sloan who had an open net to fire home.
Plunkett continued to probe and it was evident that Michael Mervyn was the outlet each time and in the 28th minute, this came to fruition when a long ball found him free on the right side and a meticulous cross to Stephen O'Neill in the box was passed home expertly.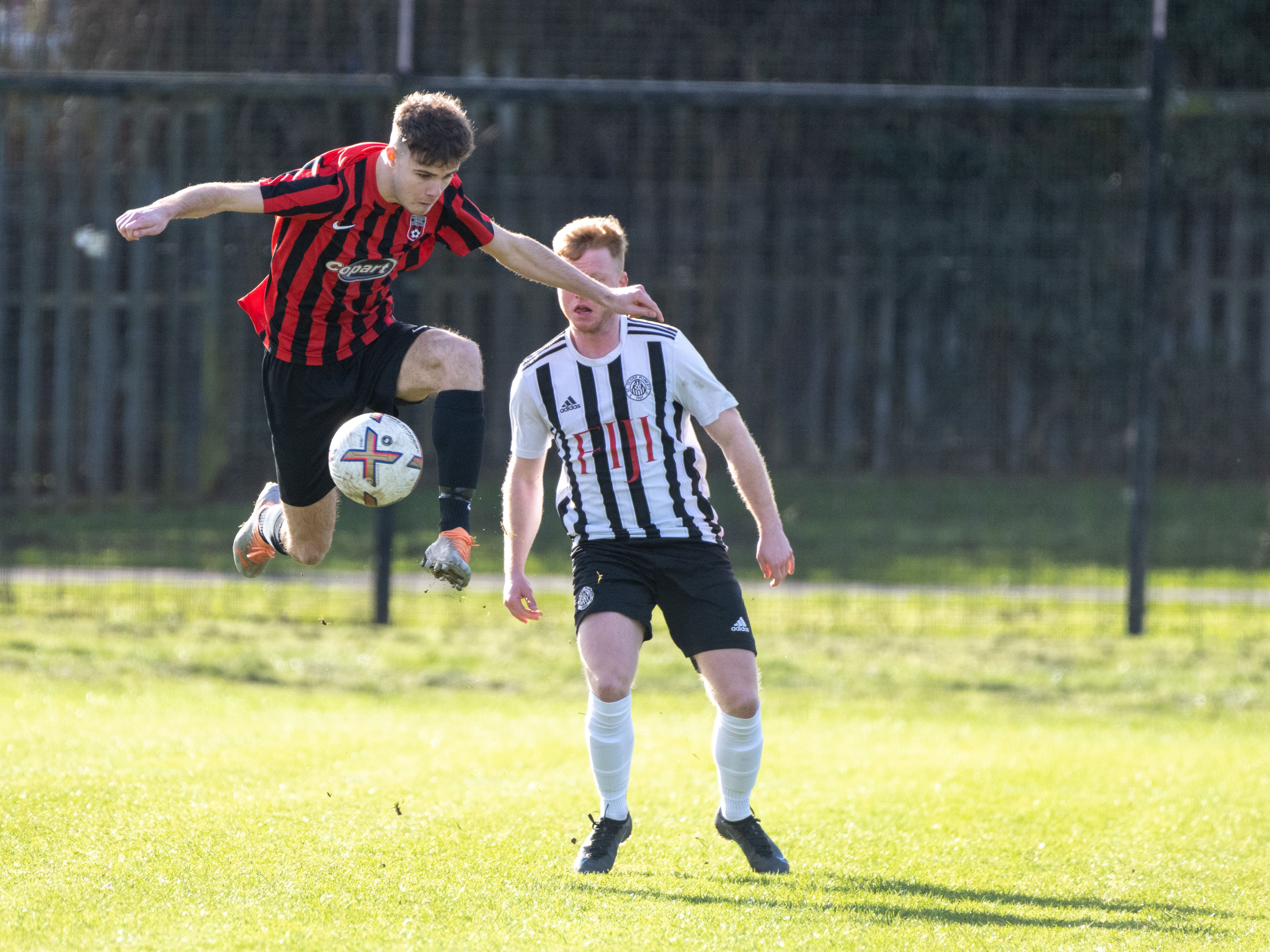 After going 2-0 up Plunkett began to get complacent and Saintfield had a gilt-edged opportunity from a corner; which was just headed over. 
Set pieces appeared to be Saintfields biggest threat all afternoon and never appeared to create any big chances in open play. 
They continued to build momentum until half-time with Jordan Patmore having another chance from a corner which was narrowly over the bar. It appeared Plunkett needed half-time to re-group themselves as Saintfield were just growing into the cup tie.
The second began and Saintfield started with a high intensity and Oliver Duff went on an amazing run but was denied when the referee blew up for a foul on Michael Mervyn. Plunkett then gained control again and had a penalty shout turned down by the referee.
In the 48th minute, Mark Sloan got his second goal of the afternoon, after good work down the left. A pinpoint ball from Michael Healy found Sean Jackson and he found Sloan who bundled the ball past Lewis Patmore who couldn't do anything about any of the goals.
The last 20 minutes of the game saw the most action with Mark Sloan getting his hat-trick with substitution Gary Dunlop assisting him through an exquisite run and in the 80th-minute goalscorer Sloan assisted Gary Dunlop with an exquisite finish. 
⚽️ SENIOR RESULTS ⚽️

JMBAWA⚫️⚪️⚽️ pic.twitter.com/qZ0jNK1SdT

— St Oliver Plunkett FC (@SOPFC69) February 25, 2023
Plunkett were then awarded a penalty in the 84th minute with a clear foul on Martin Webb who had ventured forward for a corner. The penalty was then finished off by captain Michael Healy with a superb finish into the top left corner and goalkeeper Patmore went the opposite direction.
The final goal of the afternoon came from Sean Jackson after he side-footed an excellent finish into the right corner giving the goalkeeper no chance. Jackson was one of the main cogs to Plunkett's engine today and his hard work paid off with an excellent finish. 
SOPFC: D. McMahon, M. Mervyn, M. Webb, M. McCusker, M. Healy, E. Reid (C.Duffy 74), J. Lynch (S. Killyleagh 59), C. Nolan, S. Jackson, M. Sloan, S. O'Neill (G. Dunlop 69)
Goals: 15 M. Sloan; 26 S. O'Neill; 48 M.Sloan; 72 M. Sloan; 80 G Dunlop; 85 M. Healy; 90 S. Jackson
SAINTFIELD UNITED: L. Patmore, S. McCormick ( M. Gregg 83) , C. Taylor, A. Milligan, A. McClenaghan, A. Kirkland, E. Barr, R. Sofley, M. Boyle (A. Chids 71) , J. Patmore, O. Duff