NAFL Premier Division
Immaculata 1-2 Crumlin Star 
Crumlin Star set Grosevenor Recreation Centre on fire as they broke Immaculata's hearts with a five-minute blitz at the end of the game to claim the win.
Crumlin Star started the better team and had most of the early possession and it appeared for the first 15 minutes that they were going to ease past the hosts, forcing them into mistakes all over the pitch with their high intensity. 
In the 18th minute, midfield maestro Joseph McClenaghan body-checked Star's Brendan O'Neill and referee Darren Veighey pointed straight to the spot. 
It appeared that Star's continued pressure was about to pay off but a terrible penalty from Barry McKervey was saved by Mac's goalkeeper Conor McGourty.
Star continued to probe but Immaculata looked resolute in their defensive unit. It appeared Star were trying to get overloads on the wings as Immaculata had overloaded the centre of the pitch. The penalty miss appeared to inject life into Immaculata as they started to create chances of their own. 
In the 44th minute, a miscommunication error from goalkeeper Ciaran McNeill and defender Niall Hawkins after a poor header by Joseph McNeill led to Immaculata striker James Haughey rounding the goalkeeper and finishing expertly.
The second half began and Immaculata continued to sit in their low block and play long balls to their forward line in an attempt to cause chaos and nick a second goal, but they were not successful.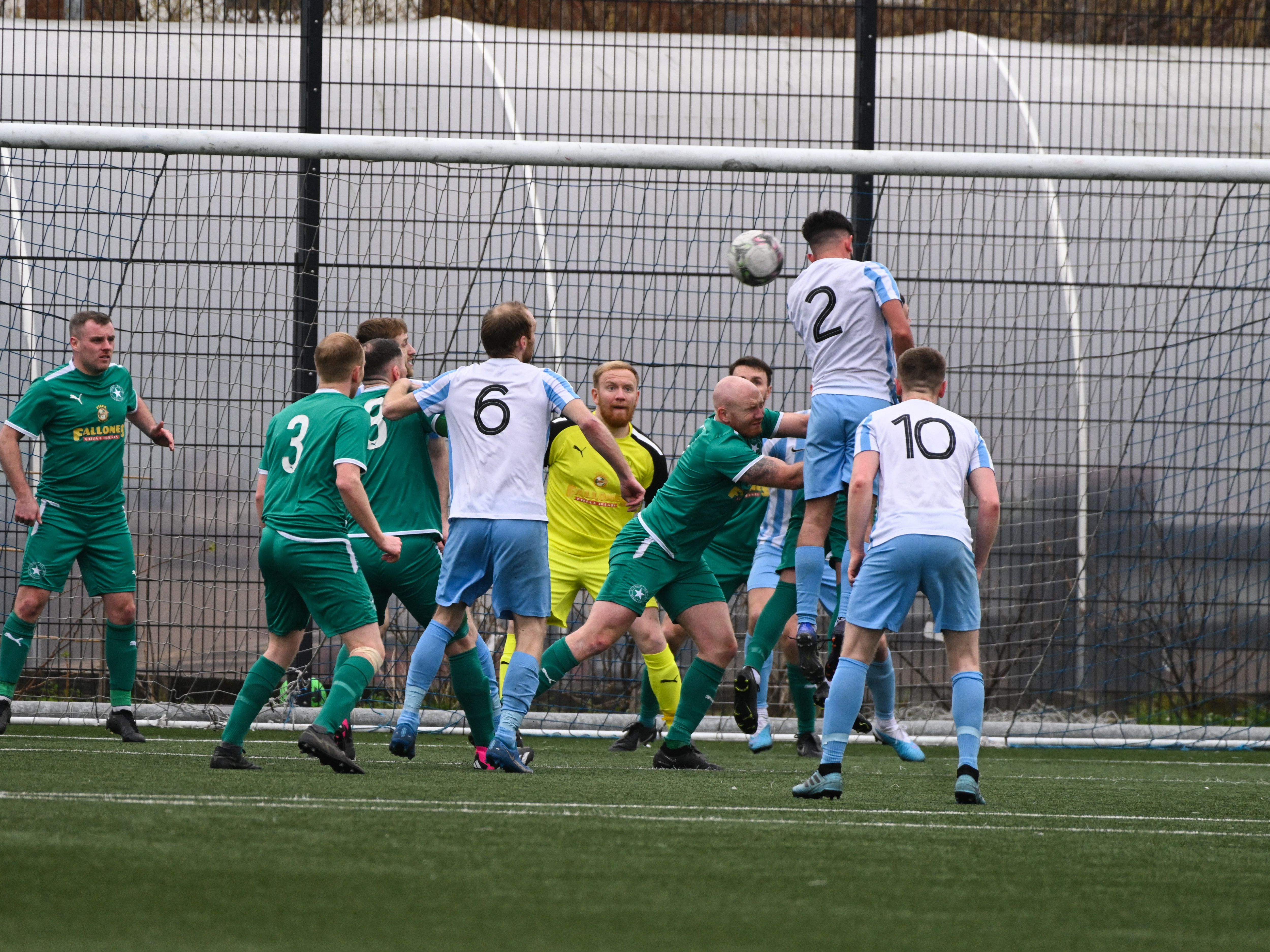 In the 66th minute, Immaculata made a substitute by bringing Sean McGovern on in place of Logan Brady, in turn, changing their formation to a more defensive approach. Some may suggest this may have been the wrong thing to do as it added needless pressure to a stable unit.
Crumlin Star appeared to go up a gear when Mac's captain Gary McVicker was sent off in the 84th minute after a second yellow card. The free-kick that was awarded flew over the bar and it was a gilt-edged opportunity from 20 yards out.
Most of the action came in stoppage time when Colm O'Riordan plunged Star's right back Brendan O'Neill to the ground. There were massive appeals for a penalty but the referee was in a perfect position to give the free-kick outside the box. 
However, this didn't change the outcome as, previously fouled, O'Riodan played a tantalising ball to the back-post and, under pressure, Brian McCaul could not do anything about it apart from turning it into his own net. 
This added fire to the belly of Immaculata and they started to commit men forward to salvage a winner. 
However, they were not successful as, in the 95th minute, a lightning-quick break from Crumlin Star saw Frances Nolan slot home. 
The goal came from the Mac committing too many men forward and, in turn, they were caught in the transition. 
There were massive appeals from Immaculata about the goal being offside and Padraig Adams was sent off for yelling into the referee's face and he deemed that gross misconduct.
➡️𝗜𝗺𝗺𝗮𝗰𝘂𝗹𝗮𝘁𝗮1️⃣-2️⃣𝗖𝗿𝘂𝗺𝗹𝗶𝗻 𝗦𝘁𝗮𝗿⬅️

⚽ Breandan Oneill
⚽ Francy Nolan

𝐌𝐎𝐓𝐌 Kevin Trainor🌟

Awh Super Saturdayssss🙌🙌🙌🙌 Last minute winners, what a feeling🔥🔥🔥🔥🔥#𝐖𝐞𝐀𝐫𝐞𝐂𝐫𝐮𝐦𝐥𝐢𝐧𝐒𝐭𝐚𝐫💚🌟 pic.twitter.com/MLcjhLZyvf

— Crumlin Star Football Club💚⭐ (@CrumlinStarFC) March 4, 2023
The away side came away with the win, but there was a bit of a coming together after the game with passions running high, yet it was the Ardoyne club that took the three points.
IMMACULATA: C McGourty, B McCaul (M Fisher 86), P Adams, E Begley, B McCaul, C O'Riordan, G McVicker, J McClenaghan (D Bellew 70), L Brady (S McGovern), S Begley, J Haughey
Goal: J Haughey 
CRUMLIN STAR: C McNeill, B O'Neill, A McNeill, N Hawkins, M Lyons, J McNeill, F Nolan, K Trainor, K Lynch, J Doyle, B McKervey (S Smyth 64)
Goals: B McCaul (OG), F Nolan