By Ciara Quinn
A HOUSING row has erupted in Lisburn after a huge amount of anti-Catholic graffiti was daubed over homes in a former British Army estate set to be refurbished to provide much-needed social housing.
'West Belfast Not Welcome' and 'All Taigs Are Targets' were just some of the viciously offensive anti-Catholic slogans painted on garages, doors and windows the length of Mountview Drive by a group claiming to be 'UYM', or Ulster Young Militants, the youth wing of the UDA. The Clanmil Housing Association is in the process of acquiring the properties which are currently owned by the Ministry of Defence and which used to house army personnel and their families.
The disturbing news comes just three months after the Andersonstown News reported that a West Belfast family were forced from Finch Gardens, an Oaklee Homes Group development near Lisburn's Pond Park Road, where they had been living for three years. They fled after being besieged by flags and then receiving a greeting card in the post referring to them as 'Fenian Scum' and signed by 'All Your Friends in Loyalist Lisburn'.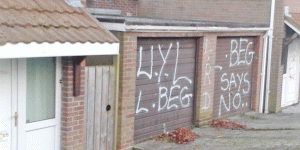 We've learned that some residents of the streets surrounding the former army homes have been uneasy for some time about Clanmil's plan to refurbish the properties. Some fear an influx of problem or 'anti-social' families, some have even voiced concern about the possibility that Travelling families will be moved in. But the intervention of a group claiming to represent the UDA's youth wing and the threats to West Belfast Catholics have poured petrol on the flames.
"Sectarian graffiti that has appeared regarding this proposed development is deeply concerning and should be condemned by all," said Sinn Féin Lisburn Councillor Arder Carson. "Labelling sections of our community in such a way is clearly worrying and unhelpful. Sinn Féin support social housing developments but not without context. We support the right of residents to raise and have addressed genuine concerns. Full and open consultation is the best mechanism for this. This is an excellent opportunity to relieve the housing stress within the city boundary where there is much need for quality social housing."
A spokesperson for Clanmil Housing Association said: "In line with current  government housing strategy, Clanmil is continually seeking opportunities to make available affordable high quality homes in areas where the demand for housing is high. Refurbishing existing empty houses provides homes more quickly than through the new build programme and also helps combat the potential blight on a neighbourhood that can be caused by empty homes.  The homes at Mountview offer an opportunity to do this and Clanmil is keen to take this forward and make these houses available for families."
Please follow and like us: