FIVE points from play including one at the death when reintroduced having come off injured summed up a jaw-dropping display from Patrick McBride at Corrigan Park on Saturday.
Playing on his home patch, the St John's man is right at home and knows every blade of grass of the Whiterock Road venue, so getting his angles right for shots is never an issue.
But throw in the added pressure of momentum firmly with the opposition who had whittled Antrim's 10-point lead down to one and McBride's final score from a right angle was all the more impressive.
Yet he produced so much more on Saturday as he was cool on the ball, made the right runs at the right time and found the right pass in a man-of-the-match display.
"I don't know how many I hit from play, but it doesn't matter who hits them as long as they go over," he said after as his teammates savoured a huge win that confirms their Division Three status and put some difficult defeats in the rearview.
"This is my home patch so I think I know where I am all the time so I know where to kick them from. I don't need to look at the net and that's not cocky, just a self-confidence thing."
Once again difficult selection decisions had to be made following an exciting weekend of action. Players from all four #AllianzLeagues Divisions feature on the https://t.co/gvXdqgOuf0 Football Team of the Week #GAA

— The GAA (@officialgaa) March 20, 2023
Clutching defeat from the jaws of victory against both Down and Fermanagh, falling short in the opener against Offaly when they had more than enough chances and then last time out, a mauling in Mullingar that was not in keeping with how they had been performing could have left Antrim, going into the Cavan game in which few gave them any chance, feeling sorry for themselves, but they responded in perfect fashion.
There was a determination from the off, confidence in what they did and clear there was no dent to their confidence.
Yet once again, they found themselves on the brink as the Breffnimen roared back, but this time there was a sense they had learnt a few lessons that stood to them as they found a way to see it out.
"You create your own luck," McBride insisted.
"All this talk that Cavan were unbeatable and you have thought it was London playing Dublin.
"There is a quiet confidence in this group and you could see that confidence. The biggest thing was to bounce back from that Westmeath result because you look at soccer and that 7-0 between Liverpool and United - it happens in sport now and again but it doesn't define us. That (today) defines us and cements our place in this division. Had a couple of results gone our way, we could have been going for promotion.
"The best thing about that (today) was that it was exactly the same as against Down and Fermanagh but we ended up winning, so it was about time we won one.
"There was so much talk about Antrim this, Antrim that and disappointment, but because of lads with injury, everybody has stepped up and everyone on this panel has played which is very rare.
"The performances we have put in have been brilliant and we deserve more than just staying in this division, but we definitely didn't deserve to go down."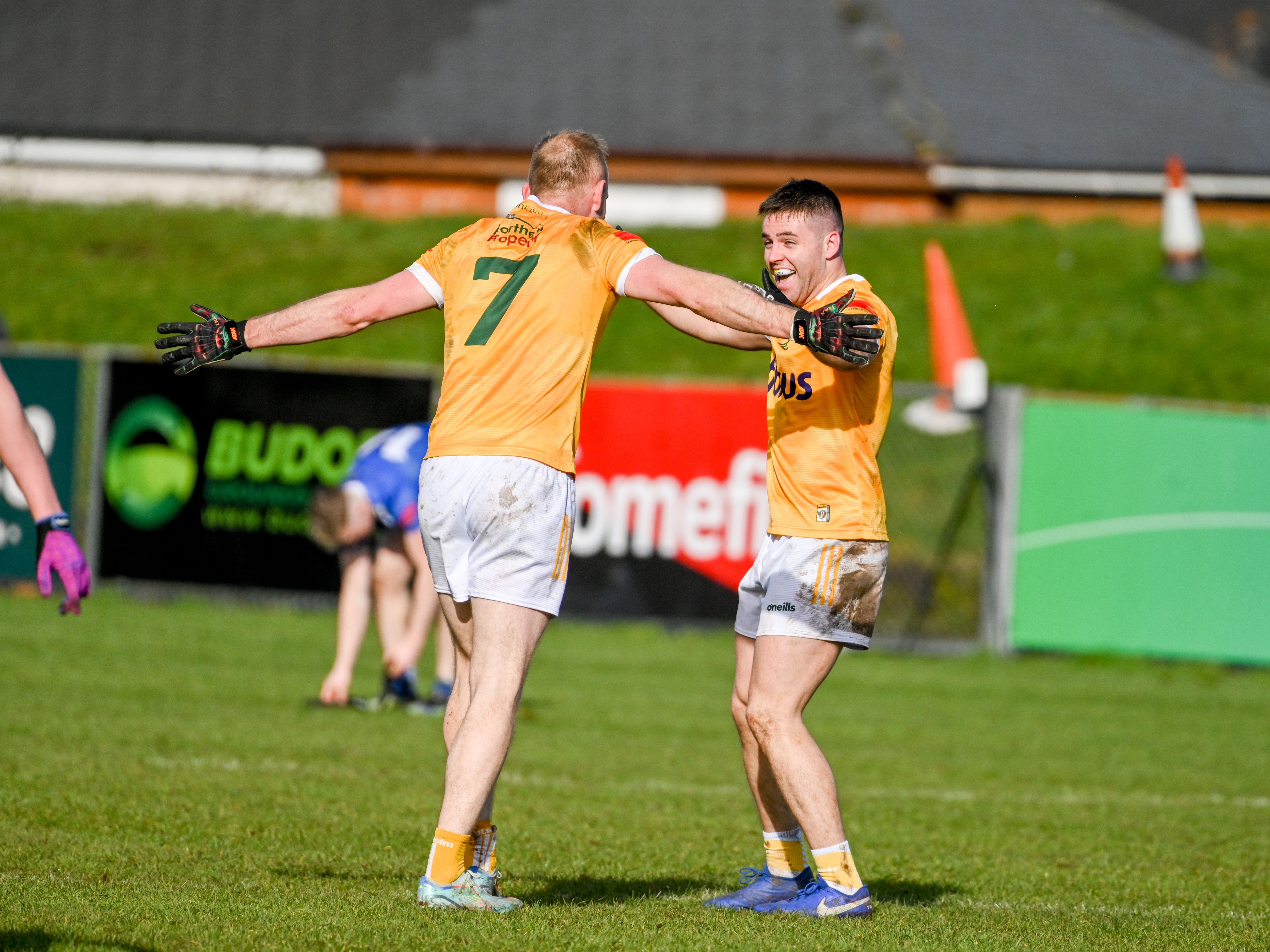 It was a measure of their character that they have now avoided the drop with a game to spare in a campaign that has been a struggle on so many fronts.
McBride missed out on a chunk of the League due to injury and there was a sense that had he been on the field against Down and Fermanagh, his experience and influence may have contributed to a better ending for the Saffrons.
But those results were put firmly in perspective by the news of the passing of his sister, Marie.
It has been a difficult few weeks for McBride, his family and his teammates, but a testament to his character he returned to the team and delivered what he did on Saturday.
"He was incredible and he wanted to be with the team straight away," said Antrim manager, Andy McEntee.
"He's got good friends in that group and they've rallied around him. Everyone has rallied around him and he's going top need friends because I know myself these things don't go away. They stick with you and it will be there for a long time."
McBride is deeply appreciative of the support he has received and believes the bonds forged in the squad have not just been a source of comfort over the past couple of weeks, but also manifested themselves on Saturday as they triumphed over adversity.
"It's been a tough couple of weeks but you've good lads around you, a good family and a great manager who was up at the house during the week," he noted.
"That shows the type of person he is and also the type of people the entire backroom team is and all the players. It just shows what this group does for you - you're stronger together and we were stronger together again today."