Irish Basketball President's Cup final
Ulster University 60-57 Moy Tolka Rovers
Ulster University survived a late scare to get past Moy Tolka Rovers 60-57 and win the InsureMyHouse.ie President's Cup. 
The game was tight from start to finish, Moy Tolka Rovers trailed by four with 40 seconds to go when Michael Bonaparte drew a foul, but could only convert one of his free throws.
That still left them with a chance and when they wrestled possession back in the dying seconds Conor Liston saw his three-point attempt come off the rim, the rebound fell kindly and Daniel Heaney shot just before the buzzer, but his attempt came off the backboard and Ulster University clung on for victory.
The opening quarter saw Moy Tolka Rovers take an early 9-4 lead with Ramunas Ramanauskas hitting four and Conor Liston shooting five. An eight-point run by Ulster University's Girts Celms dragged his side in front and they'd finish the quarter 23-17 up.
🏆 #BINationalCup 𝐂𝐡𝐚𝐦𝐩𝐢𝐨𝐧𝐬@ulsterunibball are @insuremyhouseie Presidents' Cup champions after defeating @TolkaNation. 🤩

💎 MVP Conor O'Sullivan topped the scoring with 21 points. pic.twitter.com/NPXz9UMJc5

— Basketball Ireland (@BballIrl) January 21, 2023
The second quarter saw Ulster University open up a 10-point lead, when Conor O'Sullivan landed his three-point jump shot with a little under four minutes to go, to make it 35-25. O'Sullivan was finding his range and it was his basket at the close of the quarter which brought it to 39-30 at half-time in Ulster University's favour.
O'Sullivan was instrumental in Ulster University's win, his game-high 21 points, along with seven rebounds, six assists, six steals and four turnovers indicative of his all-round performance, which deservedly earned him the MVP.
Moy Tolka Rovers stayed in the fight and Zachary Bates stepped up to land a big three, with a little over a minute to go in the quarter, the deficit was just two points, 48-46.
Michael Bonaparte, who'd shot nine points in the second quarter, was kept quiet in the third, but Conor Liston and Daniel Heaney were among those to step up, as the Dublin club trailed 51-46 going into the last quarter.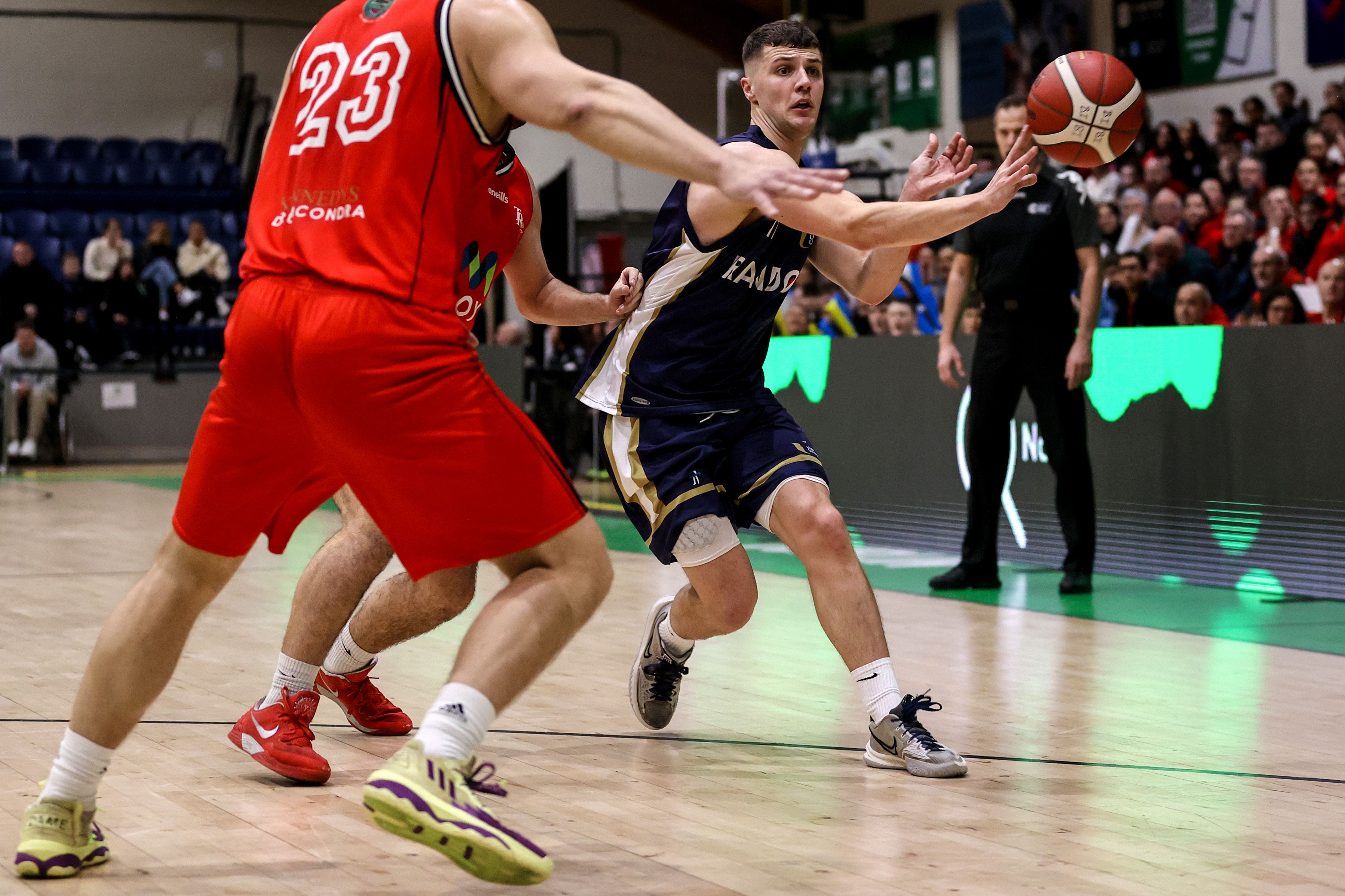 Ulster University stretched their advantage to eight, 59-51, with three minutes to go when O'Sullivan brought his personal tally to 21. Moy Tolka Rovers kept themselves in contention right to the death, but couldn't force overtime in a hectic final minute.
MVP Conor O'Sullivan thinks the InsureMyHouse.ie Presidents' Cup is a statement win for the club.
"I feel like this win puts us on the map now," he said.
"People kind of look past the north I think, we don't really get as much credit up there as we should, but were going to have to credit now after that. Anybody out there could have won the MVP today. Shane (O'Connor), Gierts (Clems), Nate (Schafer), Igor (Markiewicz) have been fantastic all year. You could go down the whole roster, it's been a real team effort."
ULSTER UNIVERSITY: Girts Celms, Ben Hesnan, Matthew Rooney, Conall Goan, Igor Markiewicz, Shane O'Connor, Conor O'Sullivan, Fintan O'Connor, Maksimillyan Dimitrov, Conall McQuaid, Adam Ryan, Nathaniel Shafer
Coach: Ryan McCormack Asst Coach: Ciara O'Neill 
Top Scorers: Conor O'Sullivan (21), Girts Celms (15), Nathaniel Shafer (14), Adam Ryan (6), Shane O'Connor (4)
MOY TOLKA ROVERS: Daniel Ayoade, Elijah Faapito, Rory Howe, Marcus Black, Zachary Bates, Sean Moore, Cormac Meehan, Conor Liston, Rory Carroll, Daniel Heaney, Michael Bonaparte, Ramunas Ramanauskas  
Coach: Gerald Kennedy Asst Coach: Bernard O'Maoileidigh and Tom Kenny Team Manager: Ale Biffi
Top Scorers: Michael Bonaparte (14), Conor Liston (14), Daniel Heaney (10), Zachary Bates (5), Ramunas Ramanauskas and Elijah Faapito (both 4)