IT was a mixed bag for local boxers on Irish Elite finals' night at the National Stadium in Dublin on Saturday.
Michaela Walsh and Dylan Eagleson both triumphed, but there was no luck for Holy Trinity pair Jon McConnell and Clepson Dos Santos, while Immaculata's Caitlin Fryers and Paudraig Downey of St John Bosco also came up short.
Walsh was in sparkling form to win her 10th Elite title, completely outclassing Kelsey Leonard in the women's 57kg decider.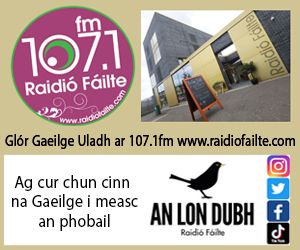 Now boxing out of Emerald, the Commonwealth Games gold medallist was too quick and slick with counters and also bossed the exchanges against her game Kildare rival and forced a count in the third to put an exclamation point on her performance.
The National Stadium is a home away from home for the West Belfast woman and she was delighted to dazzle in the capital once more.
January 22, 2023
"Everyone asks where the favourite place is that I've boxed and I always say the National Stadium as I think it brings out a different side of me," she said afterwards.
"I knew Kelsey from when she was younger and she's a really good girl. She'd been performing well over the last few months so I knew it was going to be a tough fight, but I'm one of the best in the world at my weight and I wasn't letting anyone stand in my way tonight.
"I've been able to train at home so I've been training away with my dad, JP Delaney and Harry Hawkins.
"That helped me a lot and I think it showed in my performance tonight. Win lose or draw, I was happy with the performance."
Walsh is renowned for her incredible work ethic and dedication to the sport, but feels that appreciating other things outside of boxing has helped her over the past couple of years.
The hunger and desire to chase medals at every turn perhaps added a little too much pressure, but with a fresh approach the performances seem to be getting better and that is how she intends to continue.
"I maybe put too much of an emphasis on boxing sometimes," she admitted.
"There's more to life than boxing and I realise that. If I did have to walk away from the sport, I have achieved my dreams. I'm not going to stop until I've achieved them all, but if I had to walk away now I'd be very proud and anything I achieve now is a bonus.
"I felt last year was one of my best in boxing, not because of results, but because my boxing ability came on more than any other year."
It wasn't double delight for the family this time as younger brother, Aidan, was shocked in Friday's semi-finals by Dean Walsh.
Such a scenario could have thrown Michaela off course a little heading into the final, but despite her sibling's disappointment, it was business as usual with Aidan roaring her on from the stands on Saturday.
"It's very hard as it felt like a loss for myself," Michaela continued.
"It's very difficult, but I'm an Elite level boxer and need to know how to control my emotions, use my energy in the correct way and set it aside. Aidan set it aside and he was at the weigh-in with me the first thing this morning. We're always there for each other so this is a title for me and him. He's with me every step of the way and he always will be."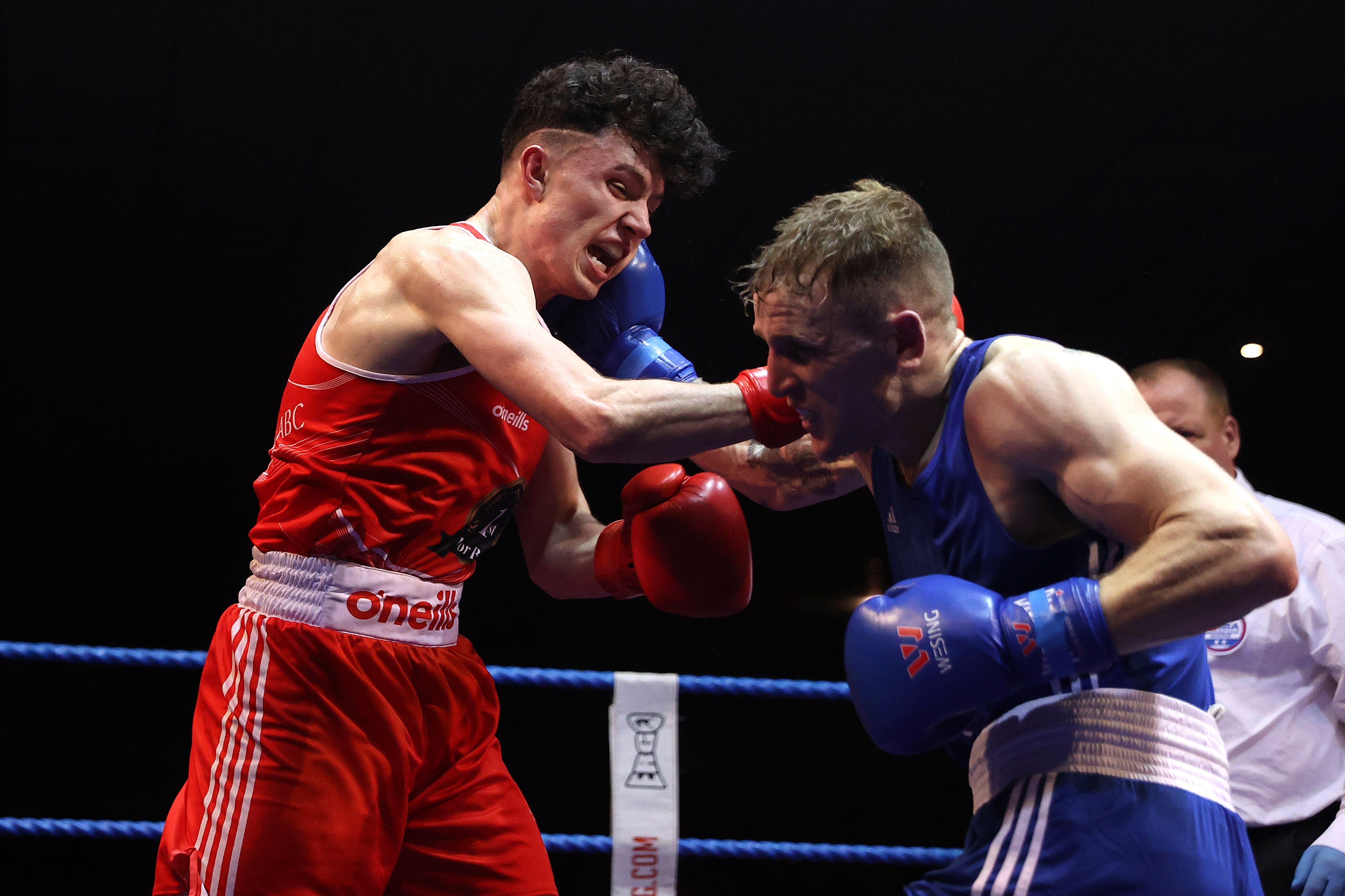 Dean Walsh would go on to win the 71kg title with a 4-1 win over Holy Trinity's over Jon McConnell.
McConnell boxed excellently for long stretches, pickings punches well and seemed to take the first and continued this early in the second.
However, the Wexford man seemed to gain momentum late in the second when a brief lapse from McConnell - who had looked to be getting the better of it until then - saw him punish with a one-two and this possibly tipped the round his way in the eyes of enough of the judges before stepping on the gas in the third to defeat the Holy Trinity man who was hugely unlucky.
McConnell's clubmate, Clepson Dos Santos lost out in the 51kg final to Sean Mari when stopped in the second round.
A body shot in the first had the Banbridge native on the floor and although he gamely dug in and tried to match Mari, he was down twice in the second and this was the end of the affair.
Dylan Eagleson claimed his first Irish Elite title overcoming Jorge Rogla Castanno and illness to sweep the 54kg decider.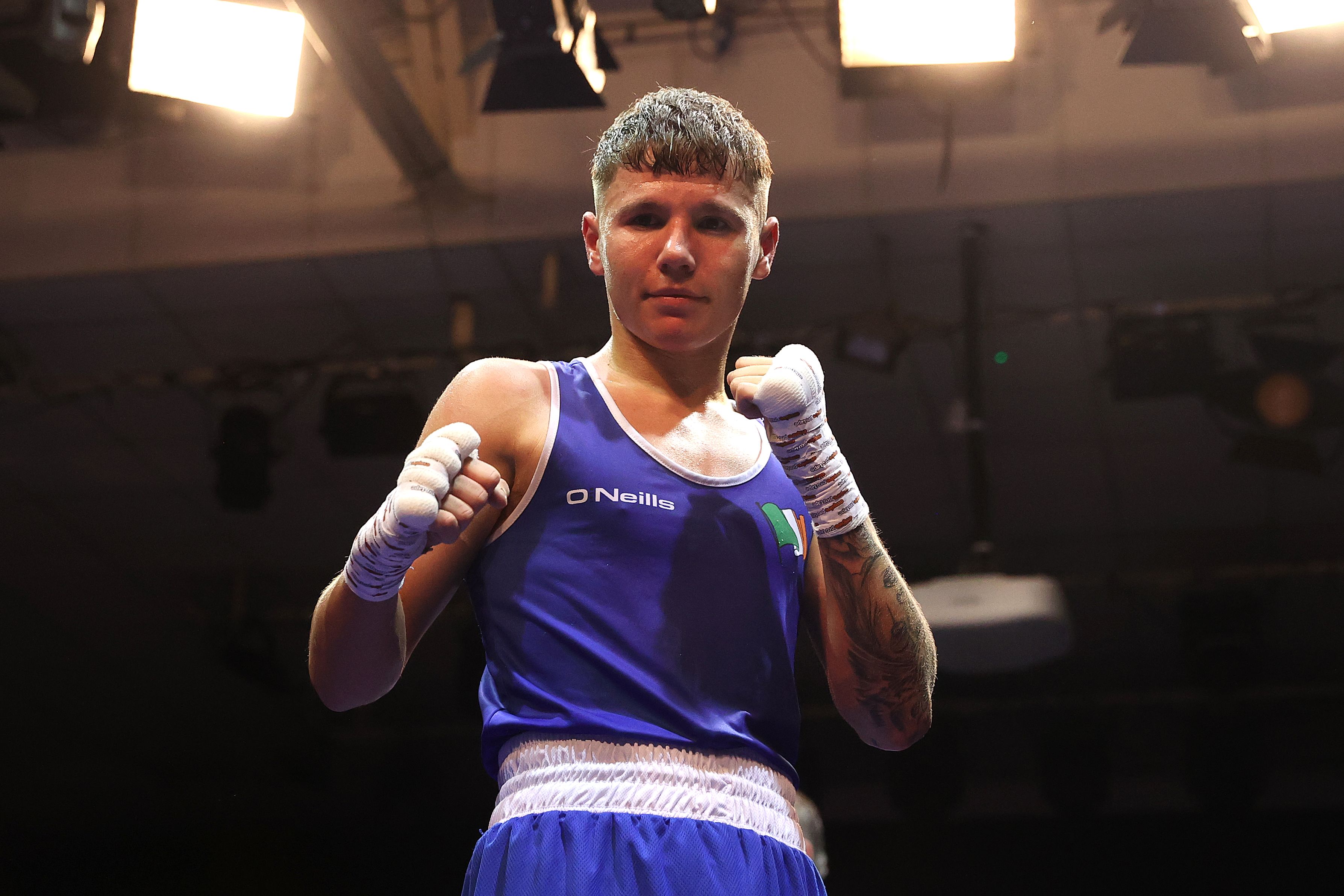 The St Paul's ABC southpaw enjoyed a magical 2022 with Euro U22 bronze, Euro Elite silver and Commonwealth gold, and has now put himself in pole position to head to this summer's European Games.
However, the Bangor man was a little off-colour on the night, perhaps explained by this being his first action since Birmingham last year having suffered a back injury.
Yet he was still good enough to claim a unanimous decision win with his boxing off the back foot, countering Castanno to stay a step ahead.
His Corinthians opponent was full of endeavour and had his moments with some solid scoring shots, but Eagleson produced some flashes of brilliance with lead lefts and counter rights to prevail.
"It was a tough fight," he admitted.
"I was sick before so it wasn't my best performance. I haven't boxed since the Commonwealth Games so there was a bit of ring rust, so there's a lot to work on.
"It's a good start to the year and it's a big year ahead of me. My name is still there at 57, so I'll go and show what I can because I'm better than that."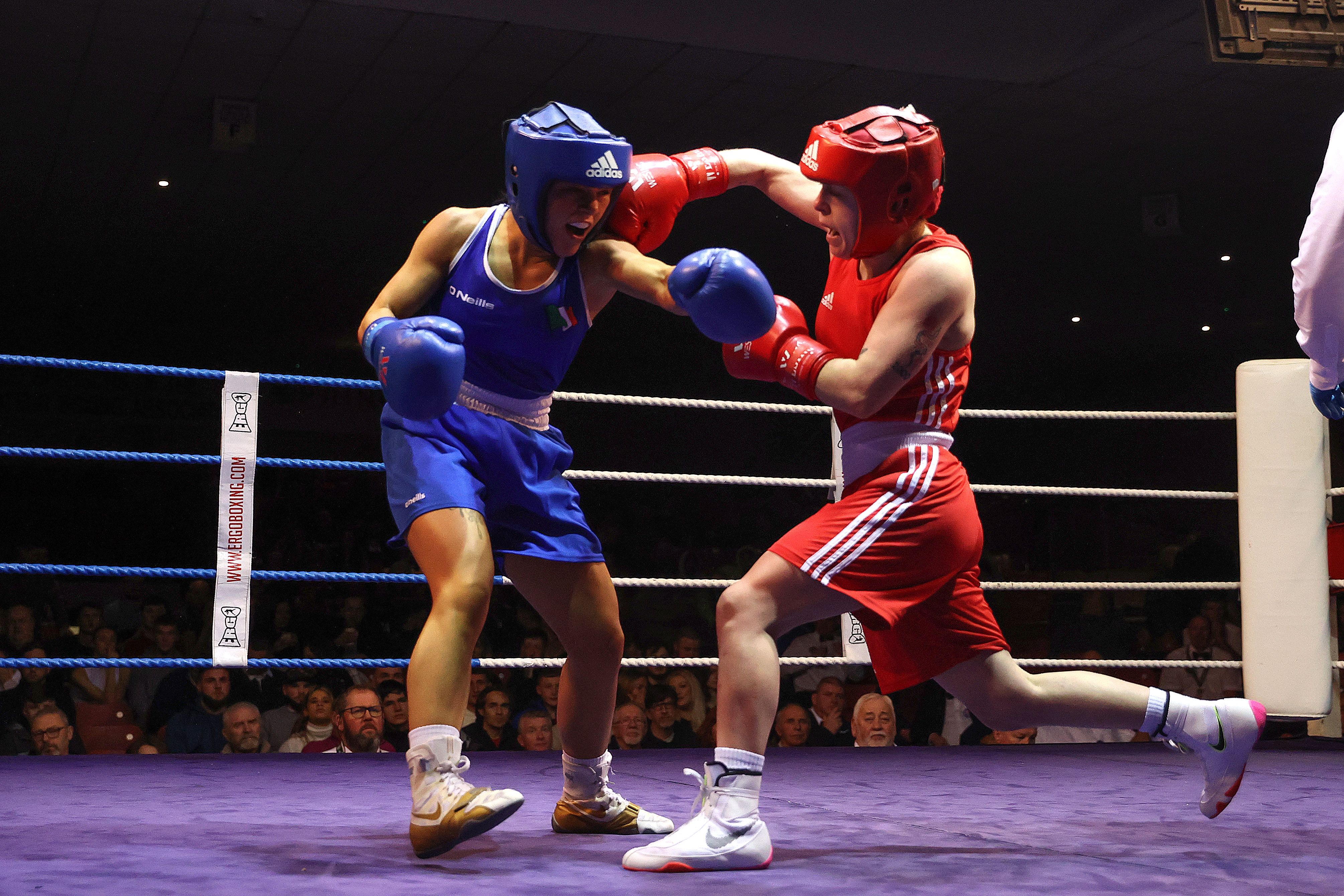 European silver medallist Caitlin Fryers lost her 50kg crown as Daina Moorehouse took a UD win.
The Immaculata fighter appeared to be on top after the first, beating the Enniskerry fighter to the punch, but Morehouse upped it in the second before two breaks in the action - one as Moorehouse had her headgear adjusted and the second when stumbling and complaining of an ankle injury - appeared to throw Fryers out of her rhythm as she couldn't get into the same flow.
Moorehouse powered on in the third and had recovered from any injury, bouncing on her toes and powering over the line to take the title.
There was better news for Commonwealth Games representative Nicole Clyde who claimed her first Irish Elite title, edging Chloe Gabriel on a 3-2 split at 52kg.
Earlier in the evening, St John Bosco's Paudraig Downey put up a fine performance in the men's 48kg final, but was edged out by Holy Family, Drogheda's Ricky Nesbitt on a 3-2 split decision.
Grainne Walsh scored the shock of the night in the fight of the night as she edged out world champion Amy Broadhurst at 66kg by way of a 3-2 split decision.
Broadhurst, who claimed World, European and Commonwealth gold in 2022 was the overwhelming favourite and began in such fashion, but in the second the Spartacus fighter exploded to life as the pair exchanged fire.
The bout continued in that fashion in the third with both unloading, Broadhurst getting the better of it from the outside and Walsh having the final say of the exchanges and this was enough. to see her roll back the years to claim victory and make a huge case for inclusion on the team that will head to Poland for the European Games.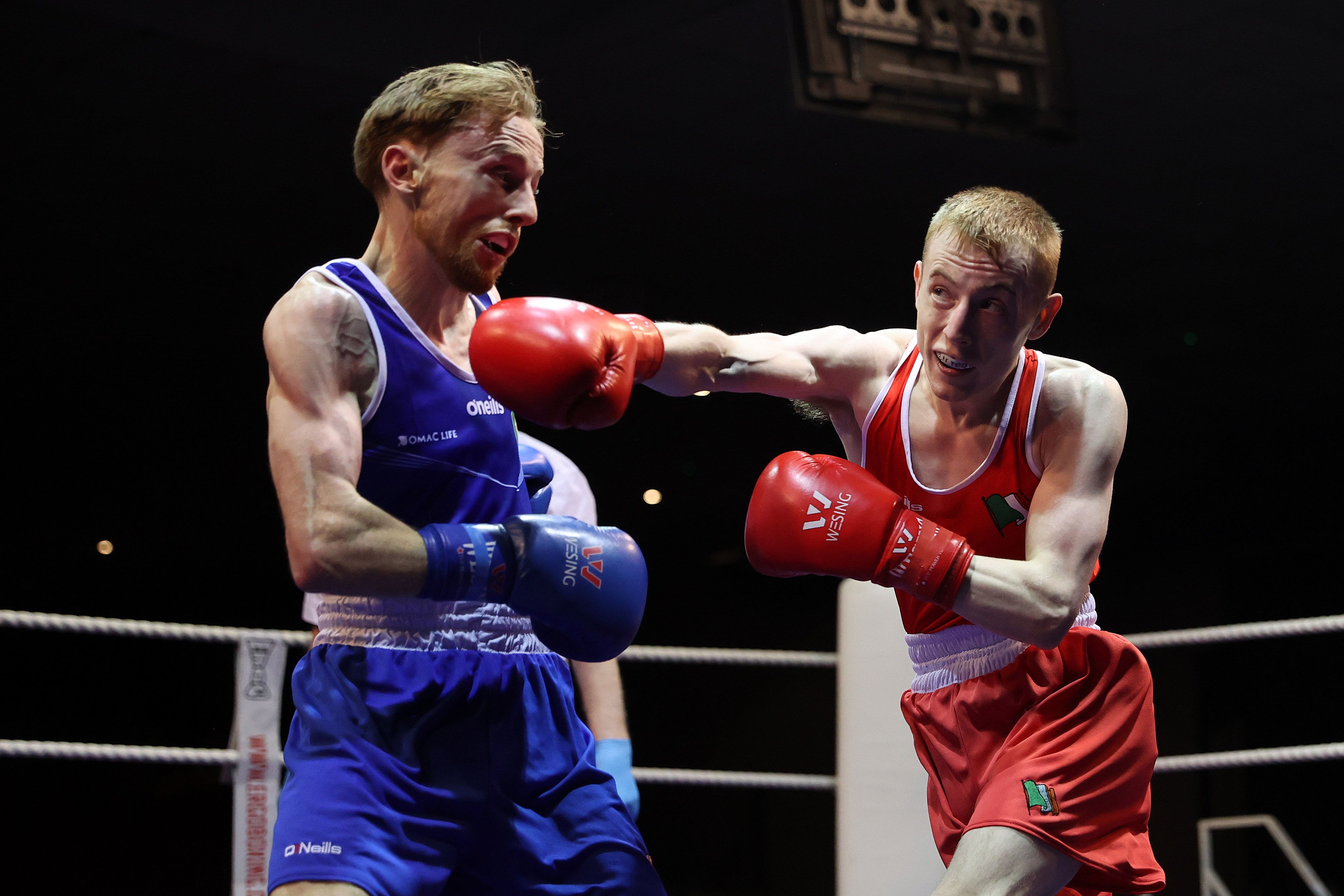 Olympic lightweight champion Kellie Harrington was an expected UD winner over Zara Breslin for her 10th national title.
John Paul Hale lost out in Friday's semi-final to Dean Clancy who was given a walkover in the final due to Brandon McCarthy sustaining a cut in his semi-final that ruled him out, while Emerald's Kane Tucker was unable to box in the 86kg final due to injury, meaning Dmytro Oliynyk enjoyed a walkover win.
Results
81kg: Dearbhla Tinnelly (Clann Naofa) 5-0 Bethany Doocey (Castlebar)
48kg: Paudraig Downey (St John Bosco A) 2-3 Rickey Nesbitt (Holy Family L)
52kg: Chloe Gabriel (Mulhuddart)  2-3 Nicole Clyde (Antrim)
92+: William J McCartan (Gilford) lost RSC 2 vs Gytis Lisinskas (Celtic)
63kg: Winnie Christina McDonagh (Neilstown) 0-5 Shauna Browne O'Keefe (Clonmel)
75kg: Joshua Olaniyan (Jobstown) 2-3 Christopher O'Reilly (Holy Family L)
81+kg: Judy Bobbett (Liberty) 5-0  Shauna Kearney (Bunclody)
57kg: Paul Loonam (St Carthages) 5-0 Sean Purcell (Saviours Crystal)
54kg: Niamh Fay (Ballybougall)  5-0 Jennifer Lehane (DCU)
60kg: Davey Joyce (Holy Family L) 4-1 Jason Nevin (Olympic L)
48kg: Nicole Buckley (St Carthages) 4-1 Ciara Walsh (Smithfield)
54kg: Jorge Rogla Castanno (Corinthians) 0-5 Dylan Eagleson (St Pauls A)
60kg: Kellie Harrington (St Mary's D) 5-0 Zara Breslin (Tramore)
67kg: Eugene McKeever (Holy Family L) 3-2 Ryan McCarthy (Fr Horgans)
50kg: Caitlin Fryers (Immaculata A) 0-5 Daina Moorehouse (Enniskerry)
75kg: Aoife O'Rourke (Olympic C)  5-0 Aoibhe Carabine (Geesala)
71kg: Jon McConnell (Holy Trinity) 1-4 Dean Walsh (St Ibars/Josephs)
63.5kg: Brandon McCarthy (St Michaels L) lost W/O Dean Clancy (Sean McDermott)
57kg: Michaela Walsh (Emerald A) 5-0 Kelsey Leonard (Unit 3)
51kg: Clepson dos Santos (Holy Trinity) lost RSC 2 vs Sean Mari (Monkstown D/Defence F)
66kg: Amy Broadhurst (St Bronaghs) 2-3 Grainne Walsh (Spartacus)
80kg: Jason Clancy (Sean McDermott) 0-5 Keelyn Cassidy (Saviours Crystal
70kg: Tiffany O'Reilly (Portlaoise/Defence F) 0-5 Christina Desmond (Dungarvan/Garda)
92kg: Jack Marley (Monkstown D) 5-0 Patrick Ward (Olympic C)
86kg: Dmytro Oliynyk (Smithfield) won W/O v Kane Tucker (Emerald A)