EDUCATION workers picketing outside schools in Belfast say they are demanding fair pay for the work they do.
School bus drivers, catering staff, classroom assistants, cleaners and other support workers are taking part in the industrial action.
On the Picket Line in Belfast this morning.

Catherine McKenna, Unison.
Patrick McKee, Caretaker, St John the Baptist Primary
Anne Taggart, Cook, Holy Child school pic.twitter.com/U579x3FCWg

— Kevin Sharkey (@tv_KevinSharkey) November 16, 2023
Niamh Kelly, a teaching assistant on strike, said: "We are all teaching assistants, cleaners, office staff and school dinner staff. Our pay review was meant to come up in 2019 and a lack of funding and Covid put a halt on everything, which we understood at the time because of the unprecedented circumstances. 
"The unions have been the only ones who have had our backs and we've all been massively struggling with the cost of living crisis and worrying about how we are going to pay our bills. It's just unfair.
"For the work we do, all we are asking for is fair pay. I cannot remember the last time we got a proper pay rise and I don't think a lot of the people here would be able to either and some of the women with me today have been working in their jobs for years and years. 
"We are going to be standing here then we will be making our way down to the Bunscoil and we will be heading down to Academy Street to protest outside the Education Authority office."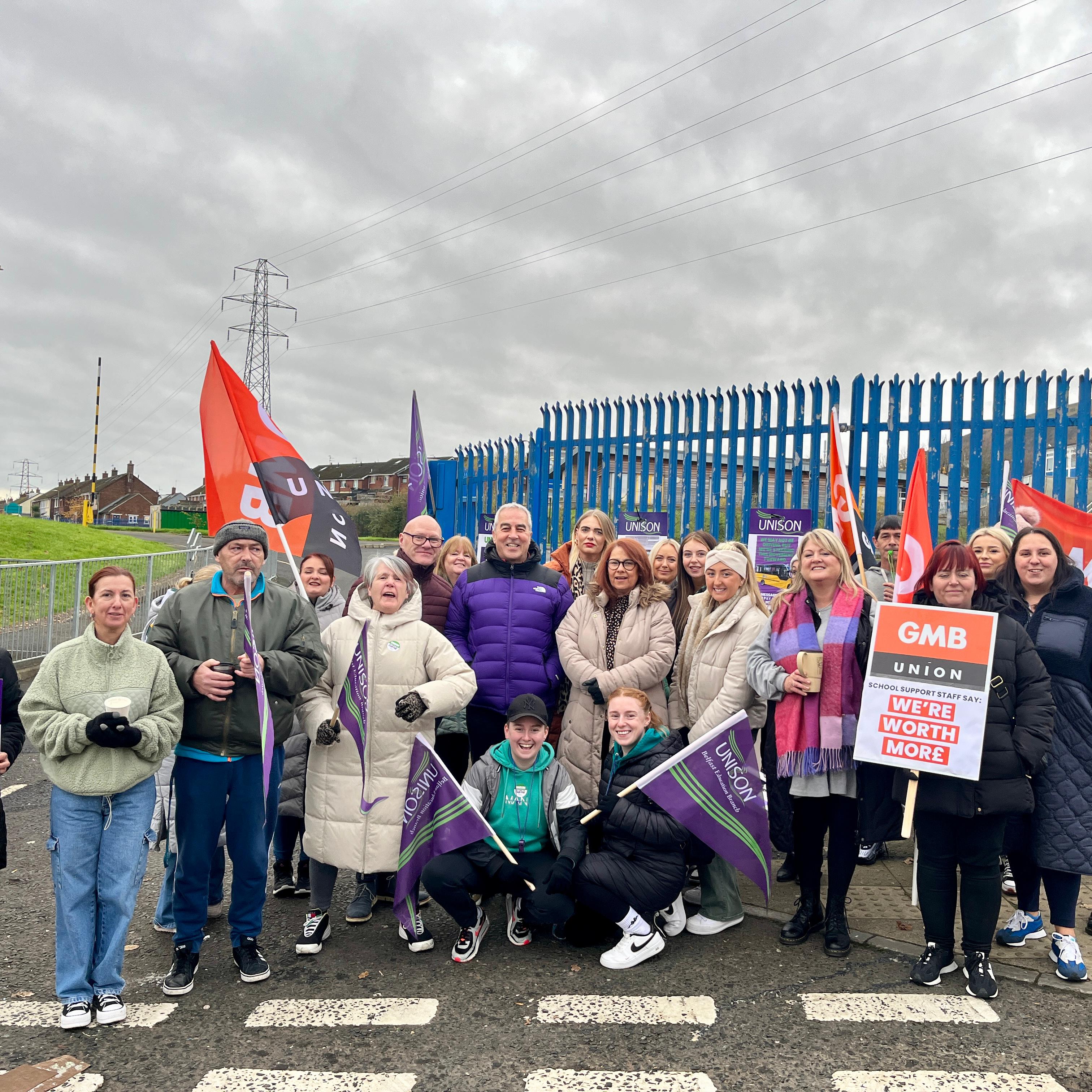 Sinn Féin MLA Pat Sheehan and West Belfast MP Paul Maskey visited striking workers this morning and expressed solidarity in their campaign for fair pay.
Mr Sheehan said: "I want to express support and solidarity with the education workers who are striking for fair pay.
"These workers are vital to running our schools with school transport, school meals and other support services and they deserve fair pay and conditions.
"One party's refusal to form an Executive has left workers at the mercy of a Tory government who show no care or regard for public sector workers and services.
"Public patience has run out. In the absence of an Executive, the British government must immediately bring forward a fair pay deal for public sector."