Leinster Senior Hurling Championship
Westmeath v Antrim (Cusack Park, Sunday, 2pm)
 
THE situation is clear for Antrim this Sunday in Mullingar: beat Westmeath or they will find themselves back in the Joe McDonagh Cup next year.
That is not the scenario players, management or supporters can even contemplate given the Saffrons have twice won the second-tier competition in recent years and it is impossible to see how much progress can be made by playing back at a comfortable level.
The overall relegation picture is a little more complicated due to Westmeath's incredible comeback win in Wexford at the weekend that pushes the Slaneysiders firmly into the danger zone and should they lose to Kilkenny with an Antrim win, then they will face the drop.
As for Westmeath, defeat to Antrim coupled with Wexford gaining at least a draw against the Cats and they will drop down, but events elsewhere are of no concern to Antrim as they simply must win or face relegation.
Therefore, it promises to be a day of high tension at Cusack Park but Antrim's fate is firmly in their own hands.
Perhaps they could, and maybe should, have been safe by now with points certainly dropped in the games against Dublin and Wexford earlier in the competition, but this is where they find themselves heading into a crunch clash.
MASSIVE game in round 5️⃣ of the Leinster Championship 🏆

This Sunday our Hurlers will travel to Mullingar to take on Westmeath in a must win game. Tickets can be purchased via: https://t.co/0627j7KD7X#SaffronSupport #AontroimAbú pic.twitter.com/Xv5aZy9dYC

— Antrim GAA (@AontroimGAA) May 22, 2023
"It's big ramifications for us all," said Antrim manager Darren Gleeson of this week's game.
"A third time trying to come up from the Joe McDonagh will be very hard to motivate everyone for that. This week is imperative."
Antrim were ultimately well beaten by Galway in Salthill at the weekend but there were some plusses as they were right in contention until a couple of preventable goals took the wind out of their sails and in the second period, despite continuing to hurl away, were out-gunned by the hosts.
It was certainly a strange day as an injury-ravaged Antrim were forced into a host of changes and with the game against Westmeath already playing on their minds, it was more of a day they simply needed to get through.
"It was massively on the mind coming down," Gleeson admitted of the Westmeath game.
"It was an unusual way to prepare for a game, looking to perform but also come off the field unscathed."
"Enda Og (McGarry) had a good run at it there but physically, he still has to develop as he's only 20 years of age, Conor Boyd back after a significant injury earlier in the year, so they were two plusses for us."
Gerard Walsh hobbled out with a knee injury last week but it's not as bad as first feared, so he starts in a half-back line that also includes the return of team captain Eoghan Campbell who hobbled off against Wexford with a foot injury, while Conall Bohill is also back after recovering from a hamstring strain.
Seaan Elliott is also back to bolster the attack having picked up an injury against Galway, while Neil McManus is named on the bench as he recuperates from a hamstring injury.
The injuries have not helped Antrim over the last number of weeks with so many key personnel missing and the condensed season has undoubtedly added to the problem.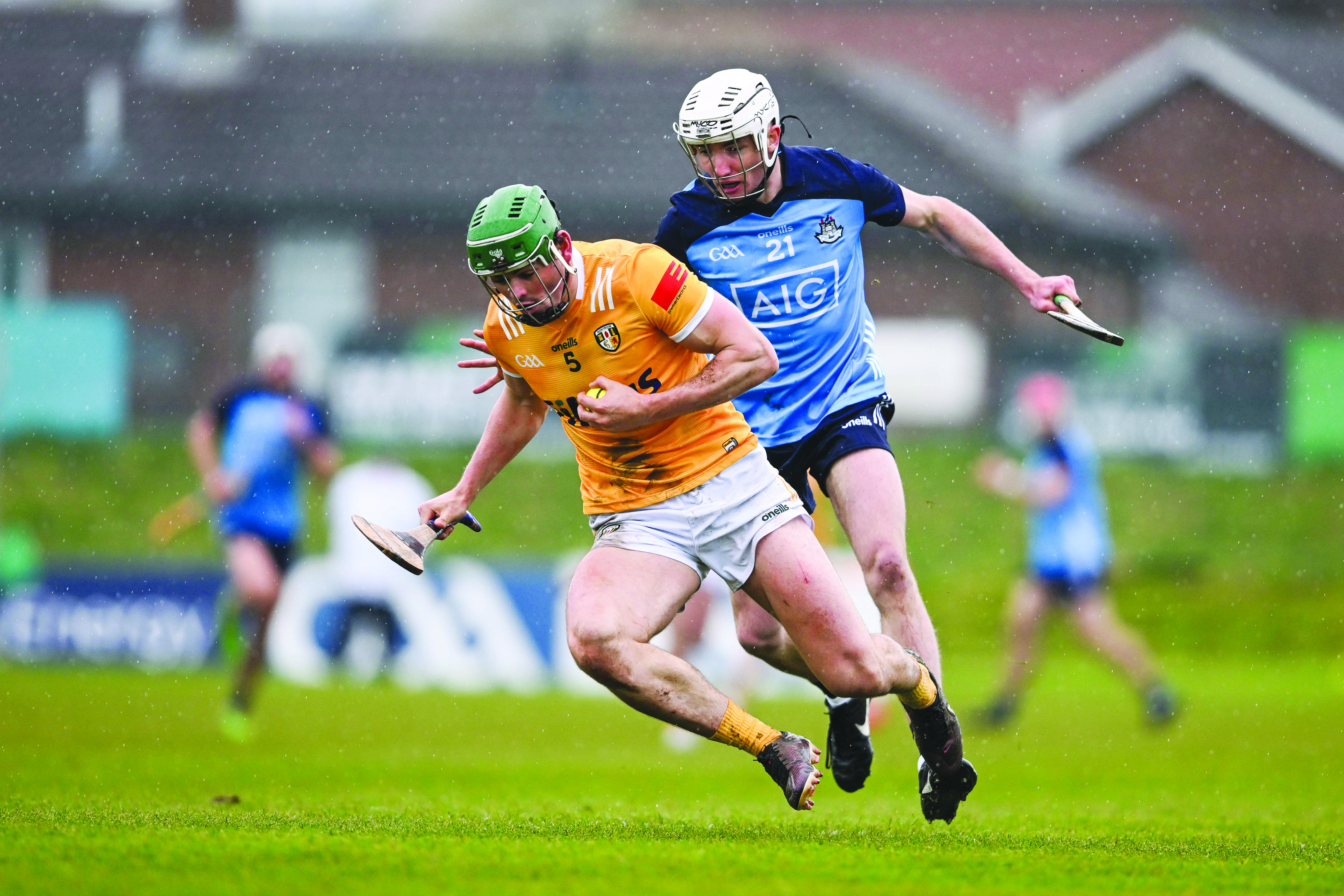 "We go to every game giving it everything and trying to get the most out of it rather than waiting for a one-game (relegation) shootout," Gleeson insists.
"We should have had our business done earlier in the round robin instead of coming to here. It's frustrating as we've had three games in 13 days, a microwave championship, and then other teams in the same competition (Munster) who are getting three weeks of preparation."
It's a case of emptying the tank for Antrim on Sunday as whatever the outcome, this is their last game of the year, so with their fate firmly in their own hands, it's time to deliver.
WESTMEATH: Noel Conaty; Darragh Egerton, Conor Shaw, Johnny Bermingham; Tommy Doyle, Aaron Craig, Robbie Greville; Cormac Boyle, Charlie McCormack; Davy Glennon, Derek McNicholas, Niall O'Brien; Owen McCabe, Joseph Boyle, Ciaran Doyle.
Subs: Conor Bracken, Niall Mitchell, Shane McGovern, Kevin Regan, Jack Galvin, Eoin Keyes, Peter Clarke, Shane Clavin, Gary Greville, Jack Gillen, Darragh Clinton.
ANTRIM: Ryan Elliott; Paddy Burke, Ryan McGarry, Niall O'Connor; Gerard Walsh, Eoghan Campbell, Conal Bohill; James McNaughton, Michael Bradley; Keelan Molloy, Conor Johnston, Eoin O'Neill; Conal Cunning, Niall McKenna, Seaan Elliott.
Subs: Tiernan Smyth, Stephen Rooney, Conor Boyd, Enda Óg McGarry, Daniel McKernan, Paul Boyle, Joe Maskey, Seamie McAuley, Rian McMullan, Neil McManus, Domhnall Nugent.