CLIFTONVILLE manager Paddy McLaughlin believes that Glenavon still have a strong squad, despite the absence of Peter Campbell and Robbie Garrett through suspension. 
The Reds visit Mourneview Park to take on the Lurgan Blues on New Year's Day (3pm kick-off) hoping to make it back-to-back victories over Gary Hamilton's men, who come into the encounter off the back of a derby win over mid-Ulster rivals Portadown. 
Their win came at a cost,  however, as goal-scorer Campbell and Garrett were dismissed before the break and will miss this weekend's clash. 
McLaughlin doesn't feel their absence will impact the hosts. 
"They've still got a good squad surely," McLaughlin said. 
"Gary Hamilton has done a brilliant job at Glenavon over the years, and he's got good young players who like to attack, right throughout his squad and there is a lot of talent there, especially in the front line. 
"Whatever side they have or who they have available,  it is going to be a tough game,  especially away from home, but we look forward to it." 
⌛️ We're 2️⃣4️⃣ hours from kick-off.

Start the New Year by being part of the Red Army roar at Mourneview Park. pic.twitter.com/CVBz8mB46K

— Cliftonville FC (@cliftonvillefc) December 31, 2021
With Cliftonville's clash against Crusaders postponed, McLaughlin was able to take in the Mid-Ulster derby and was impressed by what he saw from both sides. 
"I was at the game, and it was a typical derby game," reflected McLaughlin. 
"There was a lot of energy put into the game, both sides had a go. Glenavon will be delighted with the win, but disappointed at losing a couple of players to red cards. 
"It was a good game with a lot of hard work put into it and difficult conditions as well too -  the pitch looked like it was cutting up a bit. But we got to keep an eye on both Portadown and Glenavon, so it wasn't a wasted day altogether." 
Derry native McLaughlin shared the fans disappointment that Monday's derby clash with Crusaders fell by the wayside hours before kick-off, but acknowledged it was the correct decision due to the visitors covid outbreak. 
The game will now be played on Tuesday, January 4 at 7.45pm at Solitude.
"Obviously the players health and their families and that comes first," he acknowledged. 
"If Crusaders had so many cases that they're saying they had, it had to be postponed. It was unfortunate because I'm sure like the players, the supporters were looking forward to it and were raring to go and it was taken away from us at the last second. 
"It was a big occasion, and the players were playing well,  so we were looking forward to it and we looked after ourselves over Christmas and, like I say, we were raring to go.  
"I was disappointed it was called off, but obviously player welfare comes first - we fully understand that's what happens." 
McLaughlin revealed that his squad trained on St Stephen's Day morning in the build-up and credited them for their discipline in doing so. 
"We trained on St Stephen's Day morning," McLaughlin added. 
"It was a good test for their discipline, and they all done it well, they came in fresh raring to go and they trained well. it was a good test for how disciplined they were, and they all passed with flying colours. 
"Fair play to them, it wasn't a waste of time, it was good to do that, it was good to see that they were focused on their football and weren't distracted. 
"It was good to see that they were well disciplined and well-focused.  "We are carrying a couple of injuries, knocks and niggles, so it gives them an extra couple of days to prepare for Glenavon instead."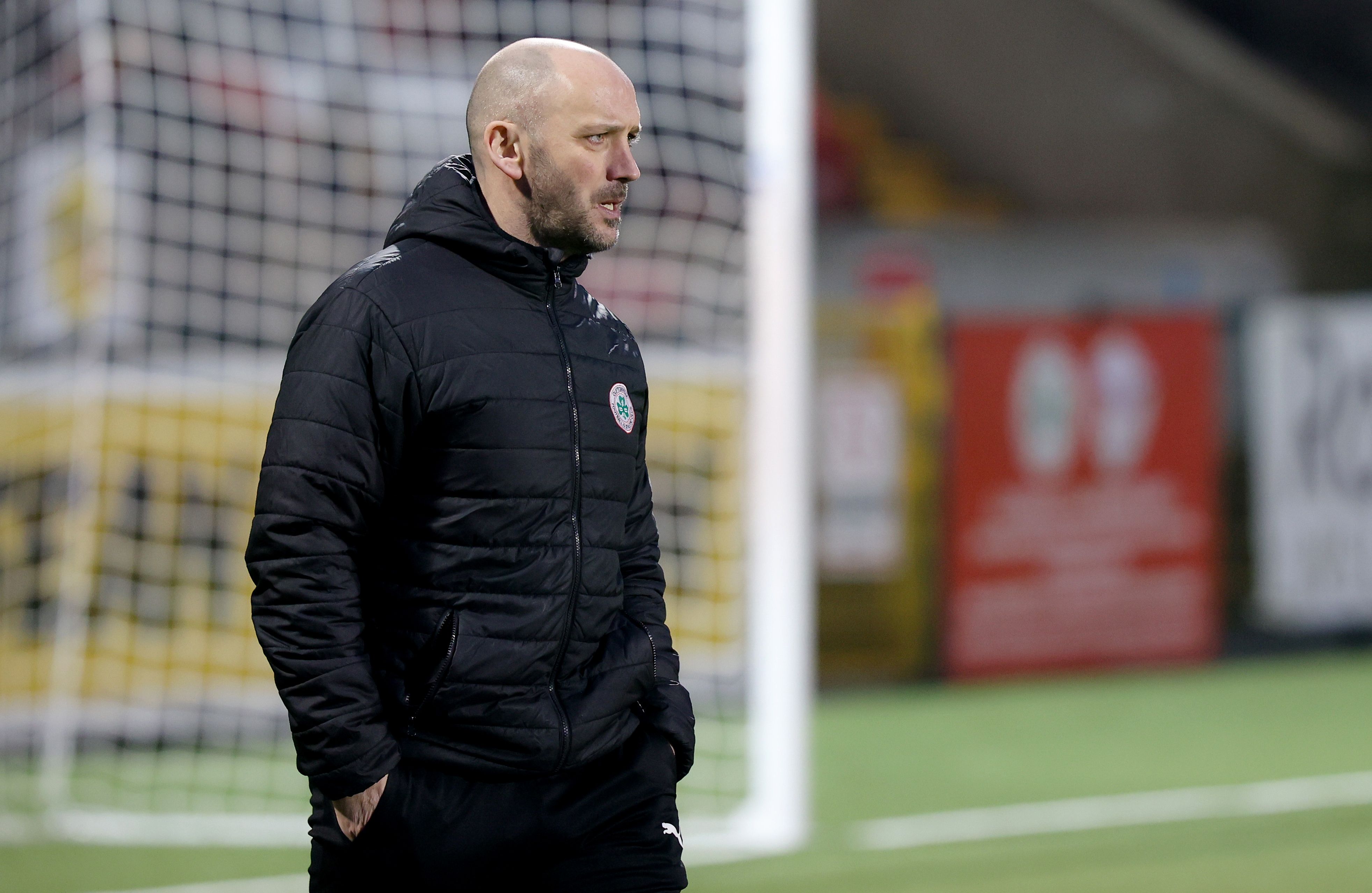 As well as injuries and niggles, McLaughlin's squad were also hit with some Covid cases, but the manager expects the isolating players to be available for the weekend. 
"It's everywhere in the country - the virus hasn't gone away anywhere and it's coming back in numbers," he said. 
"We had a couple of players that probably would have missed the game and we did have a few boys that would have missed it. Their isolation will be up in the next day or two so it's good to see that they'll be back available for Glenavon. 
"Teams and squads are going to be tested, not just with injuries, but obviously with the virus coming into the camps and it's just something we have to deal with it and something we have to try and navigate our way around as best we can. 
"It's everywhere and we have to look after the players first and foremost and then come match-day, try and just be as strong as we can for it because you could lose players at the drop of a hat with any one of them at all so we've got to prepare for it." 
Glentoran manager Mick McDermott recently called for a "circuit breaker" if the fans are unable to attend games in the coming weeks.   
McLaughlin echoed those calls and hopes that fans won't be locked out going forward. 
"I was reading what Mick McDermott was saying and he's 100 per cent right, I would back that totally," admits McLaughlin. 
"I think if there was a circuit-breaker, it would make sense and, hopefully, it would work then brilliant and no problem, but don't be playing football behind closed doors. Football is nothing without fans. 
"You saw it last year, players weren't even celebrating, no adrenaline or intensity or energy rush at all in scoring goals or good play. 
"If you take away the atmosphere of the fans, it's not the same and it's not worth playing. 
"I'd be totally against locking fans out of the ground, hopefully they don't do that.
"If a circuit-breaker is the option then I'd take that before we lock fans out the ground, because football without the atmosphere, without the fans and without the adrenaline like I say, if you take that away you've got nothing.  "I'd be totally against locking the fans out."