Raidió Fáilte is reaching out to local women as it aims to bring more females into the radio industry. 
Cúrsa le Caoimhe, a new initiative by the Divis Street radio station, gets underway next month. It is an online course for Monday evenings that is led by Caoimhe Ní Chathail, which aims to train women to broadcast on International Women's Day on March 8.
Caoimhe is an experienced feelance journalist having had experience presenting with Raidió Fáilte, BBC Radio Ulster and BBC television.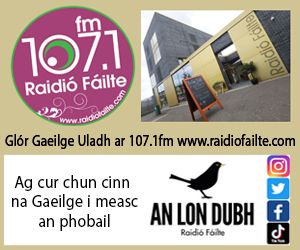 "I started out as a video journalist and on the side I did radio shows with Raidió Fáilte.
"Then, I got my Thursday night show with Blas on BBC Radio Ulster and then I went freelance." 
Áine Ní Bhreisleáin, a prominent radio broadcaster on RTÉ, will also take part in the course to give aspiring broadcasters advice. 
"This training course is four weeks long and it's online for women, completely free of charge, but in the third week – and this is the third year of the course – Áine comes on board. She has a lot of experience in both TV and radio as a presenter, so she's great as an extra inspiration for the women on the course."
When asked what she advises young people to do if they wish to pursue a career in the media, Caoimhe replied, "They should get as much experience as they can like a show on Raidió Fáilte is great experience. Maybe being behind the mike isn't your favourite thing in the world, but it gives you access to the world of producing and presenting. That experience then stands to you because in the world of media, it's always good to have a degree or to have had some background." 
The course starts on February 6, contact 028 90 310013.