Allianz Football League, Division Three
Antrim 0-12 Offaly 2-12
GOALS win games and Offaly's ability to convert their chances as Antrim saw their own opportunities come and go proved the winning and losing of Sunday's Allianz Football League, Division Three opener at Corrigan Park.
Ruairi McNamee struck on 25 minutes for the visitors but would see a nine-point lead at one stage whittled down to three in stoppage time with the ball refusing to go into the net for the Saffrons who were then caught with Bernard Allen lobbing home to seal the win for the Midlanders.
Antrim will look back with regrets at not just the goal chances, but a dozen wides and three efforts short that could have just as easily put them in a winning position, but as it was, Offaly held their nerve and were a little more economical as they began their bid to bounce back from relegation in 2022 in fine style.
In fairness to Andy McEntee's side, they summoned the belief to work their way into the game when eight adrift with 20 to go and had they found the net with one of those chances or even been more economical with shots for points, they could have got something from this game.
As it was, they just didn't convert and were made to pay the price as they opened the season with a defeat.
"They had two half-chances and got two goals and I think we had four good chances and got none," the Antrim boss accepted as the reason for defeat.
"It was (in the balance late on). The lads are in good shape with their fitness and the ability to come back was commendable, but we were taking shots for points that weren't (high) percentage shots. Even without the goal chances, with three points in it, it could have been level very easily if we have the right fellas taking shots from the right areas."
Hard luck lads a great fighting spirit at the end. We travel away to Down next Saturday in Newry 🟨⬜️ #Saffrons2023 pic.twitter.com/700kCs4sv5

— Antrim GAA (@AontroimGAA) January 29, 2023
Aided with a swirling wind at their backs, the visitors wasted little time in making an impact with their opening two attacks yielding points from Joe Maher and Dylan Hyland.
Antrim began to settle and enjoyed plenty of possession, but were being pressed well before getting into the scoring zone until Dominic McEnhill opened their account on six minutes.
The sides would swap scores but Antrim were starting to waste quite a few chances - a feature of their afternoon with a dozen wides overall - with shots either dropping shorty or tailing wide and Offaly were much more economical, rattling off four points on the spin - the pick coming from Anton Sullivan after they had turned over the hosts.
Offaly were putting pressure on the home kick-out and on 25 minutes this paid off in spades as they won at midfield with Peter Cunningham breaking through the heart of the home defence and although held up close to goal, the ball broke for Anton Sullivan to slot into the net.
A pair of Hyland frees extended the gap to nine, but Antrim finally ended a barren 20 minutes with Ryan Murray kicking a free and McEnhill another to narrow the gap as Offaly led 1-8 to 0-4 at the half.
The early exchanges of the second period saw the sides trade a pair of scores before Antrim had their first big goal chance one 43 minutes as a good move saw Creggan's Ruairi McCann in on the left, but Ian Duffy saved brilliantly with his legs despite the hosts' appeals for a foot block falling on deaf ears.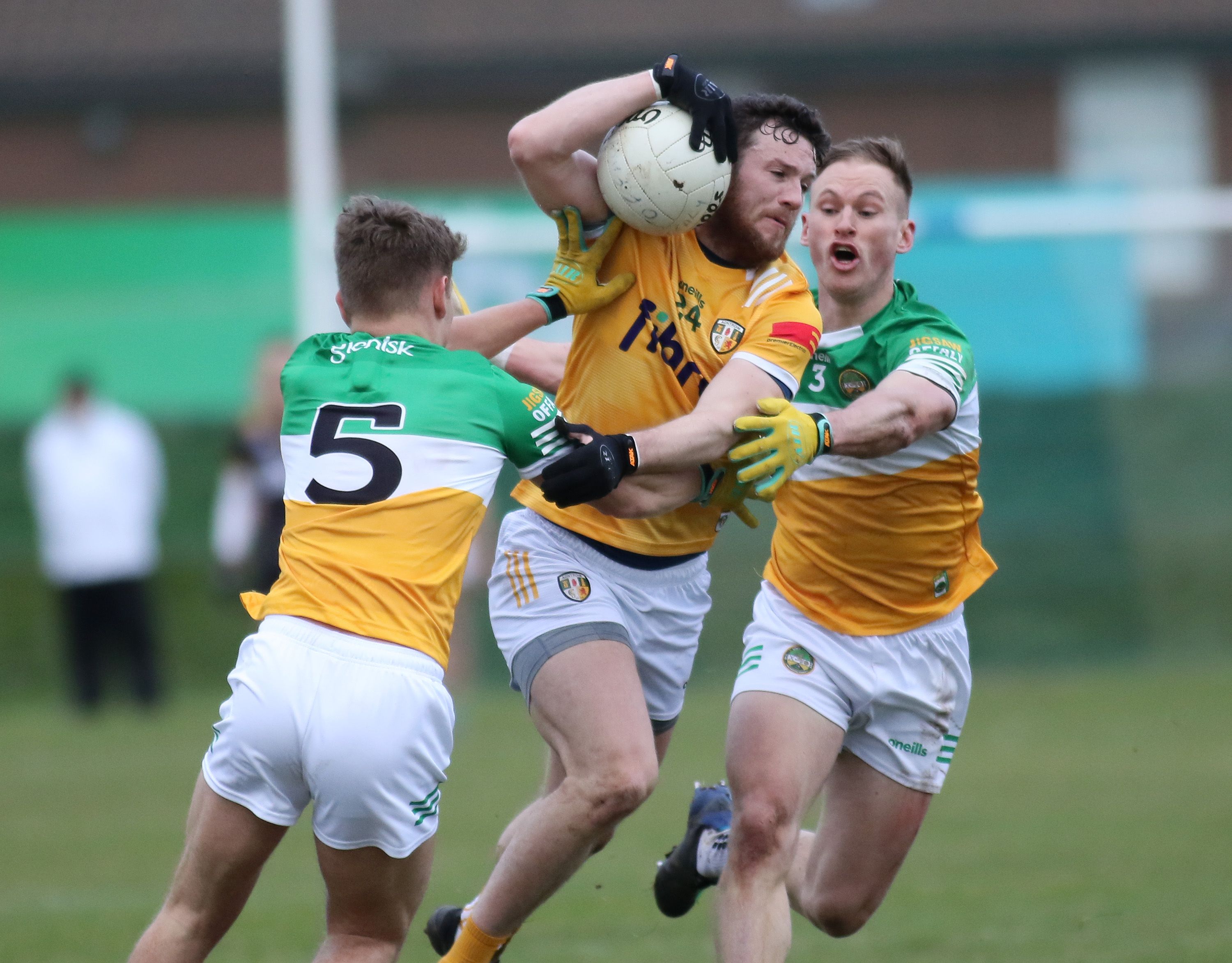 Dunne extended the Offaly advantage back to eight at the other end from a free, but then came the Antrim surge with McCann again with a change as he raced in, but his shot went high and waved wide despite protests it had gone over.
Antrim were now running at Offaly and getting joy as McCann fed his Aghagallon namesake to begin a run of four points on the spin to halve the deficit.
A goal is what Antrim needed and they had two massive chances with Odhran Eastwood denied at the near post by Duffy on 70 minutes and then seconds later, a move through the hands saw the ball squared with Patrick Finnegan just needing to palm home, but the ball was cleared off the line by Rory Egan.
They did get a point through Patrick McBride to leave a goal in it, but Antrim would be made to pay for their misses as Offaly again disrupted the home kick-out and a probing ball saw substitute Bernard Allen win the race to pop over Antrim goalkeeper Mick Byrne and into the net to seal the points for the Faithful.
"I'm pleased, but we definitely rode our luck towards the finish," said Offaly manager Liam Kearns, alluding to Antrim's missed goal chances.
"I don't think we deserved to lose the game but we made it tough on ourselves as we really should have had three or four more points, but any time you come away from home and win by six points is a good day."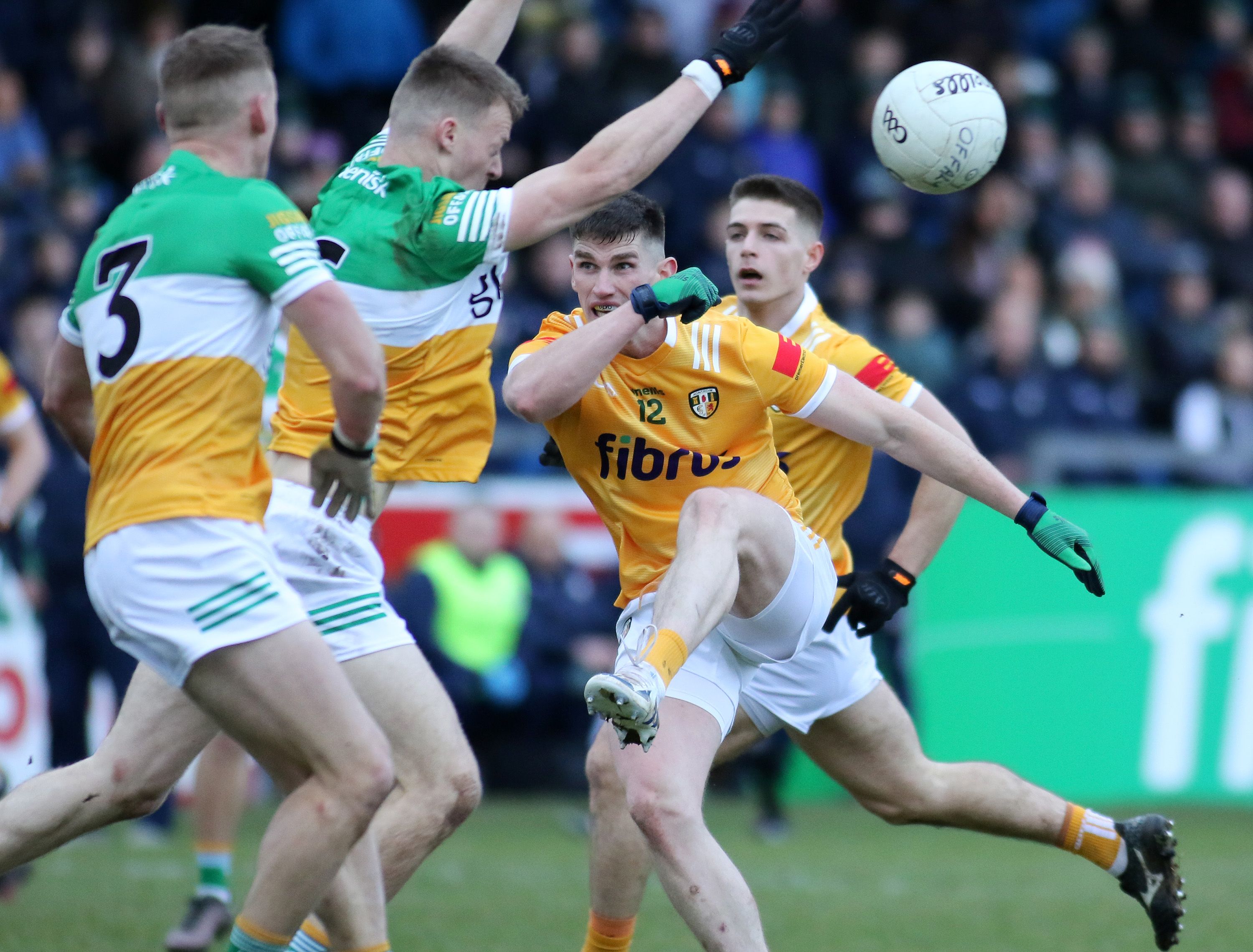 Aside from chances missed, Antrim did protest two wides including McCann's second goal chance that was high but appeared to split the posts and had those calls went in their favour, McEntee felt they would have been able to take points rather than chase a goal to rescue a result.
"Two of those wides were scores," he insisted.
"When the lead is down to three points and we have two points that umpires say are wide, it's a one-point game and we don't need goals, so that's disappointing.
"At the same time, we can't have too many complaints as we had enough chances to win that game or even get something out of it."
ANTRIM: M Byrne; P Healy, D Lynch, J McAuley (0-1); D McAleese, J Finnegan, M Jordan; J Dowling, C Stewart (0-1); P McBride (0-1), R Murray (0-3f), C Duffin; P Shivers (0-1), R McCann (Creggan, 0-1), D McEnhill (0-2, 1f)
Subs: R McCann (Aghagallon, 0-2) for D McEnhill (HT), K Small for J Dowling (HT), P Finnegan for C Duffin (49), O Eastwood for R McCann (Creggan, 58), P Mervyn for J Finnegan (65).
OFFALY: I Duffy; C Donohoe, D Hogan, D Dempsey; R Egan, P Cunningham (0-1), L Pearson; J McEvoy, C McNamee; J Maher (0-1), R McNamee (1-1), S O'Toole-Greene; N Dunne (0-2, both frees), A Sullivan (0-3), D Hyland (0-4, 2f)
Subs: B Allen (1-0) for S O'Toole-Greene (HT), C Farrell for N Dunne (48), L Egan for J Maher (63), J Bryant for D Hyland (70+2), A Brazil for C Donohoe (70+3)
REFEREE: Conor Dourneen (Cavan)