Allianz Hurling League Division One, Group B
Antrim 3-18 Laois 1-18
ANTRIM will play Division One hurling for the fourth year on the spin as they bore their teeth and weathered an early Laois storm in tricky conditions at Corrigan Park on Sunday to claim a win that was vital.
Almost a year ago to the day, the Saffrons went into O'Moore Park in identical fashion as performances had been there without points on the table to face the Midlanders who'd been much less competitive in their previous outings, yet were - not for the first time in de facto relegation meetings between the teams over recent seasons - undone by a much more composed and up-for-it Laois team.
After 25 minutes on Sunday, it looked like the familiar script was about to play out again as the O'Moore men again grabbed the early initiative and led by six - full value for that as their hurling was crisp, sharp and accurate.
Antrim were certainly not lacking desire, but seemed a little loose and every mistake was punished including a moment of indecision that led to Aaron Dunphy gleefully gathering and finding the net on 22 minutes that pushed the visitors' lead out to a deserved five.
Although playing into a stiff wind that in turn, aided Laois goalkeeper Enda Rowland launch missile after missile on top of an under-pressure Antrim full-back line, the Saffrons just about held firm and with the switch of Neil McManus into full-forward, suddenly the hosts had a much better feel about them with the evergreen Cushendall man delivering yet again.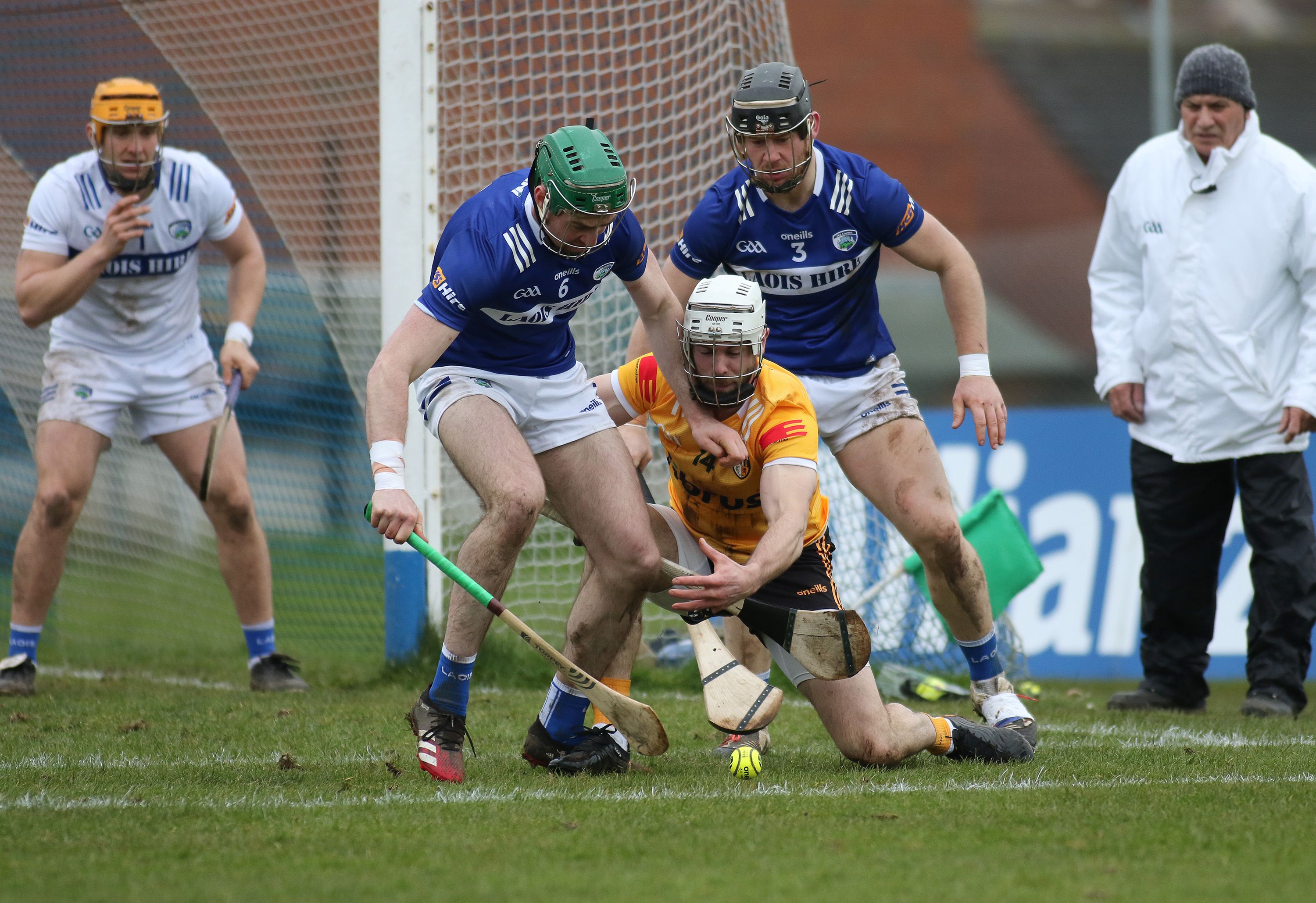 He rattled the net and Conal Cunning pointed a free just before the break to narrow the gap to two as there was a sense that Antrim had landed a huge haymaker.
The momentum carried after the break, but in what became a frantic second period with this game becoming a dogfight, Antrim just looked like a team that was not in a mood to be turned over by their great rivals again.
It was a bruising encounter. Bodies were put on the line, hits were taken, gas tanks flickering as every bit of energy expended by both.
Gerard Walsh provided the ammo for two vital goals, Keelan Molloy back to his industrious best with a pair of scores to boot and Ryan McGarry again proving his worth at 3 and Conal Cunning ever-reliable from the dead ball and superb in open play. Yet flip a coin between Michael Bradley and Nigel Elliott for man-of-the-match.
Elliott - making his first start in county colours since 2019 before heading to Australia for a few months that turned into 28 of them - produced a remarkable display: shrugging off what looked like a dead leg within the opening minutes to hot the net on four, then consistently win rucks, halt Laois at the back and tee-up Conal Cunning for a goal.
Bradley won countless turnovers, the fireman by trade spraying ball about the field, whilst giving and taking hits as his status of Antrim's most consistent performer throughout the League remained.
Latest | #AllianzLeagues Div1B R4
Full Time
Aontroim: 3-18(27)
Laois: 1-18(21)

ALL OVERRRR! Massive win well done to the Saffs 👏🏻👏🏻👏🏻 pic.twitter.com/8RsQZTfwOI

— Antrim GAA (@AontroimGAA) March 12, 2023
"We got a bit of energy going in at half-time that we probably didn't deserve," said Antrim manager Darren Gleeson.
"Laois were by far the better team in the first half. The amount of unforced errors (we made) and let them dominate the shape as we were too narrow when we were looking to do the opposite.
"We got our house in order at half-time and it was player-led. They made the right decisions and we came with a pure and honest work-rate in the second half - that gets you results."
Laois were much quicker to settle with the opening two points but Antrim were quick to take what seemed a real shot in the arm in the fourth minute as Neil McManus gathered around the middle and sent Conal Cunning away, passing to Niall McKenna and then Nigel Elliott who raced in and buried.
However, this failed to settle Antrim who were second best for the majority of the opening period as the visitors kept the board ticking with the entire front six and midfielder Jack Kelly all on target in the opening period.
They always seemed to respond with at least one score when Antrim raised white at the other end with Conal Cunning doing the bulk of the lifting from frees.
Stephen Maher was doing likewise for Laois but James and Tomás Keys landed a pair each and corner former Aaron Dunphy would rattle the net on 22 minutes as he took advantage of a fumble to beat a pair of challenges and finish.
Enda Rowland's monster poc-outs were also causing havoc for the hosts as wind-assisted, they were dropping in the danger area and with one, Ryan Mullaney showed his football skills to kick over.
Antrim were guilty of overplaying at times as they searched for goals but the switch of Neil McManus into full-forward seemed to give their attack a better balance and it would really pay off in stoppage time as Gerard Walsh went long with the Cushendall man rising to fetch over Liam O'Connor and bury to the net.
Cunning tapped over a late free as despite dominating the opening half, Laois were just 1-14 to 2-9 up.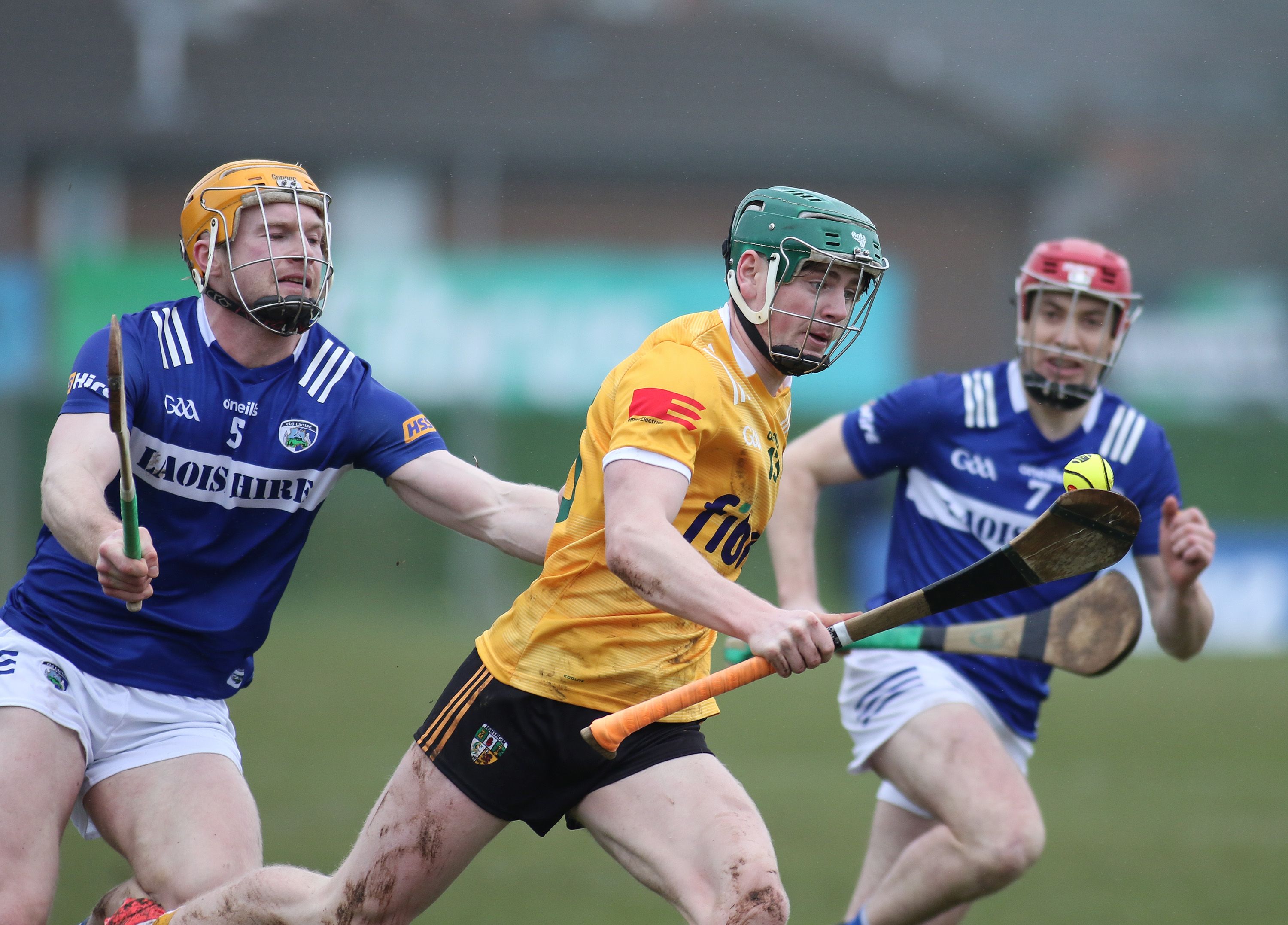 This proved something of a turning point as Antrim may have had the elements in their favour, but they were clearly energised in the second period with points from Cunning, McManus and Joe Maskey edging them ahead.
After an exchange of points, then came the huge moment on 52 minutes as Gerard Walsh send in an excellent line ball that broke to Elliot who spotted Cunning peeling off and the Dunloy man cracked home past Rowland.
Antrim were now on top but Laois hung in there as the conditions deteriorated a little, yet a Niall McKenna intercept and score underlined the hustle that the hosts were now bringing, but at the other end Ryan Elliott was forced into a strong stop from Dunphy.
Just a goal separated the teams as the game moved into eight minutes of added time, but there would be no denying Antrim this time as they found the energy with both sets of players looking out on their feet.
Substitute Eoin O'Neill raised the roof with a point and Paddy Burke's determination saw him rob Willie Dunphy to score what was the insurance point.
Laois lost Gearoid Lynch to a straight red in the dying moments for a wile challenge on man-of-the-match contender Michael Bradley, but the points were safe for Antrim who are now assured of their Division One status, while Laois face a relegation playoff.
"We can now prepare for the Championship properly for what feels like the first time ever," Gleeson added.
"This will be our first run of six weeks and we will need that as it's been a tough few weeks for all of us.
"We have headwinds against us all the time that should be with us and not against us. It's a battle here to move forward as we seem to move three of four steps forward and get kicked back four or five."
ANTRIM: R Elliott; P Burke (0-1), R McGarry, S Rooney; N O'Connor, G Walsh, J Maskey (0-1); M Bradley, J McNaughton; K Molloy (0-2), N McKenna (0-2), N Elliott (1-0); C Cunning (1-10, 0-9 frees, 0-1 65), N McManus (1-1), C Johnston
Subs: S Elliott for C Johnston (34), D Nugent for N McKenna (64), S Walsh for N O'Connor (65), P Boyle for J Maskey (68), E O'Neill (0-1) for N Elliott (70+3)
LAOIS: E Rowland; I Shanahan, L O'Connell, D Hartnett; P Delaney, P Purcell, F Fennell; J Kelly (0-1), A Corby; S Maher (0-7, 6 frees), R Mullaney (0-1), J Keyes (0-2); T Keyes (0-2), M Phelan (0-1), A Dunphy (1-4)
Subs: W Dunphy for M Phelan (43), J Duggan for R Mullaney (50), G Lynch for A Corby (57), S Bergin for J Keyes (63)
REFEREE: P Murphy (Carlow)