BPFL McReynolds Cup
Belfast Celtic 0-1 Coagh United
BELFAST Celtic lost out this weekend in Round Two of the McReynolds Cup and will surely be disappointed after their performance against a fired and ready Coagh United at Glen Road Heights.
The Tyrone men were organised from the start and the Hoops weren't able to make any of their chances work for them, with balls frequently going wide and way over the crossbar.
Although the scoreline ended only 1-0, Coagh actually scored three but two were disallowed but the efforts went some way to knock the wind from Celtic's sails.
Coagh got an early goal in at six minutes scored by Craig Archer in a brilliant display of football after he tricked Hoops 'keeper Gerard McVeigh into diving to the right before putting it firmly in the centre of the open net.
The Tyrone outfit followed this a few minutes later when Eoghan Hawe hit the crossbar with a header. A bad tackle then followed for the Glen Road men and saw Peter John Nesbitt awarded a yellow card.
At 18 minutes, the Hoops had their closest chance when Patrick McKernan went for the header which only just missed by the right hand of the net but this was followed again by another yellow for Celtic when Emmett Templeton took Tyler Anderson down in a tackle.
At 26 minutes, Celtic had a brilliant opportunity to score, facing a wide-open net but the chance was scuppered and the ball kicked wide to the left in a disappointing setback for Brendan Glackin. Ten minutes later Glackin followed up again with two good chances but both were saved by Coagh's goalkeeper David Nelson.
A few substitutions were made at half-time, with Anthony McGonnell coming on for Patrick McKernan of Celtic. Later in the half Stephen Tully and Carl Mulligan would also come on, replacing Sean Hawkins and Dylan Snoddon. Their last substitution would be at 76 minutes with Emmett Templeton coming off for Conor McAnena.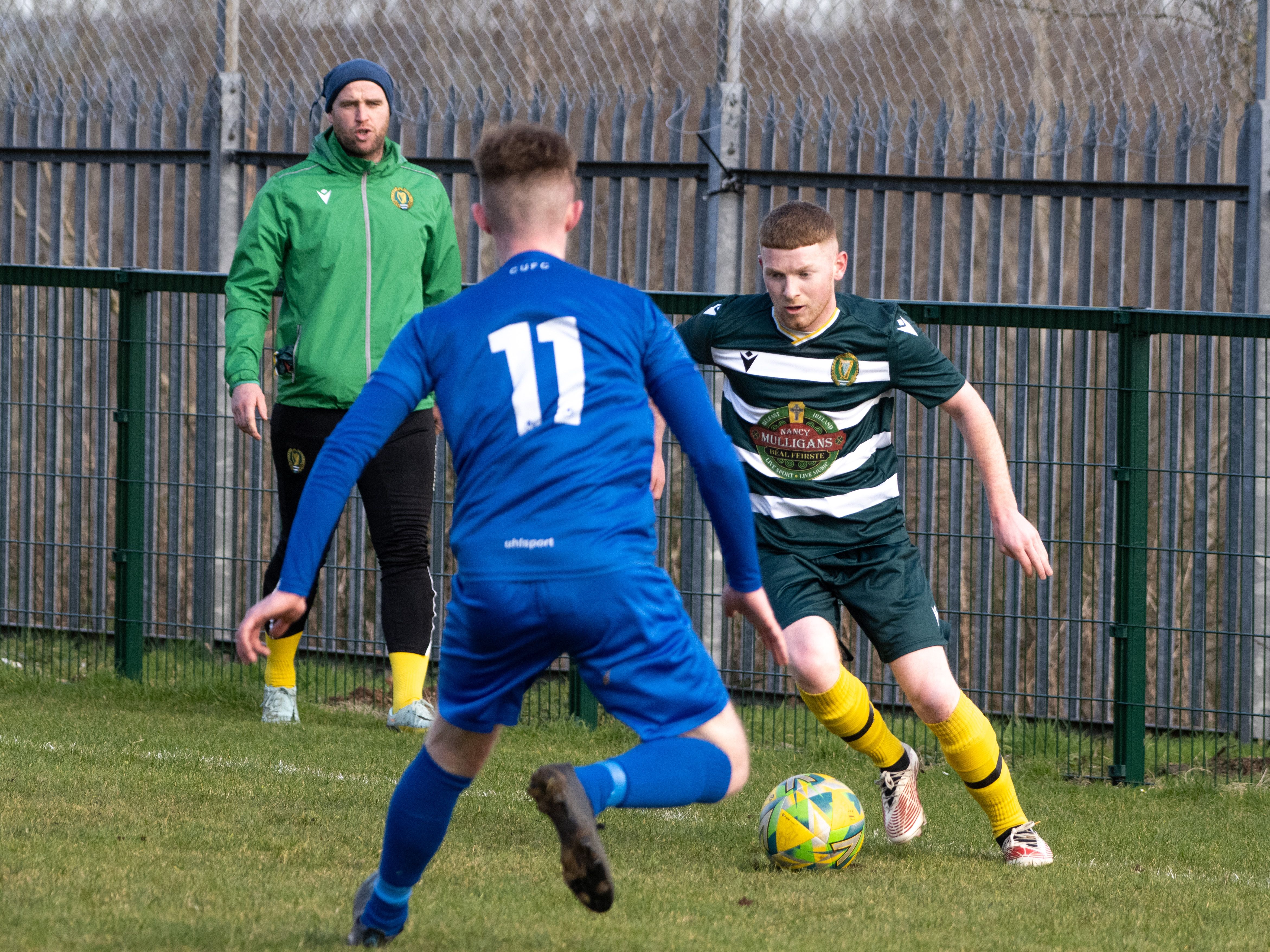 The Hoops began the second half well with a lovely chance coming in from Barry Webb but it was saved by Coagh's keen-eyed 'keeper David Nelson. The Hoops would also pick up another yellow card after this when Ryan McPhillips got a bad tackle in on Coagh's Ryan McMenemy.
Coagh kept up the pressure, trying another attempt at 60 minutes by Eoghan Hawe but Gerard McVeigh put up some solid 'keeping and kept the ball out of the net.
The first disallowed goal for Coagh came five minutes later when Craig Archer took a shot which was saved by the Hoops' 'keeper McVeigh but bounced out of his grip, the ball being seized by James Ferguson and put into the back of the net. It was a close decision, but it was eventually ruled as being offside.
Around the 70 minute mark, Coagh made some substitutions of their own with Craig Archer and Sam White coming off for Zach Ferson and Michael Tolan.
The game ended with a few chances for Coagh, one of them a disallowed goal which came in the closing minutes from Aaron Campbell which was surefire offside and another chance came from Michael Tolan who went for the header but it went over the crossbar.
The game ended shortly after with the scoreline 1-0 to Coagh. It will be a disappointing start for the Hoops who have been playing very well so far but the Glen Road men will surely be ready to pick themselves up and get back at it for next time.
BELFAST CELTIC: G McVeigh, R McPhillips, S Hawkins, D Taggart, D Snoddon, P J Nesbitt, L O'Brien, E Templeton, B Webb, B Glackin, P McKernan
Subs: A McGonnell, S Tully, C Mulligan
COAGH UNITED: D Nelson, J Wilson, T Anderson, J Ferguson, R McMenemy, M Kelly, S Glasgow, S White, C Archer (goal six minutes), M Dallas
Subs: Z Ferson, A Campbell, M Tolan
REFEREE: Barry Devenney