THE IRISH language community have secured another victory with Belfast City Council committing to erecting signs in Irish throughout Belfast City Cemetery and also inviting an Irish language historian to conduct tours of the cemetery.
Seán Fennell who regularly runs tours of the cemetery through Irish, exploring the cemetery's unique and rich past, was contacted by Belfast City Council and asked to run two tours on March 2 and 3.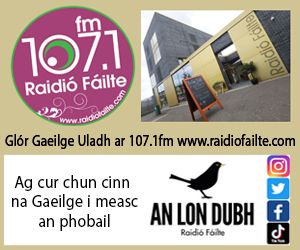 The move comes after a long fought campaign by Irish language activists to have bilingual signage in the cemetery after it was discovered the new visitor's centre, which was recently completed, contained no accommodation for Irish speakers, even though the cemetery is situated in the heart of Belfast's Gaeltacht Quarter.
"The signage has been put up in Irish (at the victor's centre) and the Council have said they will be putting up the rest of the signage in cemetery in Irish and English," said Seán. "For Irish speakers this is a complete turnaround and it's very positive to see them engaging with the Irish speaking community by asking me to do some of the tours as well.
"The tours are already being booked up and they've said they have listened and will be engaging with the Irish language community and doing the signs bilingual. For us Gaeilgeoirí it's very positive to see that they've heard us and have listened."
Pádraig Ó Tiarnaigh from An Dream Dearg and Cuisle Nic Liam from Conradh na Gaelige said it was positive to see the that Council had listened to the Irish language community but it should not have been such a long drawn out affair to get to this point.
Pádraig said: "The City Cemetery is very important to Irish speakers. It's located right in the heart of the Gaeltacht Quarter and it's very close to Glór na Móna, Gaelscoil na bhFál, Coláiste Feirste etc. If there ever was a Council run facility that was bilingual from inception it should have been the interactive centre at Belfast City Cemetery.
"We are seeing with the majority of projects by Belfast City Council that when they are drawing up new shared projects they aren't giving any thought to Irish speakers. When they are designing these projects they are planned as English only, whether it be the interactive centre, new walking trails or signage in leisure centres. These might seem like small examples but they highlight how Belfast City Council will often overlook the uniqueness of the Gaeltacht Quarter.
https://t.co/FXvOYDv3aM

Bilingual signage gets go ahead at new City Cemetery visitor centre 👏

Fáilte mhór roimh an nuacht seo. Should never have happened - hopefully @belfastcc will use this example to be more proactive in their promotion of an Ghaeilge 😍🅾️

— Cuisle Nic Liam (@cuisle_wilson) June 27, 2022
"When we bring this up with Belfast City Council they tell us it is because there is no Irish language policy or that it will cost them more money to put up the signs in Irish. We have been saying back to them that if they consulted us from the beginning then it wouldn't cost them anymore money. If we were involved and consulted at stage one, instead of stage nine then it would save us from having to campaign and save time for them too."
Cuisle Nic Liam said Irish speakers would like "inclusive consultation" in regards to shared spaces.
"We think now the decision has been made that it is fantastic as it will now allow people to see the language and experience tours in Irish."
Pádraig said the tours of the cemetery in Irish would encourage a greater tolerance of the language and also encourage 'foghlaim faoin spéir' – learning under the sky. 
Turas Reilige as Gaeilge🚶‍♂️

City Cemetery Irish language tour delivered by local gaelscoil teacher, language activist and part-time historian Sean Fennell.

📆 Saturday 4 February and Saturday 4 March 2023, 10am to 12 noon

Booking information below 👇
🔗https://t.co/5LuU3OPhhQ pic.twitter.com/uiPGRGlYec

— Fáilte Feirste Thiar (@FailteFeirste) January 13, 2023
Pádraig and Cuisle added that Irish language groups would like to see the Council adopt inclusive strategies from the beginning, and to develop a policy which will see inclusivity and consultation in all Council projects for shared spaces.
"We have now seen what the Council can do with places such as Páirc Nua Chollann in Dunmurry where we were consulted from inception," said Cuisle. "This is why the case in the City Cemetery has been so important. If we can't get it right in the cemetery in the heart of the Gaeltacht Quarter then it sets a bad example for future projects."