The eyes of the global community are on efforts to build the peace in the North, the tenth annual Belfast International Homecoming has heard.
Betty Yee, who served as Controller of California for eight years, stepping down in January of this year, and now holds the position of Deputy Chair of the State's powerful Democratic Party, told the sold-out Homecoming gala awards dinner that equality must be at the heart of further progress.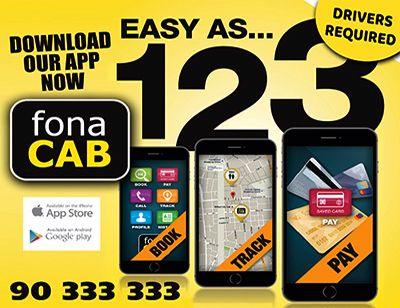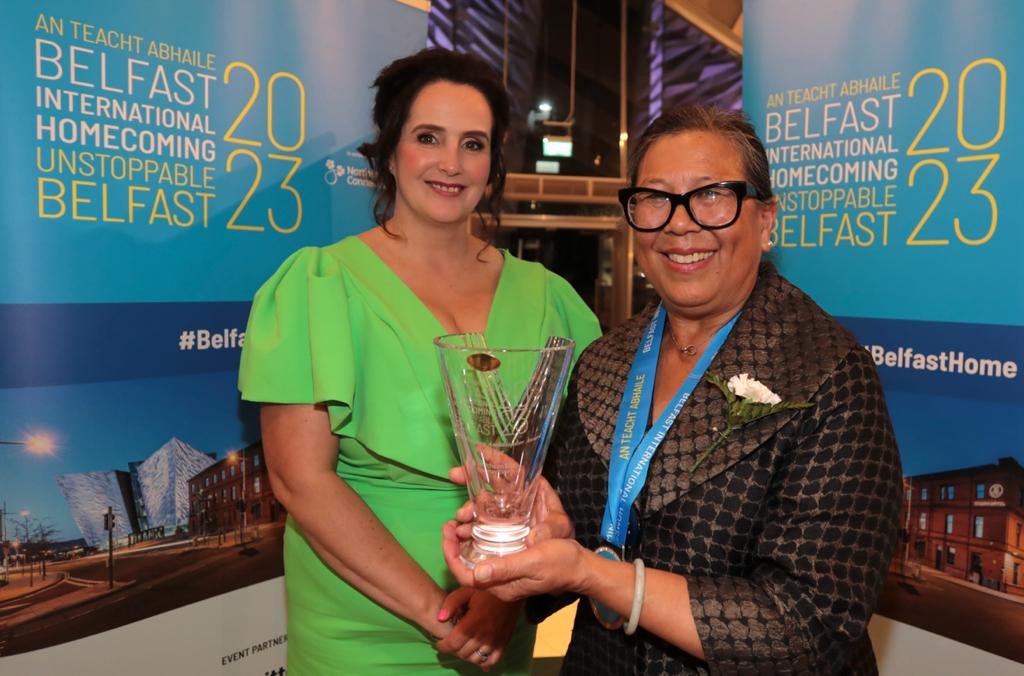 Delegates from five continents attended the three day business-orientated Homecoming showcase which included community receptions in West and East Belfast as well as visits to local companies Kainos and B-Secur. 
A beautiful start to the #Belfasthome gala. What an incredible night @newbelfast @connlamccann pic.twitter.com/K1Yiew9Ft0

— Brian Moran (@brianmoran) September 28, 2023
Accepting the Equality Diaspora Ambassador Award, Betty Yee, who won over eight million votes in her last election, told the Homecoming audience from across Belfast that as a first-generation American born to immigrant parents from China, she grew up among the Irish of San Francisco.  
"My parents operated a laundry and dry cleaning business for 30 years, and, through hard work and sacrifice, raised six children, all college graduates," she said. "Their success and our family's success were attributable to the tremendous support we received from the families of police officers, firefighters, teachers, building and construction tradespersons, civil servants, and others who were long-time customers of my parents and who welcomed me and my siblings in our schools and neighbourhoods — the Murphy family, the Thompsons, the O'Malleys, the Kellys, the Dohertys, the McCarthys, the Brennans, and the Fitzpatricks, and so many others."
She added: "I grew up in a family that struggled to make ends meet, yes poor, but we were rich in values. This experience in addition to that of minding the books for my family's laundry and dry cleaning business was foundational to my journey of becoming the Chief Financial Officer of the then-fifth largest economy in the world —the honour of serving and overseeing the finances and investments as Controller for the State of California these past eight years."
The former Controller had high praise for the global impact of the peace process.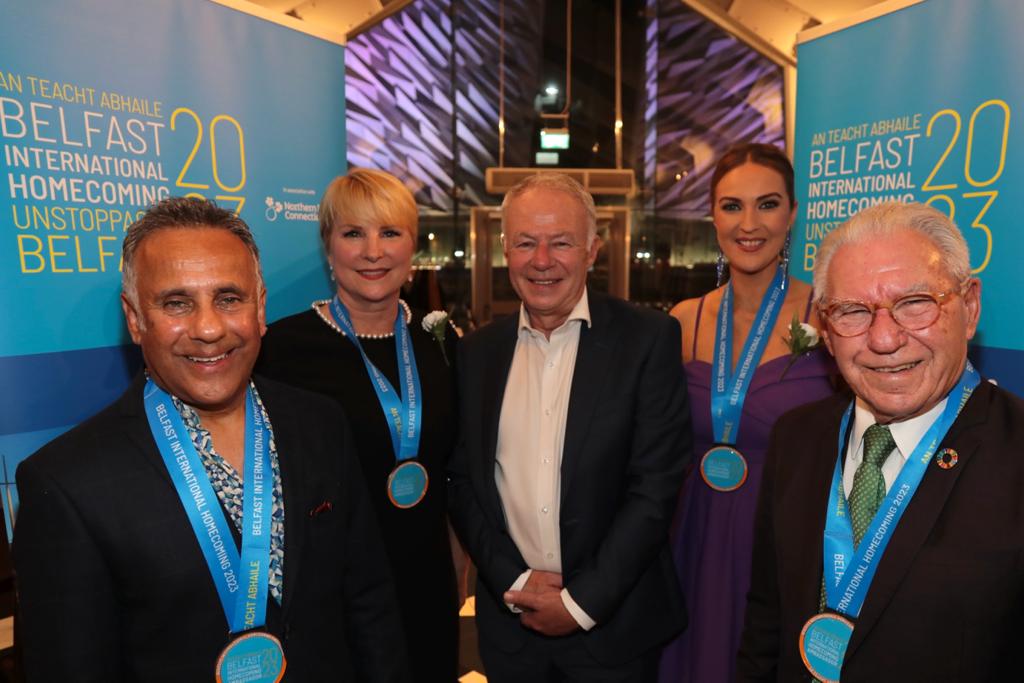 "It is my hope progress can be made such that a stable Northern Ireland government is established that can honour these promises (in the Agreement) and work towards shared economic prosperity and social and cultural inclusion," she said. 
 
"Let me suggest from my own experience that hospitality and tourism continue to top your economic priorities so many more around the globe may experience and see and listen first-hand how unstoppable Belfast is in its progress."
Congratulations to our founder, Neville Isdell, who received the Spirit of the Diaspora Award in Belfast tonight @BelfastHome @TitanicHotelBel #BelfastHome pic.twitter.com/9MjOBTOedp

— EPIC The Irish Emigration Museum (@EPICMuseumCHQ) September 28, 2023
Urging further progress to cement the peace, Ms Yee acknowledged the challenges facing the local parties. 
 
"Many have known Northern Ireland for its violent conflicts — the Troubles.  We know that implementation of the Peace Agreement is not without its challenges.  This is hard work.  Yet if this work is centered on equality — leaving no one behind — there is nothing we can't accomplish together with this shared foundational value.  
 
 "All eyes around the globe are on Northern Ireland — how to transition from violent conflict to peace and prosperity."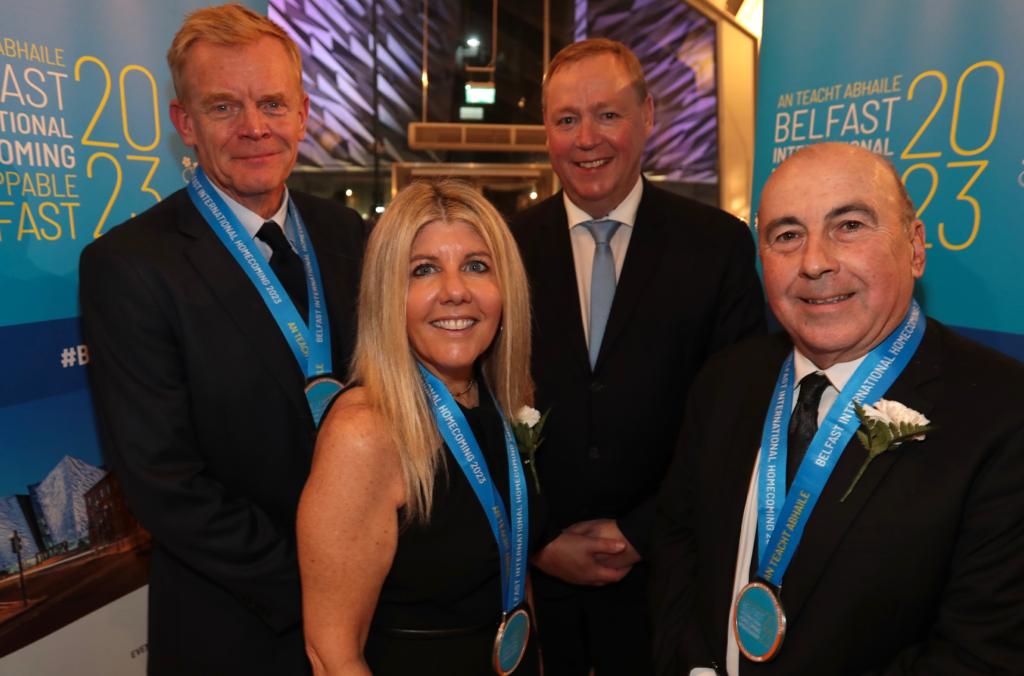 And she had high praise for the last sixties civil rights leader Tom Hayden who pioneered US involvement in the peace process and who wrote that "our marches and civil disobediences helped inspire the demonstrations in Derry and Belfast". 
"Brother Tom later became a champion of the MacBride Principles, setting standards for fair employment and non-discrimination for U.S. companies in Northern Ireland —  principles I would enforce for compliance as a fiduciary of the two largest public pension funds in the United States — the California Public Employees' Retirement System (CalPERS) and the California State Teachers' Retirement System (CalSTRS)."
 
The former Controller added: "To our neighbours and friends here in Belfast and Northern Ireland, the Northern Irish and greater Irish diaspora and allies around the globe are cheering for you.  Each of us here tonight is cheering for you.
 
"Thank you for this honour of receiving the Equality Diaspora Award.  As you can see, this recognition is deeply meaningful and personal to me, and I accept it with gratitude and respect.  However, even more meaningful and what I will continue to cherish is the friendship I share with the people of Belfast and Northern Ireland who inspire me by continuing to believe and hope."
Chief sponsors of the Belfast International Homecoming were Northern Irish Connections, Titanic Hotel, Belfast Harbour, Innovation Factory, Hinch, Maritime Belfast, Irish College Leuven, Deloitte, Ulster University, Belfast City Council and Belfast Commercial Funding. Charity partner Brassneck closed the gala with a scene from their recent Project Children production which they hope to tour in the US next summer. 
Among recipients of the Belfast Ambassador Award were business guru Brian Moran from New Jersey, Prof Kathryn Ellis of University of Massachusetts Amherst who left Belfast as a child, Belfast business leader and philanthropist Suneil Sharma, New York politician Amy Paulin and Canadian journalism lecturer and author Kamal Al-Solaylee who hails from Yemen.
The Spirit of the Diaspora Award was presented to Neville Isdell, a native of Belfast, who emigrated to Northern Rhodesia (which became Zambia) in 1949 and went on to serve as CEO and Chair of Coca-Cola.
Speaking of Speakers: Speaker of Assembly @AlexMaskeySF welcomed Speaker of New York Assembly @CarlHeastie (centre) to Stormont today. Speaker Heastie was joining a delegation from the American Irish Legislators Society led by Senator Brian Kavanagh @BrianKavanaghNY #BelfastHome pic.twitter.com/IcBMmtSxDx

— Belfast International Homecoming (@BelfastHome) September 29, 2023