LGFA All-Ireland Junior Final; Antrim v Fermanagh
(Sunday, Croke Park, 11.45am, Live on TG4)
 
TURNING the pain of defeat in 2021 into the joy of victory is the objective for Antrim's Ladies at Croke Park on Sunday as they bid to claim the county's third All-Ireland Junior title with Fermanagh standing in their way.
If the Saffrons are looking for an omen, they don't have to look far as the past three winners have all recovered from defeat in the previous year's final including Fermanagh who put the disappointment of 2019 behind them to claim the 2020 honours.
Of course, it's not that simple and Antrim will have to deliver a top performance against the Ernesiders whom they know only too well having met them three times already this year and countless times in the recent past.
The score stands at 2-1 to Antrim in 2022 with a three-point defeat in the League rectified in the Ulster Championship as they scored an impressive 2-13 to 1-10 win early in the competition.
It wasn't so straightforward in the final as Fermanagh raced into a 1-10 to 0-6 half-time lead, but this Antrim side is made of sterner stuff and they found the answers to squeak home 2-13 to 1-15 and make it three provincial titles on the spin.
Forewarned is forearmed and Antrim will know all about the attacking threats of Eimear Smyth and Blaithin Bogue, but manager Emma Kelly insists they will not be looking to change their identity on the day and believes that Fermanagh will have more to worry about should her side perform.
"You are always looking at their two key forwards, but they will be looking at the match-ups because we probably have seven or eight key forwards," she insists.
"We have some great defenders and our midfielders are all runners: Áine Tubridy, Lara Dahunsi, Orla Corr or whoever I put in there will run all day.
"Fermanagh will have more to match up than we will, so we will be looking to get the key stuff, try to play our own game and change it as it goes if we need."
Friends don't lie…

This Sunday our Senior Ladies will be at Croke park for their All-Ireland Final against @fermanaghladies !

Contact the @AntrimLGFA page for tickets

Hon the Saffs! #NorthernProperty #proudsponsors #antrimLGFA @AontroimGAA @CamogieAontroim @LadiesFootball pic.twitter.com/EKusYwqHIe

— Northern Property (@propertyni) July 28, 2022
Kelly wore the number three jersey the last time Antrim were crowned champions back in 2012 and two of her team-mates on that day - Áine Tubridy and Cathy Carey - will be on the other side of the white line this Sunday.
Croke Park can be a difficult place to get messages onto the field given just how vast it is, but she believes there is more than enough experience in the Antrim ranks to be able to solve any issues on the field and joked her job is a little easier now as relaying messages now doesn't come with the same burden as marking an opposition attacker at the same time.
"It's up to them now and they will have to organise themselves until we get them in at half-time, but there's enough experience there in every line to do that," she stressed.
"(Aislinn) McFarland is last year's captain, Saoirse (Tennyson) in the next line who was a recent captain, 'Tubs' (Áine Tubridy) who was the 2020 captain and Cathy (Carey) this year's captain and Grainne (McLaughlin) vice-captain, so you've experience in every line."
Antrim will almost certainly be without Michelle Magee who is part of the NI netball side that is in Birmingham for the Commonwealth Games, but will be named in the squad on the off-chance her services become available at the last minute.
Outside of that, there is a full hand to pick from and indeed, there is a nice problem of a selection headache with those left out of the starting 15 extremely unlucky given the high standards within the squad.
With the vast majority of the panel part of last year's final, the lessons have been learned as to how to approach the day and play the game instead of the occasion.
Kelly identifies similarities between the class of '22 and the team she played on that last won the title 10 years ago, so while she expects a very close battle, has confidence there is enough in the squad to prevail.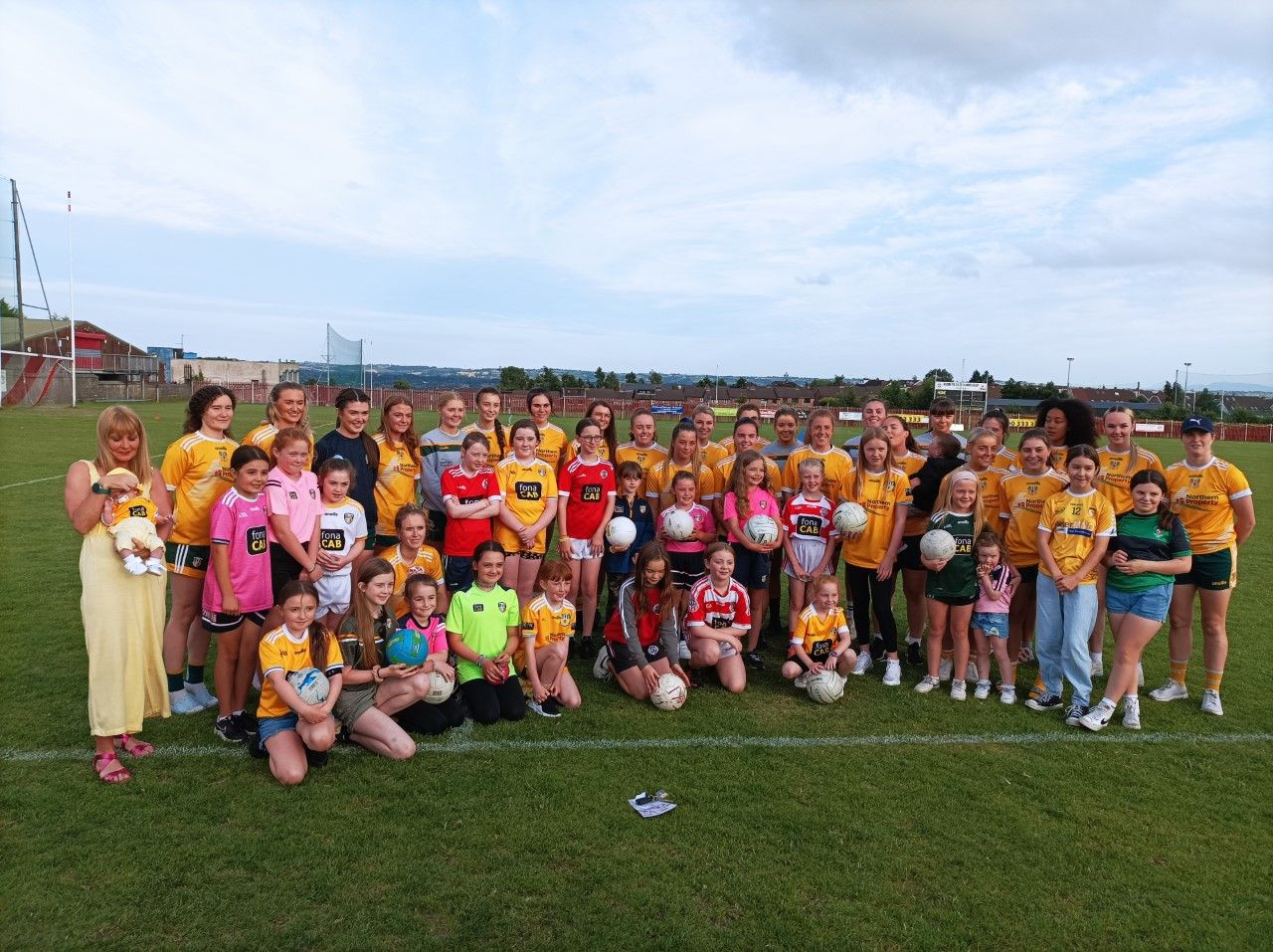 "There would be a wee bit more maturity this year whereas maybe it was too hyped up and the girls got overwhelmed," she reflected on last year's defeat.
"This year we have tried to just float by so we can turn up on the day and get the job done.
"That 2012 side was a good blend of youth and experience and I think we have that blend again this year, but I'm expecting a tight game as an Ulster derby can go either way."
Antrim have got to the final with little fuss.
A good win on the road in Limerick was followed by a comprehensive home victory over New York, while the semi-final saw a 3-18 to 0-13 win over Carlow - a side they needed extra-time to get by at the same stage last year.
Maria O'Neill and Orlaith Prenter have been leading the way in attack with Bronagh Devlin, Grainne McLaughlin, Cathy Carey, Lara Dahunsi and Áine Tubridy all chipping in, yet Kelly still feels there is more in her side and has challenged them to be much more clinical on Sunday to ensure they end the 10-year wait for Antrim.
"The Carlow game was probably the most consistent performance we've given, but at the same time, our scoring efficiency was 49 per cent," she admitted.
"We have to be more clinical and I suppose you could say we only played a consistent 45 minutes, so there's another 15 minutes in us.
"The fitness was there and the girls who came on made a difference, but the scoring aspect its something we have to look at because Fermanagh will be clinical and we can't afford to be passing up chances as they will be hard to come by."