Leinster Minor Hurling Championship, Group Two
Galway 2-18 Antrim 1-10
A HAUL of 1-10 by rising star Aaron Niland helped Galway to victory over Antrim in the opening Group Two game in the Leinster Hurling Championship in Darver on Saturday.
While the Tribesmen were overwhelming favourites prior to throw-in and won with 11 to spare, there was much to be happy with from an Antrim perspective as they remained in the game throughout and when Orrin O'Connor found the net in the 49th minute to reduce the gap to six, they were right in contention.
Alan Rainey's side put in a fine showing with Roan McGarry the star in attack as the Loughgiel clubman landed eight points with three from play - his touch and ability to break clear exceptional, while centre-back Liam Glackin who seemed to be drawn to the ball, whether in open play or in the ruck, emerging from a pile of players on countless occasions and went through a mountain of work.
Ultimately, they fell short against a county that is a perennial contender for is all at this grade and Galway had plenty of stars of their own, most notably Niland as the Clarinbridge attacker was a constant threat and cracked home his team's second goal from a free late on to put a seal on the game.
2023 Electric Ireland Leinster GAA Minor Hurling Championship

𝙂𝙧𝙤𝙪𝙥 2 𝙍𝙚𝙨𝙪𝙡𝙩

Galway 2-18
Antrim 1-10#LeinsterGAA | @Galway_GAA @AontroimGAA pic.twitter.com/5TyIirPoBU

— Leinster GAA (@gaaleinster) March 25, 2023
"From our perspective, we've conceded two soft goals that (had they been prevented) make it a five-point game," Antrim manager, Rainey said after.
"We asked them for work-rate, intensity, honesty and they did the saffron jersey very proud today.
"That team (Galway) will go very close to the All-Ireland. We can see the work they (Antrim players) are doing in the gym and on the pitch so I'm unbelievably proud to manage that team today.
"Galway beat Offaly 5-35 to 1-10 and we beat Offaly by six, but 11 points against a team like that having conceded two soft goals, we've got to be happy."
Despite playing into a stiff breeze, Galway were quickly on the front foot with Niland giving warning immediately as he went directly for goal, a feature of his play with everything going through the number 14 would drop deeper to rove around the forward line.
He clipped over a pair of early frees with Dean Cunningham landing Galway's first from play before Antrim gradually settled.
The Saffrons dropped Callagh Mooney deeper and this ultimately saw Galway centre-back Donnacha Campbell enjoy a free role to sweep, giving Antrim early issues from getting on the front foot but a superb score by Enda McGurk who forced the turnover settled them before McGarry opened his account when showing great skill to pop the ball into his hand from the ground in traffic and point.
Niland hit back from a free and then after Colm Burke drove over for Galway on 12 minutes, he had the ball in the net 60 seconds later as Brian Callanan burst forward and although losing control of the ball, managed to regatta and pass inside to Callanan who found the roof of the net.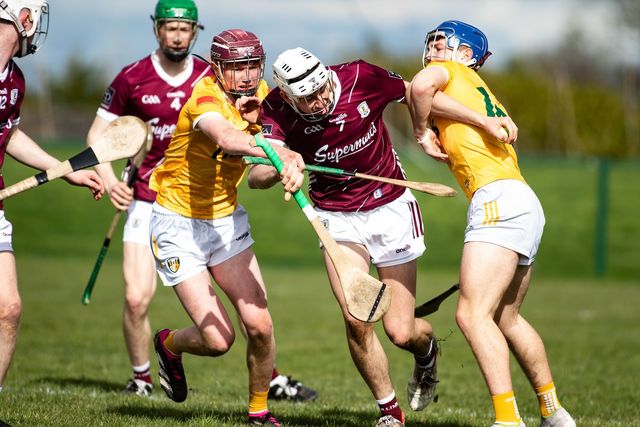 Antrim responded well with a brace from McGarry, but Galway would hit four of the next five points as they threatened to pull away with Conor Gilligan and Eoghan Mulleady assisting Niland.
However, Antrim continued to stick to the task and a McGarry free just before the break trimmed the gap to six with Galway 1-9 to 0-6 ahead.
The lads from the west would open the second period brightly with Dean Cunningham and Niland hitting early points, but Antrim were hoping their own and went score-for-score with Roan Fitzgerald getting his name on the board.
Antrim goalkeeper Anthony Mullan then recovered well to deny Callanan what seemed a certain goal after he had batted a dropping ball into the corner-forward's path, but the gap extended to nine when Niland played a one-two from a line ball and drove over superbly from out on the right.
But there was no quit in Antrim and they were rewarded with a superb goal on 49 minutes as McGary's free dropped and in a crowd of players, O'Connor gathered, spun and sent a rasping low shot to the corner of the net.
There was a glimmer of hope for the Saffrons, but Galway hit back with quick fore points through Michael Burke and Mulleady before the game was sealed on 52 minutes as Niland stood over a free close to goal and with Antrim napping, he went low and found the net.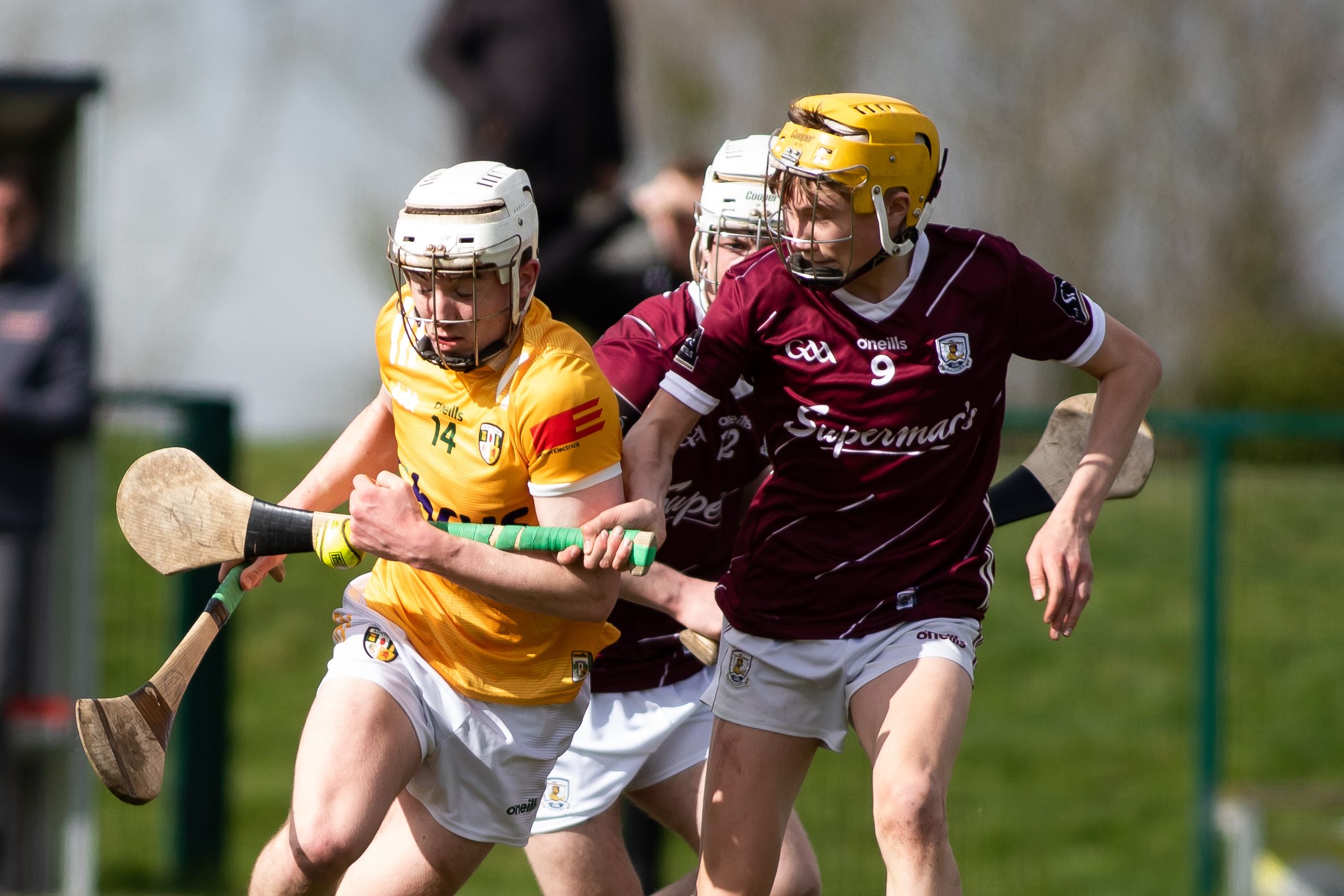 A fine score on the run capped a great day for the star attacker and while McGarry had the final say with a pointed free for Antrim, Galway claimed the opening win, but Antrim will take plenty of positives ahead of next week's meeting with Kilkenny in Abbotstown.
"He (Niland) scored a goal at the end from a 21-year free and he is a special talent, one of the best hurlers at this level in Ireland, but I thought we did well on him today," the Antrim manager opined.
"You don't understand how proud I am of the boys today and the backroom team, I'm lucky to be able to fall back on all of them, so I'm proud to be Antrim manager today."
GALWAY: S Murphy; E O'Reilly, S Murphy, G King; D Quirke, D Campbell, J Donnellan; M Burke (0-1), G Maher (0-1); C Gilligan (0-1), C Burke (1-1-), E Mulleady (0-2); B Callanan, A Niland (1-10, 1-7 frees), D Cunningham (0-2).
Subs: B Feeny for C Gilligan (41), C Leen for D Cunningham (46), E Kennedy for S Murphy (54), S Keane for A Niland (56)
ANTRIM: A Mullan; R Cunning, C Baudant, J Scullion; N Magee, L Glackin, C McAuley; E McGurk (0-1), F Jemfrey; R Fitzgerald (0-1), C Kane, S Og Blaney; R McGarry (0-8, 5 frees), O O'Connor (1-0), C Mooney.
Subs: P McDonnell for S Og Blaney (23), P Martin for F Jemfrey (30), L McEnhill for C Kane (45), R Scott for C Mooney (55)
REFEREE: Mark Ryan (Dublin)