Leinster Senior Hurling Championship
Galway 5-29 Antrim 1-22
IN the end, it was an emphatic victory for Galway over Antrim at Pearse Stadium in Salthill on Sunday as Henry Shefflin's Tribesmen punished mistakes to bag five goals.
The Saffrons were well in contention approaching the break, but Conor Cooney's second goal of the day on the stroke of half-time would prove to be the score that saw the hosts put real daylight between the teams as they romped on after the break.
To their credit, Antrim continued to battle and had further goal opportunities of their own, but just didn't take them as the hosts were much more ruthless with the net in sight.
"I was quite impressed with some of our guys in what they were trying to do," said Antrim manager Darren Gleeson.
"We set up a bit differently to what we usually do, just looking at things.
"But it's errors and when you make errors against Galway or Kilkenny, you get punished.
You might get away in the lower tiers when making a mistake but not here.
"A missed lift (for the first goal) and Conor (Whelan) puts huge pressure on it. It was nine points to 1-5 then after 23 minutes but it's those 10 minutes before half-time again.
"We recovered well against Kilkenny the last day at 2-10 to 1-7 but then you go in at half-time 13 or 14 points down.
"That's the level as you have to stay it it no matter what minute it is. It just changes so quickly but that's high end hurling and Galway will push you."
Antrim could have asked for a better start as Eoin O'Neill went on a mazy run and passed inside to Niall McKenna who was trailed down for a penalty that was drilled to the net by Conal Cunning just a minute in.
Conor Cooney responded with Galway's opening point with Evan Niland then converting a 65, but Antrim's ploy of playing James McNaughton up top on his own early was paying off as the Saffrons flooded the middle of the field.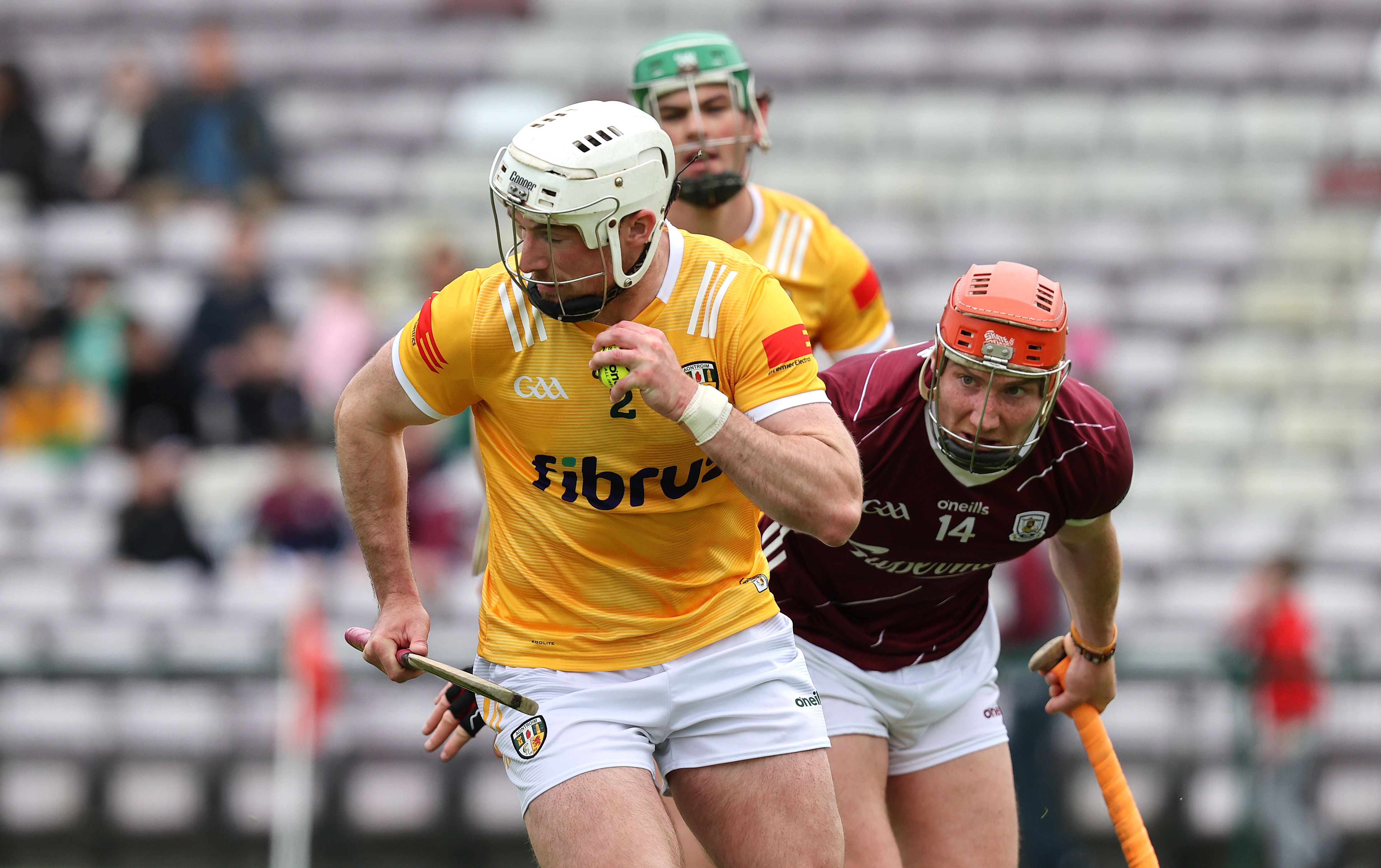 Enda Og McGarry hit Antrim's first from play to put them 1-2 to 0-4 up but Galway rattled off the next five on the spin with Cooney and Niland hitting two apiece and Padraic Mannion also on target.
Points from Cunning and Keelan Molloy was the Antrim response, but on 28 minutes, Galway found the net for the first time and it was very preventable as Ronan Glennon's shot for a point came down off the post and Gerard Walsh was unable to mop up the loose ball as Conor Whelan nipped in to whip to the net.
Paddy Burke replied with a point immediately to reduce the gap to four, but Galway enjoyed a fine run to the break with Niland, Cooney, Kevin Cooney and Declan McLoughlin all pointing and with the last act of the first half, a good ball into the right corner was gathered by Whelan who got inside to drill to the net and put the Tribesmen 2-15 to 1-7 ahead at the short whistle.
Antrim passed up a couple of early scoring chances after the break, but it wasn't the case at the other end as Conor Cooney, Joseph Cooney and Declan McLaughlin all found their mark.
James McNaughton did get Antim away in the second period with a points on the run, but they were hit with a third goal straight after as a good move resulted in Kevin Cooney blasting home.
Antrim did enjoy a nice spell with three points in quick succession, but Galway's fourth goal wasn't far away and on 47 minutes as Tom Monaghan got in on the right and despite the acute angle, he found the roof of the net.
James McNaughton had a point-blank effort saved out for a 65 that he converted as both sides rang the changes and the pace completely went from the game, but Galway would get their fifth major on 56 minutes with Liam Collins the man to finish after a long ball on wasn't dealt with.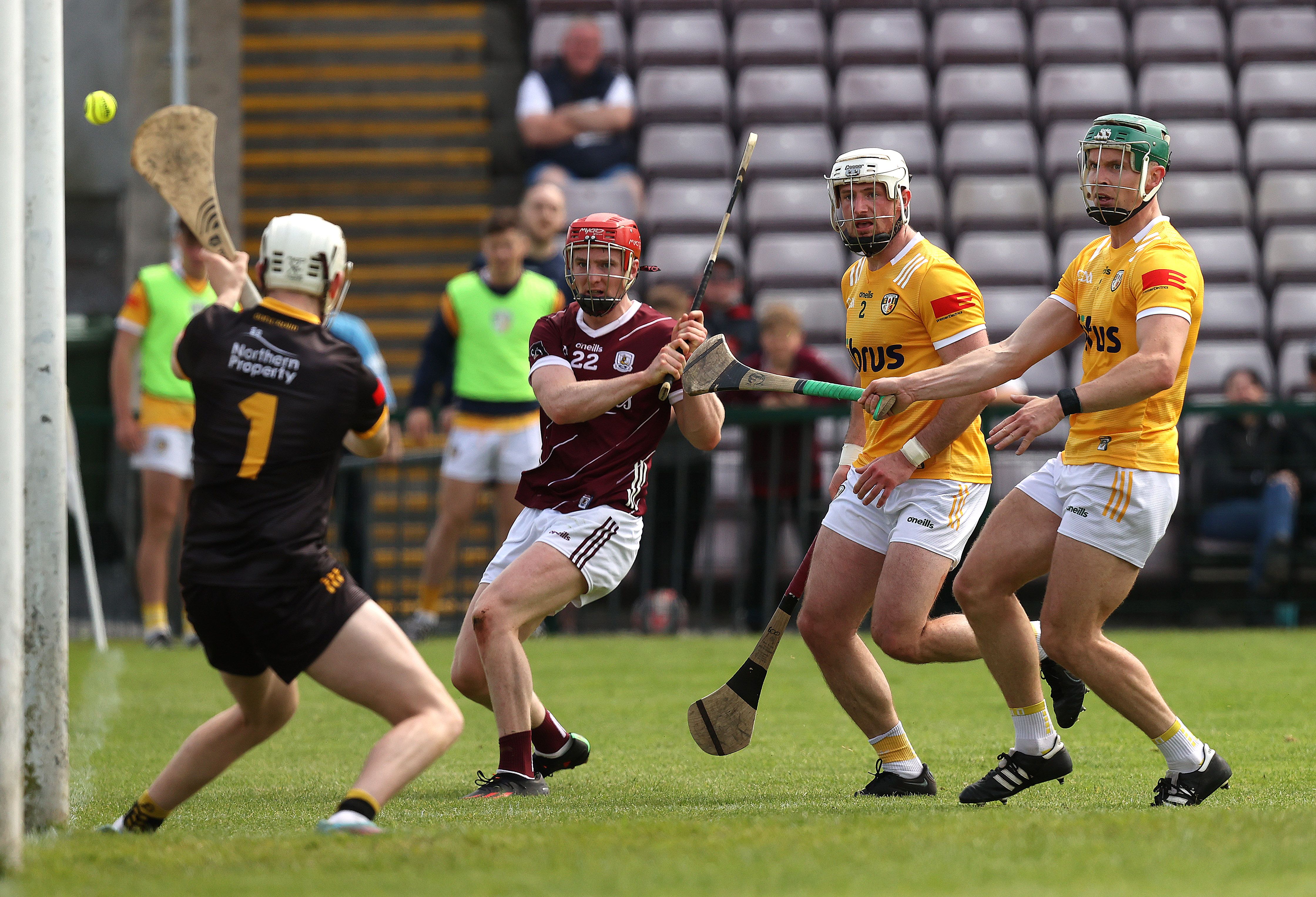 Both sides rattled off a number of scores with Daniel McKernan, who was making his return from injury off the bench, landing three for the Saffrons, but the issue was long decided with Galway grabbing the points, while Antrim now look to next week's game against Westmeath that will decide their future in the Leinster Championship.
"That decision in the first minute was crazy," said Gleeson about the penalty that could and probably should have also saw Galway goalkeeper Éanna Murphy sin-binned.
"That was a black card all day long and I suppose it doesn't matter when you're beat by what we were beat by, but at that time Galway had the breeze and should have been replacing their goalkeeper for 10 minutes with 14 men. That frustrated me."
For Galway manager Henry Shefflin, it was a good afternoon's work as they remain on course for a place in the Leinster final, but still aspects to work on ahead of next Sunday's de facto semi-final against Dublin.
"It was a funny kind of game," he reflected.
"Antrim showed us something we hadn't seen before from them with two men back and it took us a while too figure it out, but by half-time we have got into a flow.
"We got a couple of goals then but the concession of 15 points (in the second half), a lot of unforced errors is a lot to work on. It's two points and scoring 5-29 is one aspect we're happy with."
GALWAY: E Murphy; J Grealish, G McInerney, D Morrissey; P Mannion (0-2), D Burke, F Burke; J Cooney (0-2), C Mannion; R Glennon, E Niland (0-8, 2 frees, 2 65s), C Cooney (0-7); K Cooney (1-2), C Whelan (2-0), D McLoughlin (0-4). 
Subs: T Monaghan (1-2) for C Mannion (7), TJ Brennan (0-1) for F Burke (head injury, 15, not reversed), C Fahy for R Glennon (48), A Tuohey (0-1) for D Burke (53), L Collins (1-0) for C Whelan (53), J Ryan for J Cooney (62)
ANTRIM: T Smyth; P Burke (0-3), G Walsh, S Rooney; R McGarry, C Boyd, N O Connor; K Molloy (0-1), E Og McGarry (0-1); E O'Neill (0-1), C Cunning (1-3, 1-0 pen, 0-2 frees), N McKenna (0-1); D Nugent (0-1), J McNaughton (0-4, 1 free, 1 65), C Johnston (0-3). 
Subs: P Boyle for G Walsh (HT), J Maskey (0-1) for D Nugent (50), D McKernan (0-3) for C Cunning (50), S Walsh for K Molloy (55), A Bradley for E O'Neill ( blood sub, 62, not reversed), C McKernan for P Burke (64)
REFEREE: Michael Kennedy (Tipperary)