IT'S all change at Belfast's Irish language radio station – the multi-award winning Raidió Fáilte – as they move into their plush new premises on Divis Street this week.
The brand new state-of-the-art building, which cost £1.8 million, boasts the most up to date broadcasting equipment as well as the most amazing views of Belfast.
The Andersonstown News met with Raidió Fáilte manager Fergus Ó hÍr and development manager Máire Nic Fhionnachtaigh this week, who gave us a tour of their new premises.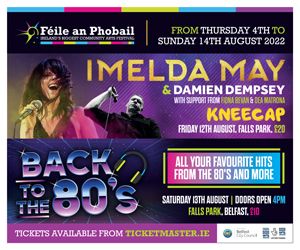 "We are now broadcasting on an even stronger signal since we moved," said Fergus. "We switched over without fuss from our old premises on Saturday and we began working from the new premises on Monday.
"This building is solely ours, we were used to sharing our old premises but we are now one hundred per cent Raidió Fáilte.
"The building itself is very spacious and we have plans to incorporate a coffee dock down stairs at the main entrance, we also have a first class board room that we would be willing to rent out for AGMs, board meetings and committee meetings.
"We want to make our premises available to the community as we are a not for profit social economy project."
Describing the new premises Máire said: "We have very spacious offices for our news team and broadcasters. We have our day-to-day studio which links to all the other studios, a training studio, a talk studio, a small studio on the ground floor and a very spacious sound desk."
As well as this Raidió Fáilte now have an amazing recording studio where bands and musicians can record their music.
Máire said: "We are known for our radio broadcast training, which we run a few times a year – our new recruits will be spoilt with all this wonderful state-of-the-art equipment. We are looking forward to growing and developing and becoming even stronger. We are thrilled with our new premises and we are really looking forward to our future here.
"We would like to thank our funders Belfast City Council (Belfast Investment Fund), the Department for Communities, An Ciste Infheistíochta Gaeilge and the Alpha Programme."
Fergus added: "We are now thrilled to be broadcasting on an even stronger signal on 107.1fm which means more people can tune in."