DONEGAL CELTIC had hoped to travel to Coagh United for their final Ballymena & Provincial League Intermediate Division game on Saturday (2pm) with the title still within their grasp, but it is not to be.
The club's appeal to the IFA regarding their claim that the referee made a mistake in the recording of a substitute in the home game against Coagh United on November 5 was unsuccessful.
The result of it all is that a 3-2 win for the Wee Hoops on the day is now 3-2 recorded as a 3-0 win for the Tyrone club who lead the way in the table by two points from Dunloy.
"The way the league is, had we not had the three points taken off us, we would have been going down there on Saturday to win the league," lamented team manager Owen Baggley.
"That's the most disappointing thing because had we not had those points taken off us due to a name being spelt back to front... But we'll use it for motivation on Saturday and next week as we want to finish the season unbeaten
"We beat Coagh up here 3-2 fair and square with a man sent off. They are in good form but so are we, so it should be a good game."
DC are now four points back so unable to catch the leaders despite an excellent 4-1 home win over Glebe Rangers with the goals coming from Kieran McMahon, Odhran Craig, Philly McPeake and John Deeney.
They were due to face St James' Swifts on Tuesday after they drew the corresponding game last week 1-1, but the game was postponed.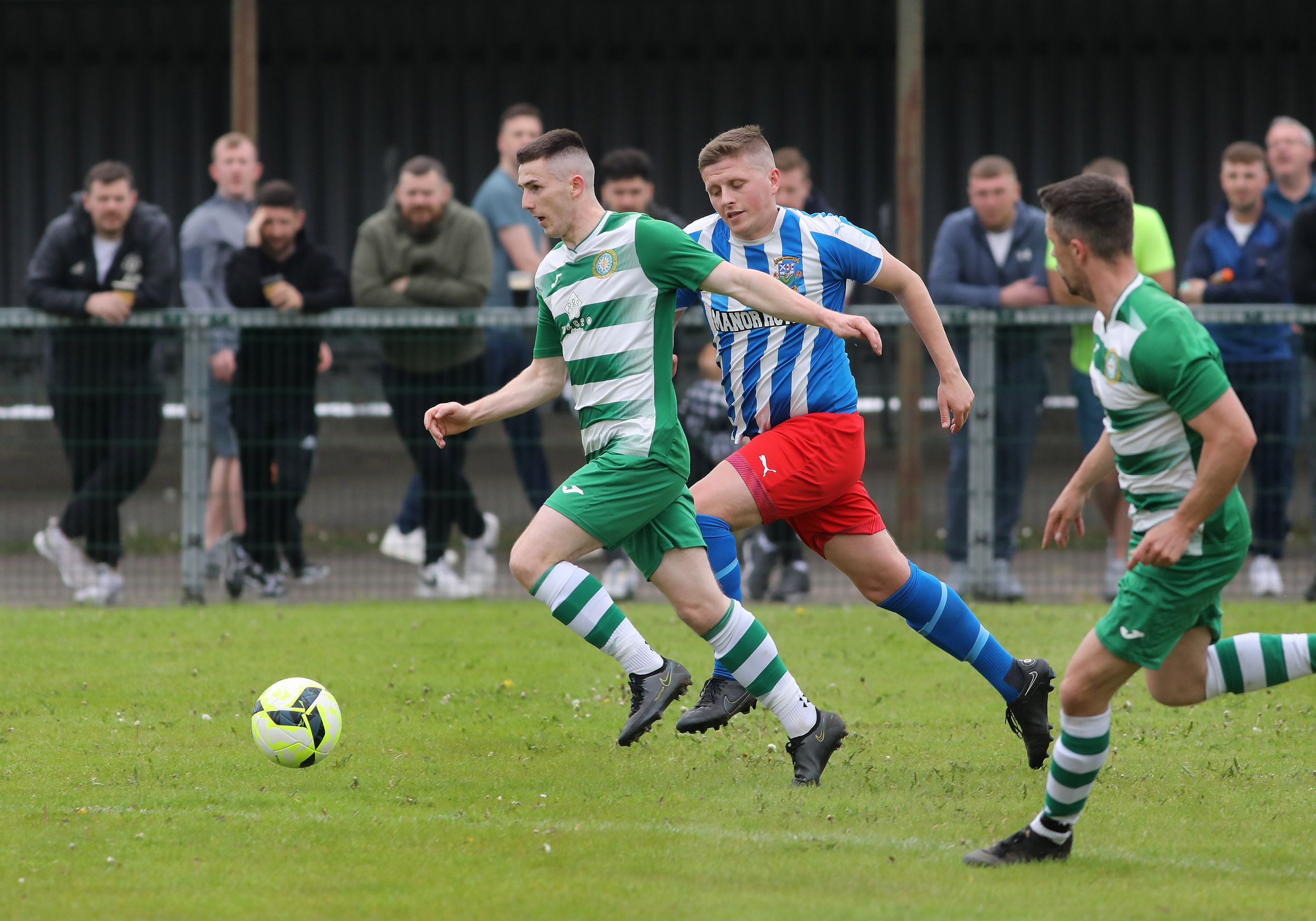 Still, the Suffolk Road club have been on a superb run of form, going unbeaten for 14 games and despite being unable to lift the league trophy, they are determined to sign off on their league campaign on a high this weekend in Cookstown before turning their attention to next Friday's (June 2) Crawford Cup final against the same opposition at Allen Park in Antrim.
"It's been very positive from where we were," Baggley insists.
"I took over last Christmas and we'd nine players in the first (training) session. Some left and we brought some more in, but the effort we've made from where we were to where we are now in the space of one season is unbelievable.
"Going from (possible) relegation to fighting for a league title is great. I'm proud of the players and feel like we've won the league, no matter what.
"We've the U17s, an academy and a ladies team now, so the progress over the space of a year has been unbelievable.
"We don't feel sorry for ourselves, but just keep going. It was hard to tell the boys last week (the appeal had been unsuccessful) and I think that was a factor against St James' last week (1-1 draw) as the outcome of the Coagh appeal came out that night and affected the lads.
"We'll just dust ourselves down and get ready for Saturday because we know that if we win then we should really be winning the league and that's our motivation."
It's quite the turnaround from last season when they were struggling in the division, but appear to have turned a corner and the work put in by the management and players is a source of pride for club chairman Sean Barker.
"I have to give all the credit to Owen and 'Big L' (assistant manager, Sean Paul Loughran) with his lucky boots," he said with a smile.
"The pair or them have been brilliant and the commitment they and the lads have shown all season has been absolutely fantastic.
"From where we were to where we are now is great and hopefully this is just the start of things for us."