Rosina McManus Shield (U-19)
St Dominic's, Belfast 8-13 Gleann na Ró 0-1
A NEWLY formed St Dominic's side became the first Belfast school to win a senior camógie title in 40 years after an heroic performance on Wednesday night.
The girls had an emphatic victory over Gleann na Ró – an amalgamation of Gaelcholáiste Dhoire and St Mary's, Limavady – with nine different players marking the score sheet.
Camógie has seen great growth in West Belfast over the past few years, and St Dominic's were able to reap the benefits of this, with six different clubs represented on the winning team. 
 
The match started off slowly, with both teams appearing nervous playing in front of a large crowd under lights in Glen, Maghera. However, joint captain Raicheal Mulholland made a solo run from her own 40 yard line to point after ten minutes and St Dominic's didn't look back after that.
Dervla McAufield and Sophie Gill Bradley were on top of the Gleann na Ró puck-outs and won possession which led to goals from Niamh Ritchie, Dervla McAufield and Saorlaith Brennan.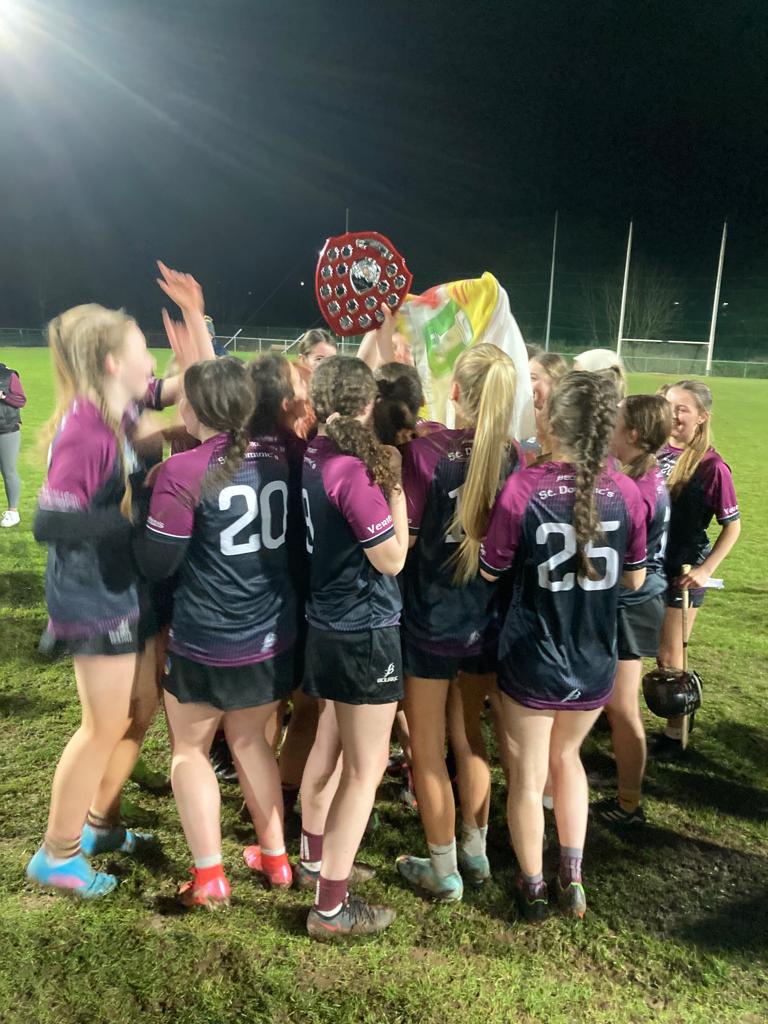 At the start of the second quarter, Gleann na Ró pressed forward on goal, but the run was stopped on the 20 yard line, and the resulting free was slotted over. Rebecca McConville kept the scoreboard ticking over for St Dominic's with a number of points, while Aoideann Boyle got on the end of a great run from Raicheal Mulholland to round out the half 4-06 to 0-01.
 
After the break, Aisling Hyndman came on and scored 1-02 from her first three possessions, while a blitz of goals pushed St Dominic's further ahead. Any Gleann na Ró breaks were quickly cleared by the back-line, with Grace Holbrook and Ciara Maguire pushing forward on several occasions.
As Gleann na Ró dropped players back to try and stop the St Dominic's attacks, Maeve Devlin and Isla Annett slotted over points from further out. While Gleann na Ró pushed to the very end, the result was never in doubt and joint captains Niamh Ritchie and Raicheal Mulholland collected the Rosina McManus Shield.  
 
St Dominic's: Úna McGowan, Rhianna McKenna, Amy Murray, Grace Holbrook, Ciara Maguire, Raicheal Mulholland (1-3,1f), Cara Lynch, Maeve Devlin (0-1), Niamh Ritchie (1-0), Sophie Gill Bradley, Dervla McAufield (2-1), Isla Annett (1-1), Aoideann Boyle (2-0), Rebecca McConville (1-3,1f), Saorlaith Brennan(1-1), Aisling Hyndman(1-2), Sophia Brown, Sian McManus, Eva Trainor, Fionnuala Baker, Demi McGreevy, Aoife Rice, Deirbhile Killyleagh, Aimee McGreevy