FATHER Des Wilson died in November 2019. I first met him in 1968. His long life was dedicated to helping people.  During the years of conflict, he stood with the Upper Springfield community against the aggression and violence of the British state forces.  He gave comfort and solidarity to those in need and was hugely respected and loved.
Fr Des was the People's Priest, a community activist, an educator, a defender of people's rights, an author, dramatist and writer. He was also a man of great courage, a good neighbour and a decent human being.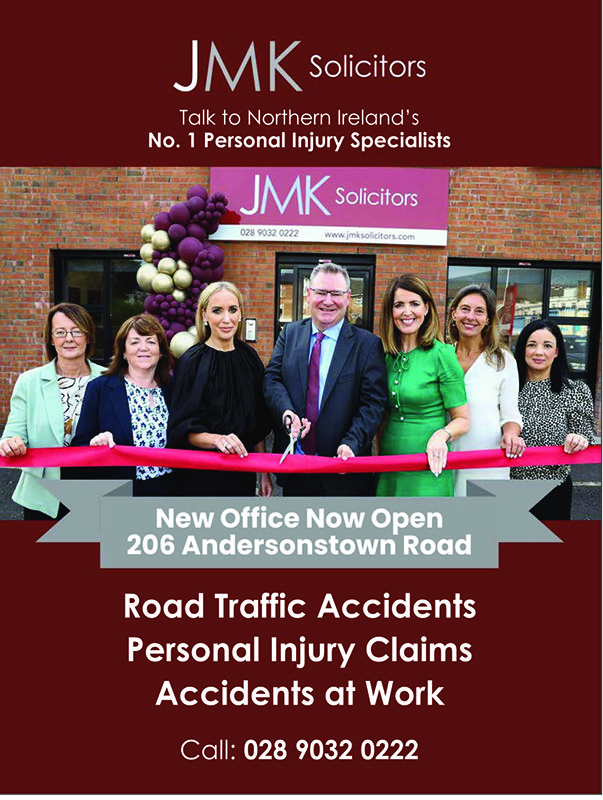 On a more personal note, in 1971, after internment, Fr Des married Colette and me while I was on the run.
Last week St Comgall's/Ionad Eileen Howell hosted an event celebrating Fr Des's life. On show were some of the 10,000 individual artefacts and documents that Fr Des accumulated over his lifetime. Ciaran Cahill of Springhill Community House explained that the Lottery Heritage Fund has agreed to support the cataloguing of Fr Des's archive.
This is a wonderful initiative providing an invaluable insight into the story of the community of Upper Springfield and West Belfast and in particular of the nationalist working class communities. The aim is to preserve and curate this archive for future generations and researchers and to provide experience and training in archival methodology.
Fr Des was a prolific writer, including a weekly column for this fine paper. He wrote books and leaflets and pamphlets and collected posters, and photographs and locally produced community and political material.
As I wandered around the tables where some of his material was laid out I was transported back to the 1970s and 80ss, to the trauma of internment and the tragedy of the H-Blocks and Armagh and the hunger strikes. There were posters and leaflets calling for a ban on plastic bullets and the end of torture in RUC interrogation centres.
May 16, 2023
Fr Des kept a regular diary, part of which he recorded on a twin-track tape recorder. It was sitting in pride of place in the middle of a table with the accumulated dust of the years on it alongside some of the original tapes and posters.  There was also a photograph of Fr Des and Noelle Ryan who worked closely with him over many years. Ciaran played for us a part of one of Des's diary recordings made shortly after the Ballymurphy Massacre in August 1971 in which he spoke of his desire for a centre for reconciliation as a memorial to those who had been killed by the Parachute Regiment.
The Irish Post in Britain carried a report of Fr Des celebrating the 50th anniversary of his ordination as a priest in September 1999. It includes a little poem from his good friend Fr Joe McVeigh.
He's a Celt and a Catholic, a
Buddhist and a Jew,
A republican, a socialist, and an anarchist too,
He's a priest and a prophet,
A fighter to the end –
But most of all,
Des Wilson is our friend.
It is clear just from the couple of dozen examples available last week that the People's Archive will be an important addition to the story of West Belfast and to the strength and vision of its people. Well done Ciaran, Claire Hackett and Tiarnan Ó Muilleoir, the archivist, and all of those involved in this very important project. The exhibition will be on show at various locations over the rest of the year, including during Féile an Phobail. If you get a chance go and see it.
Have your say on the future of Ireland
The Commission on the Future of Ireland was established by Sinn Féin in November 2021. Its remit is to undertake a grassroots consultation with the people of Ireland and internationally on the future of our island. For people to have their say on what the future might be.
So far the Commission has held four People's Assemblies – in Belfast, Derry, Ballybofey and in the Carrickdale Hotel covering Louth, South Down and South Armagh. Independent chairpersons and a wide range of political, economic, cultural and community contributors have participated.
All of the events have been very well attended and public reports have been published. Videos of the event are available on YouTube. For example a video of the Donegal People's Assembly is available at https://youtu.be/OUmR_pPnVt8
In June the Commission will be holding a Women's Assembly in Belfast and a Youth Assembly in Dublin and we are planning two more People's Assemblies to be held in the South later in the year including one in the Galway Gaeltacht.
The Commission has received over 150 written contributions from a broad range of interested individuals and groups.
If you want to make a contribution, to give your opinion on the shape and format of the new Ireland, why not email the Commission at commission@sinnfein.ie or online at  www.sinnfein.ie/ futureofireland
An encounter in Donegal
Here is another offering from a book of poetry - Poems for Hard Times – I published a few years ago. This week I thought I would share this one with you.
Walking with my mother
My mother died in 1992.
In 2007 I met her.
On the back road above Cashelnagore.
The August sunshine lit up
The scarlet fuchsia and the montbretia
And the white of her hair.
As I walked behind her
She picked wildflowers From the ditches.
Then at a gap in the hedge
She turned and smiled at me.
'Lá deas ata ann,' she said. 
'It's a nice day.'
I walked on.
Alone.
Wondering how this could be.
Sean Keane: Irish music at its best
Regular readers will know that this column is a lover of music. My tastes are wide ranging and eclectic. But mostly I come back to folk music and invariably to Irish traditional music. And always when I'm in that mood it's The Chieftains for me. Last week I purchased Chronicles: 60 Years Of The Chieftains online from Claddagh Records. 
I have been playing it constantly since then. Appropriately, Paddy Maloney and his friends were belting out The Morning Dew when I got the sad news of the death of Seán Keane. Seán died suddenly at home in Dublin. He was one of our foremost fiddle players and a constant part of The Chieftains since 1968. I have been one of his fans since then.
Seán was the quiet, tall, understated musical magician who brought old airs and traditional tunes alive. He was true to the tradition but expert at weaving it into his own unique style. He was a musician's musician.  He has three solo albums: Gusty's Frolics, Seán Keane and Jig it in Style. He and Matt Malloy, another genius, flute player and a  Chieftain also, recorded Contentment is Wealth. If you want Irish music at its best it's worth a listen. So too are Seán's recordings with piper Liam O'Flynn. He won many awards for his wonderful music. 
He was always delighted to be part of The Chieftains. They brought traditional music across the world with them. Seán also  played alongside Mick Jagger, Kate Bush, Ry Cooder, Sting, Sinead O'Connor and many other great performers. 
His last public performance was the gig for President Biden down in Mayo weeks ago. I watched it on TV and I recall his huge smile as they finished up one particularly boisterous set. I bumped into him in the restaurant in Leinster House around the same time. I thanked him for his service to our culture. I'm glad I did. He told me he was still playing with Matt Malloy.   
Paddy Glackin, another wonderful fiddle player, in a tribute to Seán said that Seán  understood the "emotional, spiritual  and lonely quality in Irish traditional music." 
Seán will be missed by everyone who appreciates traditional music. Thankfully, because of his many recordings, we can still listen to him. 
Ba mhaith liom mo comhbhrón a dhéanamh lena theaghlach agus lena chairde, go háirithe na ceolteorí eile.