BALMORAL DEA saw a loss for the DUP – four years after they themselves took a seat from the Ulster Unionists.
Sinn Féin topped the poll for the first time since the 2014 elections when Máirtín Ó Muilleor stood for the party. Geraldine McAteer was elected on the first count with a total of 2,037 first preference votes, the highest ever seen for the party in the DEA to date. Geraldine's running mate historian Séan Napier also polled well for the party in what could be a potential second seat for Sinn Féin in the years to come.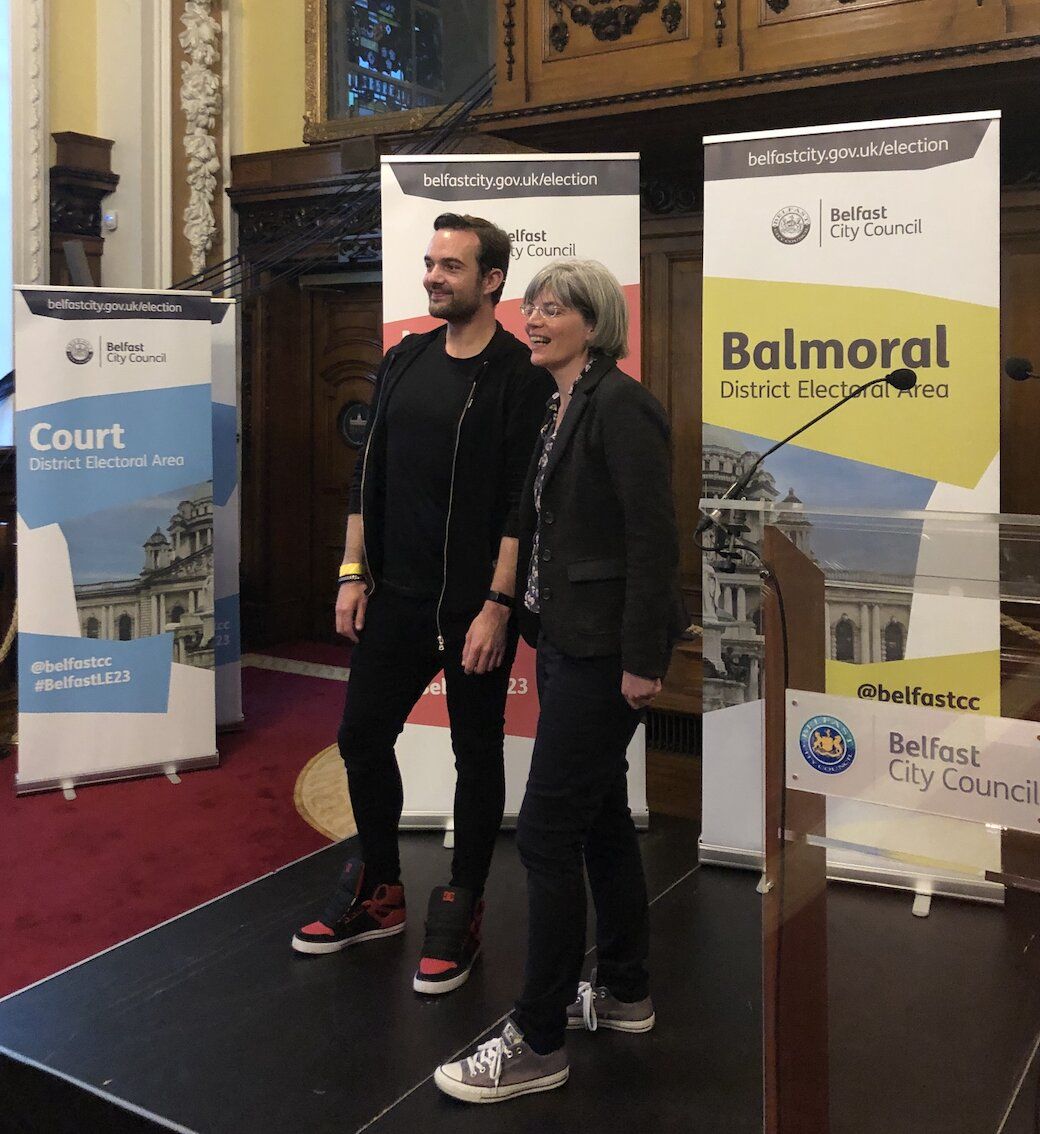 It was a good day for nationalist parties all round as the SDLP's Dónal Lyons came in second with 1,616 votes and got over the mark on the fourth round of counting in another example of the party's strong showing in Belfast despite slipping elsewhere.
Tara Brooks (Alliance) who is a senior lecturer at Queen's University came in third with 1,522 with the DUP's Sara Bunting just behind on 1,513. In 2019 Alliance topped the poll with former Lord Mayor Kate Nicholl MLA. This was a good showing for the party as Brooks was only added to the roster late after their other candidate Mimi Unamoyo, a former refugee from DRC Congo, had to drop out due to paperwork issues.
A privilege & a pleasure to run alongside @DonalLyons Buzzing to see him re-elected🤩. Thank you so much to everyone who came out to vote SDLP yesterday. Not enough characters on twitter to express my thanks to the fam, friends & colleagues who gave up countless hours to help. https://t.co/wTDMlZQwSK

— Sarah Mulgrew (@MulgrewSarah) May 19, 2023
Micky Murray (Alliance) was also defending his seat for the first time after being co-opted to replace Kate Nicholl when she was elected MLA in 2022.
Speaking after the election Sinn Féin's Geraldine McAteer said: "I am catching my breath today after an amazing election and I just want to say thanks for all your lovely messages. A heartfelt thank you to the people of Balmoral for putting your faith in me and voting for Sinn Féin.
"I will continue to put my shoulder to the wheel for Balmoral – its people and places. Thanks also to the amazing hard-working and irrepressible Sean Napier, Balmoral Sinn Féin team, South and East Belfast Sinn Féin and Michelle O'Neill and the Sinn Féin leadership."
Dónal Lyons of the SDLP said: "I am humbled by the support of the people of Balmoral and over the moon to be re-elected as your SDLP councillor. Thank you to everyone who made their mark yesterday for progressive labour values that puts people first."
Alliance's Tara Brooks praised her election team, the council staff and added: "I want to say a big thank you also to the voters. I am going to work for everyone in Balmoral."
Micky Murray (Alliance) said: "I want to say a huge thank you to Tara Brooks for stepping up and all the help she has given over the past couple of weeks and thank everyone who voted for Alliance.
"A big thank you to everyone for making us the biggest party in Balmoral and also a big thank you to Kate Nicholl and Paula Bradshaw for paving the way in South Belfast so that we can get two Alliance members elected."