IT was a crushing night at the SSE Arena for Michael Conlan on Saturday as his dreams of claiming the IBF featherweight title were crushed in ruthless fashion by Luis Alberto Lopez in the fifth round of a firefight.
The West Belfast man went out on his shield, but was outgunned by 'El Venado' who answered the early questions by pressing and punishing the challenger who just couldn't keep pace after a bright start.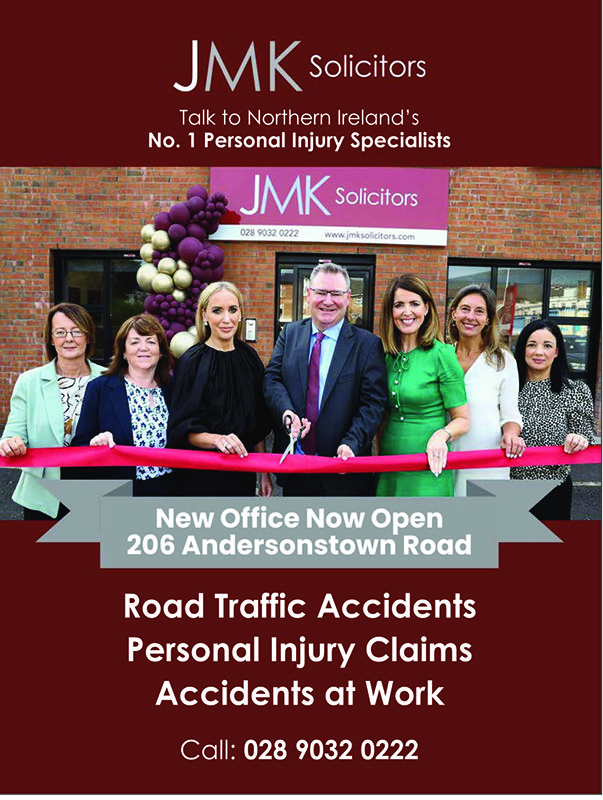 What happens now is a question for another day, the weeks ahead will reveal his thoughts as this is not the time to second guess.
In the build-up, the former world amateur champion insisted he would box and use his technical skills to see him scale the mountain, but this was not the case as the fight opened at a ferocious pace and didn't relent.
Perhaps that was down to Lopez who ensured this fight was on his terms as he cut down the wide ring and forced Conlan to slug with him.
The Belfast man made a very good start, but the third round was the big momentum flip as he was hurt and that was all the encouragement Lopez needed. 
It would be wrong to say it was one-way traffic as the Belfast man had good moments of his own and he needed to earn the respect of the man from Mexicali, yet just couldn't do enough to stop the champion in his tracks.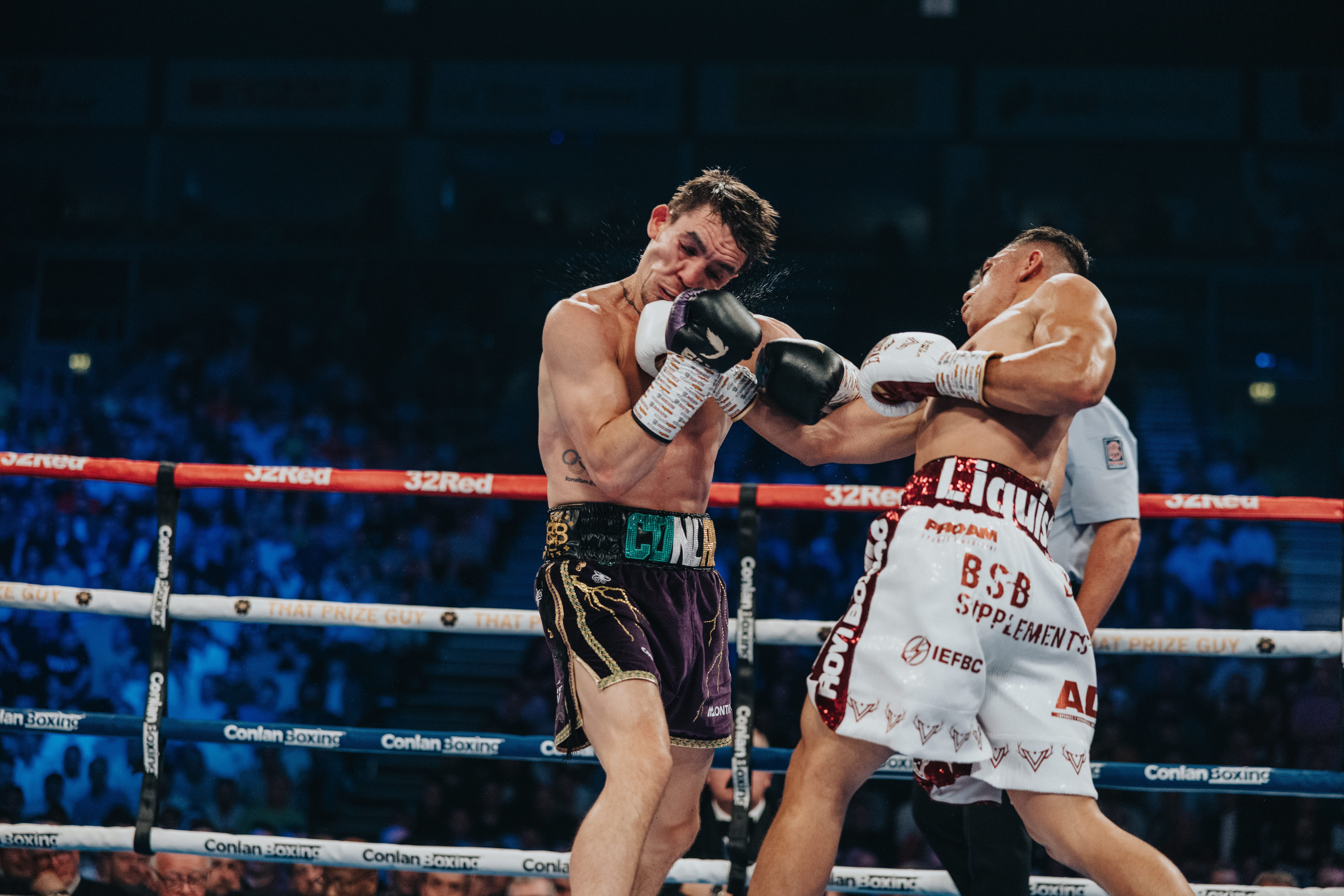 This was Conlan's second career defeat with both coming in world title fights, this one especially devastating on his home patch. 
A packed out arena was rocking as both men made their way to the ring, anticipation of one of the great nights in the air but Lopez seemed to feed off the negative energy heading his way, his smile that was affable in the build-up a little more menacing as the seconds ticked towards the opening bell.
"Lopez had my respect before the fight and still has my respect after the fight," said Conlan.
"He hits very hard. He just beat me. He travels well and is a great champion."
Conlan has insisted he would keep a cool head in a hot kitchen, but the problem was this was a furnace. He has also predicted his southpaw approach would pose huge problems for Lopez and early on it did as he landed the first telling shot with a left to the body, the first of many in the opening round as he left hand seemed unable to miss the target.
There was no feeling out as Lopez swung everything with menacing intent and clubbed him with some heavy fire after Conlan varied to head, a right drawing gasps from the crowd as already he seemed marked up.
The first round seemed a case of both trying to lay down a marker and the Belfast man appeared to be getting the better of it and in the second, it was he on the front foot early as Lopez retreated and there was hope from his support this was their man on top.
Shots thudded in from both, Conlan taking a flush right in two as he tried to lean away from the danger and although tagged, seemed ok with the champion's early efforts as he dug in and scored with his own power shots in a round he appeared to shade.
Still, it was a risky game and one Conlan was made to pay for in the third as after landing a chopping short hook, was countered and his legs went to jelly.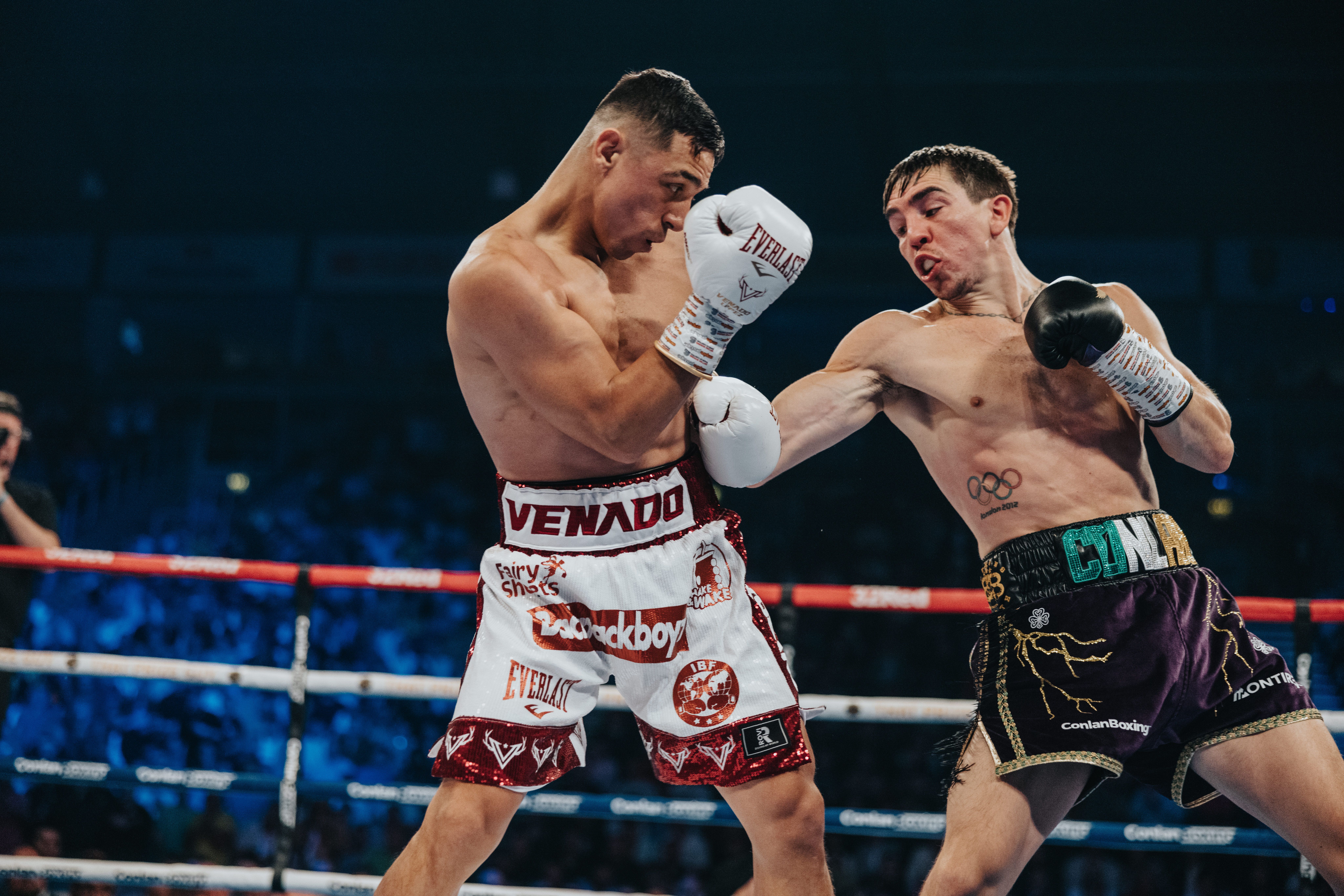 Lopez sensed he had the challenger hurt and pressed, feeling he was close to fulfilling hie prediction of an early night but Conlan fought back valiantly as the crowd rose to give their man the lift he needed.
He saw the round out, refusing to hold on and instead attempted to return the favour, but the momentum was shifting and the Mexican pressed in the fourth, this a fight very much on his terms and he was more than happy with a brawl.
Conlan did tag him a couple of times, but Lopez was now beginning to get to the Belfast man.
He came out and tried to stand and fight, but the writing was on the wall as although he ducked out of a Lopez raid in the fifth, a hard short right to the jaw saw Conlan drop backwards and down, his coach Adam Booth clearly aware that his man was in real trouble and ensured there was no count as the towel was launched into the ring to grab referee, Michael Alexander's attention at 1.14 to end it.
It was pretty emphatic how it ended and from that moment in the third almost felt inevitable.
Conlan was magnanimous, but wasn't sticking around to take the commiserations as he returned to the dressing room to mull over what, if anything, is next.
He rolled the dice and came up short, but that should still not detract from a fantastic career in the ring where he remains the only Irish male to win world amateur championship, righted the wrong of Rio and twice fought for world honours as a pro.
As for Lopez, he will now look to grab the featherweight division by the scruff with his fellow belt-holders now the target, his latest away win now perhaps seeing his stock rise sufficiently to become a major player at 126lbs and maybe even in the super-featherweight division according to his manager, Luis 'Kiki' Magana.
"I really wanted to make a statement in Belfast!"

Road warrior Luis Alberto Lopez 🇲🇽🏆

🎙️ @JoAnkierTV #LopezConlan pic.twitter.com/Tq3KiMXzcu

— Boxing on BT Sport 🥊 (@BTSportBoxing) May 27, 2023
"He now needs a good rest as he also has a baby on board, but he wants all the belts at 126 and then jump to the 130s (super-featherweight)," he said.
"I knew that 'Venado' had a really good training camp. He made the adjustments for Michael Conlan. We knew he is a local hero and is strong, fast with good footwork. We knew he would be tough and had to look in the first round to see his plan. 
"He's a southpaw and the facts are that we got really good southpaw sparring in Las Vegas, similar to Michael Conlan, but could he find similar sparring to Venado? I don't think so.
"He really wanted this fight to prove to the people he's a true warrior and champion, so we are really pleased."
As for the champion, he once again came, saw and conquered.
His ambitions are great and few will argue that he is ready for a huge showdown next.
"I hope all the world champions at the featherweight division are ready for 'Venado' Lopez," he said.
"I'm coming for all of them. I want all their belts. One by one, I'm taking all their belts with me to Mexico.
"It was an excellent atmosphere to fight in. The energy was amazing. The boxing fans from Ireland have treated me very well, so I'm glad Mick and I could give them a great fight. I wish the best of luck to Conlan moving forward, and I hope he recovers and comes back very soon."