Her smile was more than diplomatic.
When Michelle O'Neill last month skipped up the worn steps of Bute House  - the official Edinburgh residence of Scottish leaders - she was beaming from ear to ear.
Of course, the Sinn Féin vice-president - and the First Minister designate of Northern Ireland - had reason to be chipper; she had just won a landmark election.
But her host, Nicola Sturgeon, looked every bit as happy to see her. The Scottish First Minister's welcome was  clearly way warmer than anything protocol dictated.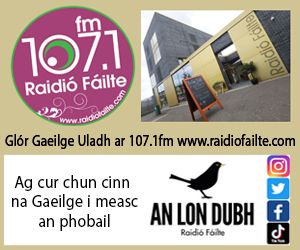 A lot has happened in these islands over recent years. But, for me, the friendly, smiley handshakes between Ms Sturgeon and Ms O'Neill were historic. 
Here was the leader of the Scottish National Party, the champion of an independent Scotland, meeting a senior figure from Sinn Féin, a lifelong supporter of a united Ireland.
Ms Sturgeon is already in power. Ms O'Neill will likely be soon. Both women have still to achieve their aims, and have plenty of hurdles to overcome to do so. But let us not pretend this was not a hugely symbolic moment. Because it surely was.
Delighted to meet Scotland's First Minister @NicolaSturgeon in beautiful Edinburgh. The historic bonds between Scotland & the island of Ireland go back centuries. We enjoy a long & enduring affinity as neighbours & friends. Moving forward we will strengthen the bonds that tie us. pic.twitter.com/2oD1sTreBr

— Michelle O'Neill (@moneillsf) May 20, 2022
The language was as warm as the smiles. Ms O'Neill tweeted a picture of her handshake, saying she was delighted to meet Ms Sturgeon "in beautiful Edinburgh". 
"The historic bonds between Scotland and the island of Ireland go back centuries. We enjoy a long and enduring affinity as neighbours and friends. Moving forward we will strengthen the bonds that tie us."
Ms Sturgeon has had working relations with the Northern Ireland Executive before.  Her predecessor, Alex Salmond, enjoyed a perhaps surprisingly cordial relationship with the DUP. Why? Because devolved governments of any stripe - in Scotland, Northern Ireland and Wales - have often common interests.
But the Stormont elections have changed the dynamic. As has Brexit. Ms Sturgeon explained why, in her view, this was.
Leaving the EU, she said, had "brought to the fore some very fundamental questions" over the system of governance.
"Scotland, and indeed Northern Ireland – we both voted against Brexit but we are both now dealing with the very negative consequences of Brexit.
ICYMI John Swinney pledges SNP will work with Sinn Fein in 'separatist alliance' - @ScotExpress https://t.co/0KzsYkftsA

— Steve Sayers 🏴󠁧󠁢󠁳󠁣󠁴󠁿in🇬🇧=👍🏼 #Scexit👎🏼 (@SteveSayersOne) June 1, 2022
"That really brings to the fore that that system of government that's been at play in the UK for some time now is not serving all of our interests.
"You hear these questions in Scotland, you hear them in Northern Ireland. Increasingly, you're hearing these questions being asked in Wales as well."
The SNP, Sinn Féin and Welsh Labour are all very different, of course. But that does not mean they will not find common cause against the Conservatives of Boris Johnson. 
Sometimes that will also include other Northern Irish parties, not least the DUP and Alliance. 
But there was more to the Sturgeon-O'Neill meeting last month. It was more than about the detailed business of devolved government.  It marked something bigger.
Visiting dignitaries tend to say saccharine sweet things about their hosts. Diplomatic leaders return the compliment. 
Many congratulations to @moneillsf and @MaryLouMcDonald on a truly historic result for Sinn Féin. I wish Michelle & her colleagues - & all Northern Ireland's elected representatives - the very best for what comes next & hope to see the NI government functioning again soon.

— Nicola Sturgeon (@NicolaSturgeon) May 7, 2022
On one level it is insipid, platitudinous even, to point out the huge cultural, political, historical and economic ties between Scotland and Ireland. On an other, it is profound, insightful. 
But the warm words of Ms O'Neill and Ms Sturgeon need context. There was a time, after all, when the SNP was not quite so universally well disposed towards Ireland and the Irish, and especially to those of Catholic faith.
A former leader of the Scottish party, Billy Wolfe, waded in to scandal after scandal in the early 1980s. 
His nationalism was founded firmly in Scotland's story of Covenanters, of the Presbyterian faith. 
So he caused no end of embarrassment to the SNP by attacking the Pope John Paul II's historic visit to Scotland in 1982. 
Mr Wolfe warned that the country would reject independence if the slogan 'Home Rule means Rome Rule' were to take off. 
By the time he made these statements, he was out of power in the party. But its new leaders were mortified. Party talisman Winnie Ewing demanded to know if the SNP was "now part of the Orange Movement".
Mr Wolfe - a social democrat and anti-nuclear campaigner who was married to a Catholic - later apologised for his remarks. 
Sinn Fein's vice president Michelle O'Neill has vowed to strengthen Scotland and Northern Ireland's ties https://t.co/lZHLoKFPVc

— The National (@ScotNational) May 20, 2022
After all, they ran counter to what was already a drive to make the party a broad church - not just kirk - that would embrace all sorts of Scots and Scottish residents, not just Presbyterians.
The SNP now hoovers up votes from the many Scots, especially in the west of the country, of Irish Catholic extraction.
The gold-standard Scottish Election Study, which was published last month, slices and dices up the electorate to understand trends. 
It revealed that the SNP took almost half of the Catholic vote — with its strong contingent of people with at least some Irish, especially Northern Irish, heritage. Having said that, the party does even better among the country's biggest single 'religious' demographic: atheists, of whom it wins a clear majority.
Some more radical opponents of the SNP, meantime, have long tried to equate the party with Sinn Féin and, by extension, the IRA.
The sight of Ms O'Neill and Ms Sturgeon greeting each others at Bute House sparked concern from some unionists. The Daily Express warned of a "separatist" alliance between Edinburgh and Belfast. 
But there was also some, in my view, over-cooked outrage about the SNP dealing with Sinn Féin.
MSP Donald Cameron, usually one of the more nuanced Conservatives,  said even independence supporters would be "concerned about Nicola Sturgeon's eager embrace of Michelle O'Neill and Sinn Féin". 
He added:  "For many, the party's associations will be far from the 'civic nationalism' that Nicola Sturgeon claims to champion, but it seems that the SNP will work with anyone so long as they support the break-up of the UK." Later the same week, Tory backbenchers attended a reception with Mary Lou McDonald in Westminster. 
It was a pleasure to meet with @SpeakerPelosi today in the US Capitol. Our discussion included Ukraine, the Northern Ireland protocol, women's rights and Scotland's future. Above all we celebrated and reinforced the long-standing relationship between 🇺🇸 and 🏴󠁧󠁢󠁳󠁣󠁴󠁿 pic.twitter.com/jFrhqzFev7

— Nicola Sturgeon (@NicolaSturgeon) May 16, 2022
This was, I think, just a wee shout-out to part of the Conservatives' base, the small and diminishing band of stauncher working-class unionists of Clydeside. Most Scots, including unionists, understand history has moved on on both sides of the Sheuch, the Sea of Moyle, the North Channel. 
For Mr Cameron and his Conservatives there is a bigger problem, one of doorstep diplomacy. It has been a while since Tory leader and Prime Minister Boris Johnson came to visit Bute House.  But when he did, in 2019, he was booed. He did get a handshake from Ms Sturgeon as she welcomed him to her residence for the cameras.
But there were scowls rather than smiles.