THE opponent may be different, but the task remains the same for Carl Frampton who says there is no room for error when he faces late replacement Darren Traynor behind closed doors in London tonight (live on BT Sport from 8pm).
'The Jackal' was scheduled to take on Vahram Vardanyan at super-featherweight, but visa issues forced the Armenian's withdrawal with Aberdeen native Traynor getting the call to step in.
This fight will not take place up at lightweight, which is certainly not an advantage for the Belfast man, but it is a situation that is out of his control and his gaze has had to quickly shift to 'Trayn-Wreck' who finds himself catapulted into the biggest opportunity of his career that had run aground in mid-2018, forcing an enforced 20-month absence out of the ring before returning for a routine points win over Des Newton in February.
"It was a bit of a nightmare but I'm just delighted to have an opponent," Frampton told Belfast Media Group.
"There is nothing I could have done about the situation but I have an opponent and that's something to focus on for the next few days.
"There's no pressure on him. He has everything to gain here so he will come in with no weight on his shoulders."
Frampton has been targeting a world title in a third weight division with a showdown against WBO holder Jamel Herring firmly in his sights.
Never felt this good before a weigh-in in my life. Expect a big performance. pic.twitter.com/YTtY1BZwc5

— Carl Frampton MBE (@RealCFrampton) August 14, 2020
However, given the events of the past week and Traynor stepping in at short notice, the Scot felt he was unable to make 130lbs so the fight is made up at lightweight which is ground Frampton hadn't intended to visit.
Traynor will certainly enjoy size and strength advantages on Saturday and has been on standby for a period of time given there was a possibility of Covid - or as it turned out, visa - issues opening the door for him to step in, so Frampton is aware his opponent on Saturday will have been working towards this fight, whilst his gaze was elsewhere until last weekend.
"The fight is at lightweight - 135lbs - so that's a big advantage to him," he admits.
"He said he couldn't make 130 but I think he maybe knew we were desperate for an opponent and it suits him to do 135 rather than me so it's a big advantage in his favour.
"Also, he's been training for the last three or four weeks, but now I'm hearing it's actually four or five, hoping he was going to get this shot.
"MTK (management team) had been paying him to train in case there was a problem with the opponent in terms of virus issues or something like that.
"He has been specifically training for me for four or five weeks and I haven't done a training session for him yet, so that's another thing that works in his favour."
 
Stranger
Traynor is no stranger to Belfast fight fans having taken on James Tennyson at the SSE Arena back in October 2017.
On that occasion, the Scot succumbed to Tennyson's heavy fire, stopped in three rounds having been dropped in the second, but for a brief spell after the first knockdown, looked to have the Belfast man in trouble with a left hand.
He certainly won't be shy in trying to impose himself on Frampton this Saturday, but the two-weight champion expects as much and feels Traynor will be more likely to march forward rather than use his reach to box on the outside.
"Tennyson is a puncher and in my opinion, the hardest pound-for-pound puncher in Irish boxing at the minute," he opined.
"Although Tennyson got a third round KO in that fight, what I did notice was that he dropped him in the second round but got hurt badly later in the round. What that tells me is that Traynor is brave and just didn't cover up. He kept winging shots back when Tennyson had him hurt, so he's a brave guy and he'll be up for it.
"I don't think he's going to get up on his toes and move around. Coming in at 135, he'll come in trying to impose his size and strength on me so it's up to me to deal with that but I think I'll be ok."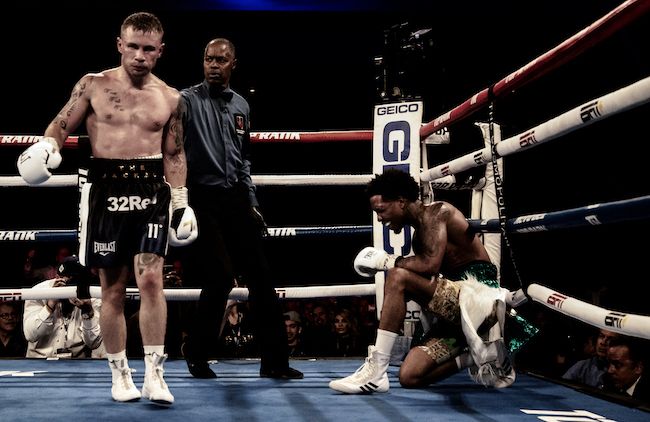 The Scot was only too happy to take this huge opportunity to step into the ring with an A-List fighter in Frampton, knowing that if he can cause a huge upset then it is he who will get the huge fights on the biggest of stages.
Softly spoken, 33 year-old is much more aggressive when the bell rings. He knows he faces the biggest challenge of his 20-fight career on Saturday, but says he is coming with nothing to lose and all to gain.
"It's a big opportunity and massive fight for me," he said.
"I know it's going to be a hard fight, but this is a big thing for me an d a great opportunity to get back up the rankings and onto the big stage again.
"I never thought (I'd get a fight against Frampton) but it's here now so I'm here to give it a go. I just have to be confident and believe I can do it."
It will be a surreal outing for Frampton who has grown accustomed to fighting in front of packed arenas in Belfast, Manchester, New York and Las Vegas.
Walking out without the soundtrack of his vociferous support on Saturday is not what he would have hoped for, but the present situation will make it so.
"It will be strange but we are all boxing in the same ring," he accepts.
"Whatever atmosphere I'm taking in, Darren Traynor will be taking in too. It is what it is.
"I'd rather have been boxing for a world title in front of a packed crowd but I'll just have to deal with this and get the big world title fight before the end of the year."
 
Plan
That world title fight should take place  in November if all goes to plan and there are no setbacks including injury to his hands that both required surgery after his last outing, against Tyler McCreary in Las Vegas back in November.
"The hands are fine," he reports.
"The proposed Jamel Herring fight was confirmed for June 13 and I would have been ready for that.
"I'd been blasting away on the bags since February and have this water bag at home that are very hard to hit, but I was using that and the hands held up without no issue."
Given what is at stake, there can be no taking the eye off the ball this Saturday despite the late shuffling of the deck with Traynor now the man in the opposite corner.
Defeat would be nothing short of a disaster for the Tiger's Bay man and he knows it. His ambition to become Ireland's first ever three-weight champion and secure his legacy as the best ever will drive him on this weekend.
A perfect night will be a good performance, some rounds under the belt, no injuries and a stoppage should it present itself.
"Just get a win, look good doings it and then Herring after this," was his final word.
"I can't be complacent for a second and I won't be, so I'm looking forward to putting on a good show.
"If I lose this fight, my career is over. Where do I go from here at this stage? So I'm not looking to do that."
Carl Frampton has come too far in his career to let it slip at this stage. Traynor will likely play his part in an entertaining fight whilst it lasts, but there can only be one winner.