Mayor Jim Cahill stoops to pick up a sweetie wrapper before posing for a photo before the direction sign in the very centre of New Brunswick, New Jersey, which points towards sister city Limerick, just 3,117 miles away.
It's not the only link with Ireland in this compact little bustling town of 55,000 souls which was built by the Germans and Irish and, later, the Hungarians (the most popular local bank. The Magyar, is run by a John Fitzgerald).
Driving the success of the town has been medical giant Johnson and Johnson which has its global headquarters in New Brunswick. After the Hungarian uprising of 1956, J&J promised to provide employment to anyone who could make it out of the communist state.
Today, Johnson and Johnson takes a more detached, corporate attitude to civic affairs, but undoubtedly its presence has been the magnet which has brought a slew of health investments to the town, sitting just 50 minutes by train south west of New York. Packed into the core of New Brunswick are seven hospitals, three of them teaching facilities and one among the greatest cancer research clinics in the nation.
Add to that mix the 40,000-student, world-famous Rutgers University and you can imagine why New Brunswick is thrusting ahead – its population has grown from 41,000 to 55,000 in the 22 years that Mayor Cahill has been in post – even while some of its bigger neighbours such as Patterson and state capital Trenton are deeply troubled.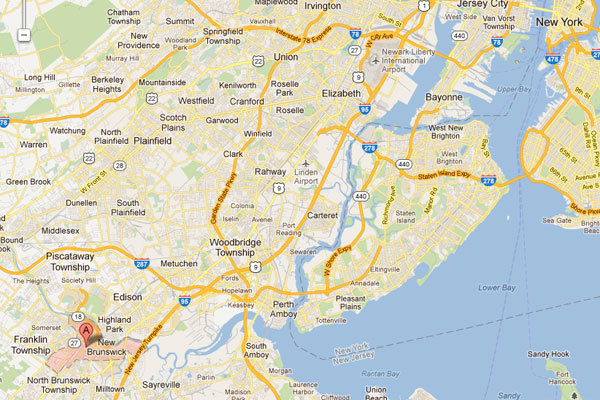 My host on my one-day visit to New Brunswick, restaurateur and mixologist Francis Schott (who visited Belfast in January – read our interview with him on www.foodbelfast. com), describes those cities as having "Third World status". If there's regret in his voice when he makes that statement, there's also relief.
For when Francis first came to New Brunswick to open his Stage Left restaurant, the city was a basket case. The thoroughfare running between the two campuses of Rutger was known as "the gauntlet". "You wouldn't walk down it at night," concedes Francis. "In fact, you probably wouldn't walk down it by day." Drug-dealers had taken over underserved parts of the city around soon-to-be-condemned high-rise 'projects'. "These were no-go areas and frankly my friends thought I was nuts to open here."
In a renaissance driven by Mayor Cahill, however, the city began a long, tough rise out of despair. The arts was a trigger. The old state theatre on Main Street was restored, its original 1921 features saved, and it now stands proudly beside two other vibrant playhouses – right beside Stage Left and, upstairs, a second restaurant opened more recently by Francis, Catherine Lombardi (named after the grandmother of business partner Mark Pascal). "When I arrived the State Theatre was showing porno movies," says Francis.
The projects were razed, incentives offered to hospitals to locate downtown and new housing developed – for all income levels.
Asked how it started, Mayor Cahill is quick to credit the small business pioneers who put life back into downtown New Brunswick. "You get a guy like Francis who runs a good restaurant. You do positive things and encourage positive activities. You tackle crime and you create jobs." New Brunswick has a lower unemployment rate than the State average. Crucially, the city also worked to attract back to New Brunswick, those who had fled the crime-ridden city of the seventies and eighties. Today, 5,000 people live downtown, a five-fold increase in 15 years, another 1,000 homes are going up in a city pockmarked with construction sites.
There is much more happening in New Brunswick – the restoration of the Raritan Canal, once the primary route to move goods between New York and Philadelphia and built by the Irish; a riverside parkway; and a wellness plaza where doctors and health experts from the hospitals will give locals free classes on how to look after their health.
And it would be wrong, says Mayor Cahill, to underestimate the challenges ahead: crime is down 50 per cent but there's more to be done. You get the impression the city of New Brunswick is up to the challenge, helped perhaps by its streamlined system of government: there are five council members in one arm of the legislature, the Mayor on the other. And a robust economy has meant the city has avoided the fire and police department lay-offs which have bedevilled other cities in recession-hit America.
You don't come to Francis Schott's "beloved" New Brunswick, though, without enjoying his hospitality. And enjoy it we did. There was jamon Iberico – regarded as the best ham in the world – Kobe steak from US-reared cattle (you guessed it, Japanese Kobe steak is the best in the world), mouthwatering desserts, a cheeseboard to die for as well as Spanish brandy and a dessert wine which came in a bottle with a hand-written label. I passed on the latter two, prompting Mark Pascal to remind me that I was taking the train back to Manhattan, not driving it.
But I did enjoy a wine from the Owen Roe winery in California where former Belfast native David O'Reilly is the chief winemaker. And over dinner Francis got to talk about his love for the county of Armagh his great-grandparents left. His connection with the Orchard County endures: his cousins the O'Dowds live near the lough shore and he spoke with some emotion about the 1976 loyalist attack on their home which left two of his relatives dead. It was the first time he had shared that tale with his fellow guests, including Mayor Cahill, who he has known for 30 years.
There were other echoes of our dark past: David O'Reilly lost two uncles on the loyalist bomb attack on the Golden Pheasant Inn in Lisburn that same year. His family, hurt out of Ireland, emigrated to Toronto and from there he eventually made his way down into California and into the winemaking business.
A third tragedy remembered from afar: on Thursday last at the Irish Echo Small Business 50 in New York, we honoured Máire Murphy of winemakers Rua, also in California. Máire's two aunts were murdered by the Shankill Butcher gang in an attack on their Millfield bonded warehouse.
Informed and shaped by our past, we raised a glass in New Brunswick, among friends of Ireland who have done so much to build up their own city of New Brunswick, to a brighter future. "We are that brighter future," Francis reminded us.
How restaurants helped New Brunswick get the Schott in the arm it needed