ANTRIM Chairman, Ciaran McCavana, has praised the decision of Gort na Móna for suspending all club activity following one of its members testing positive for Covid-19.
The news broke on Tuesday afternoon and the club was swift to act, deciding the welfare of its members and wider community was priority.
The decision means the Turf Lodge club will not field teams across all codes and grades for the next two weeks, meaning they will be out of Championship action and unfortunately have to forfeit those games that are scheduled within the period.
The admirable stance means that the club's footballers saw Wednesday night's Senior Championship game against Naomh Éanna cancelled, as is their trip to Glenariffe in the Intermediate Hurling Championship on Sunday with the points of those group games going to the opposition.
The stance drew praise from county chairman Ciaran McCavana whose own club was meant to face the Gorts at Enright Park on Wednesday.
The Naomh Éanna clubman said the decision to close for two weeks came directly from the club without any prompting and said they are an example to other clubs in the county for their response.
"I was trying to see if we could give them a few days' grace (to play this week's games), but it was the club that said they wouldn't take the risk," he confirmed.
"They were due to play my own club and we'd rather play the game, but they came back and confirmed the player tested positive and decided to close down.
"It's a big call, but they're being cautious and that's the sensible thing to do.
"They still had a chance to get through in football and I know they were looking to give Intermediate hurling a rattle, so it's very harsh on them."
At the outset of play returning last month, the county outlined that if teams couldn't field due to a positive Covid test, they would unfortunately have to concede any games within the time they were out of action due to the condensed Championship campaign.
As well as this week's games, the club will miss their remaining Senior Championship games against St Gall's (football) and Clooney Gaels (hurling).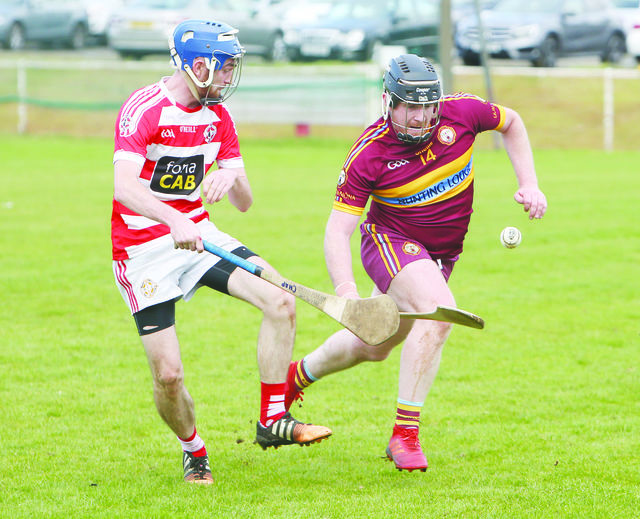 It is an unfortunate scenario and one that is a direct result of the pandemic that has seen usual schedules thrown off course, and McCavana reiterated his admiration for the decision made by Gort na Móna.
"The club made the decision to close for two weeks as a precautionary measure and they have to be commended for that as it's a big sacrifice," he added.
"Effectively, their senior season could over now but they have weighed it up and decided to close, do a deep clean and put the community before games, so you have to commend that attitude.
"It's very hard on them as they've done a lot of work in the club and just shows how fragile the whole situation is.
"It's where we're at and sadly, I don't think they'll be the last club to suffer the same fate. It could be a bit of a lottery as to what clubs come through the Championship unscathed by Covid."
Whilst disappointing for the Gorts, they were quick to make the call on Tuesday when they had the positive case confirmed and made an ethical call to shut down for they next two weeks.
"We always said we'd be responsible and do the right thing, pro-actively shut everything down because sport comes second to peoples lives and health that has to come first," stressed Gort na Móna committee member, Terry Reilly.
"We planned for this as every club has. We took the advice from our Covid Officer who is a school teacher and shut everything down.
"There was due to be an U16 match tonight (Tuesday) but that is off and everything else is gone.
"We'll have a look at things in a couple of weeks' time, but that is a long time in the current climate. We think it's the ethical thing to do."
Over the weekend, the county chairman reminded clubs as to what is expected in the fight against Covid as there have been signs in the community that complacency has set in, with the rise in cases reflecting that.
He acknowledged it is a tough task for clubs to ensure players don't mix with other groups considering many will play both codes or be members of reserve and senior panels, but has suggested they do what they can to ensure a positive case doesn't result in an outbreak throughout the club.
"I sent out a reminder to clubs on Friday that we need to batten down the hatches because things seem to be getting away a bit with people getting back to normal," he noted.
"We maybe have to redouble our efforts now and try to put teams in a bubble as much as possible.
"It's hard, especially for dual players, but if you have the likes of minors playing reserve and things like that, then there is the risk of a number of teams in one club being affected, so all we can do is be as cautious as possible and hope we get through it."