MUNRO Vehicles, a Scottish manufacturer of electric 4x4s, has revealed their new Mk1 pick-up, a capable utilitarian vehicle that follows in the wheel tracks of the MK1 truck launched last December. 
The pick-up signifies a milestone in Munro's strategic mission to fulfil a significant global demand for zero emission 4x4s. Like the truck, the pick-up's abilities enable customers operating in challenging sectors such as mining, construction, utilities, and agriculture to meet decarbonisation targets without compromising on performance. Unveiled in striking Munro yellow, the pick-up exudes a butch, ready for anything stance. As with all models and variants, the pick-up combines the rugged reliability and easy repairability of a full-time 4x4 mechanical drivetrain to provide uncompromising ability in all weathers and terrains, and, with a state-of-the-art electric powertrain to ensure no tailpipe emissions are left in the vehicle's wake.
The spacious, easy-to-load rear bed of the pick-up accommodates a 1050kg Euro Pallet payload, so you can load with a forklift truck, and it has a 3,500kg braked towing capacity for effortless haulage of cargos from farm implements and livestock to construction and disaster relief equipment. In addition to its impressive pulling power the pick-up can sprint to 60mph in 4.9 seconds – and that's quick. A 220KW electric motor and a choice of Utility or Range variants lets you choose between grunt, and distance, or both.
Replenishing the battery from 15 per cent to 80 per cent can be done in just 36 minutes, and with a fully charged battery, the MK1 has a range of more than 190 miles, or the capability to operate off-road for up to 16 hours on a single battery charge. Designed, engineered and built in Scotland, the Munro is the first light vehicle to enter production in that country in more than four decades. The levels of positive feedback experienced from media and customers who have test driven the MK1 truck are impressive and the response to the new pick-up has been equally positive. This, and the 200-plus pre-orders the company have taken across both the truck and Pick-Up models, gives Munro great confidence that the vehicles they have created are precisely what the market wants, allowing the company to play a key role in assisting those operating in challenging environments to meet imminent decarbonisation targets. So, if you want an emissions free 4X4 workhorse that looks as butch as it runs, and you have £50k to spend, maybe it's a Munro for you.
Jennings Claims Sperrin Victory
Last Saturday Garry Jennings and Rory Kennedy claimed victory at the "Go" Tour of the Sperrins Rally organised by the Magherafelt and District Motor Club, round four of the Northern Ireland Rally Championship.
Jennings won with five seconds to spare after a tight battle at the front with Jonny Greer and Niall Burns. Greer won the first stage, but Jennings was not to be thwarted and by stage three he had taken the lead before going on to win his first rally in more than more years.
In an ironic twist, Jonny Greer who had to settle for second secured maximum championship points as Jennings was not registered for the championship, and after Jonny's retirement from the last round, these very valuable championship points have eased the pressure on the reigning champion. In third was Desi Henry who's day was ruined with a bad tyre choice for the morning stages, when he expected rain on what proved to be dry stages, by the time he could change to new rubber, it was too late.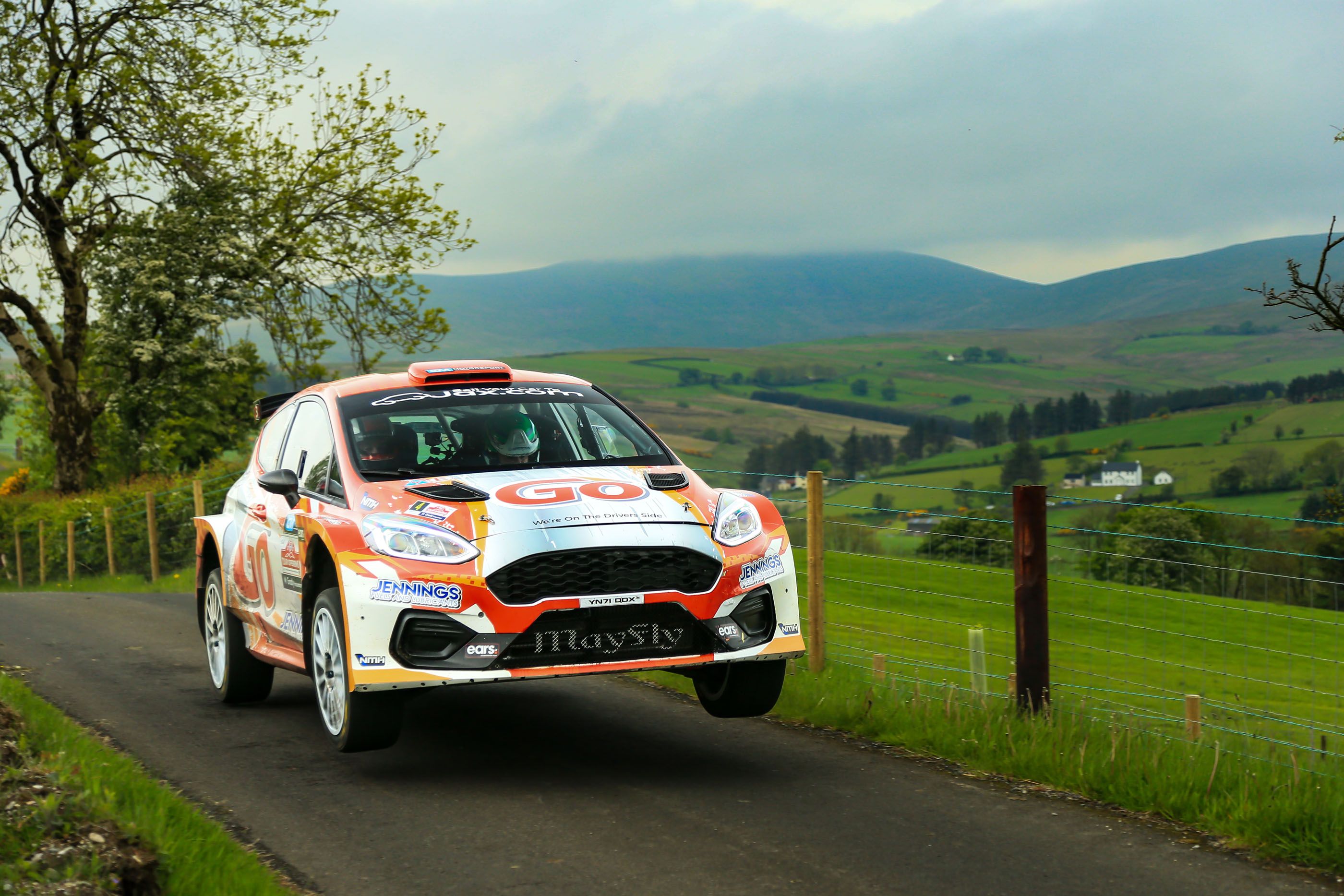 Jason Mitchell, Jason Dickson, and Gareth Sayers battled all day over fourth place with Mitchell eventually winning out. Dickson was happy with fifth ahead of Sayers who spun, needing to reverse to get back on track on the penultimate stage before finishing sixth. Ian Dickson claimed seventh with Martin Cairns eighth, Frank Kelly was the first two-wheel drive car in ninth with Camillus Bradley rounding out the top ten and taking second in the two-wheel drive category. Championship leader Derek McGarrity had a nightmare struggling with handling problems throughout, eventually finishing in what was for him a disappointing 15th. That result relegates Derek to second place in the championship, six points behind reigning champion Greer with one round left.
Competitors now enjoy a two-month break before the final round, the Down Rally on the 22nd of July.
In the British Touring Car Championship (BTCC) Ash Sutton recorded his 30th career victory in the first of three races at Snetterton, holding off a late charge from Jake Hill's MB Motorsport BMW. Sutton made a sensational start, pulling away from the chasing pack which included a sluggish getaway from reigning champion Tom Ingram from second on the grid. Armagh's Colin Turkington and Jake Hill slipped into second and third respectively, but Hills incredible late pace took him past Turkington and to within 0.2sec of Sutton before the flag.
Race two saw Sutton continue his domination of the meeting with his second win of the day, his fourth in a row. Sutton led from start to finish and was never under any pressure. Jake Hill and Colin Turkington ran line astern to complete the podium for the second race in a row. In race three Tom Ingram fought his way from seventh on the grid to win from Rory Butcher with Dan Rowbottom third. In the driver's standings Ash Sutton leads with 135 points, Tom Ingram is second on 128 and Colin Turkington is third on 109. The next BTCC meeting is Thruxton on the 3rd and 4th of June.
Other upcoming motorsport events in June include WRC Sardinian from the 1st to the 4th, the Laois rally on the 4th, the Tyrone stages rally on the 10th, and the Donegal International from the 16th to the 18th. In F1 the Imola race weekend was cancelled due to catastrophic flooding in Italy, the next round is Monaco on the 27th and 28th of May whilst in World Superbikes the next meeting, Emilia Romagna in Italy runs from the 2nd to the 4th of June.