FOR the second year running, St Bernard's Primary School have hosted their popular football tournament between North Belfast primary schools at the Valley Leisure Centre.
Organised by Neal McGrath of St Bernard's, last year's tournament was also held at Valley Leisure Centre and proved to be a massive hit both with pupils and parents.
Now for the second year, the tournament was held again although with some different schools compared with last year's roster.
The eight primary schools involved were St Bernard's, St Therese of Lisieux, St Patrick's, St Mary's on the Hill, Sacred Heart, Ashgrove, Glengormley Integrated and Our Lady of Lourdes. Matches were played out in 15-minute games and each team got to play another at least once.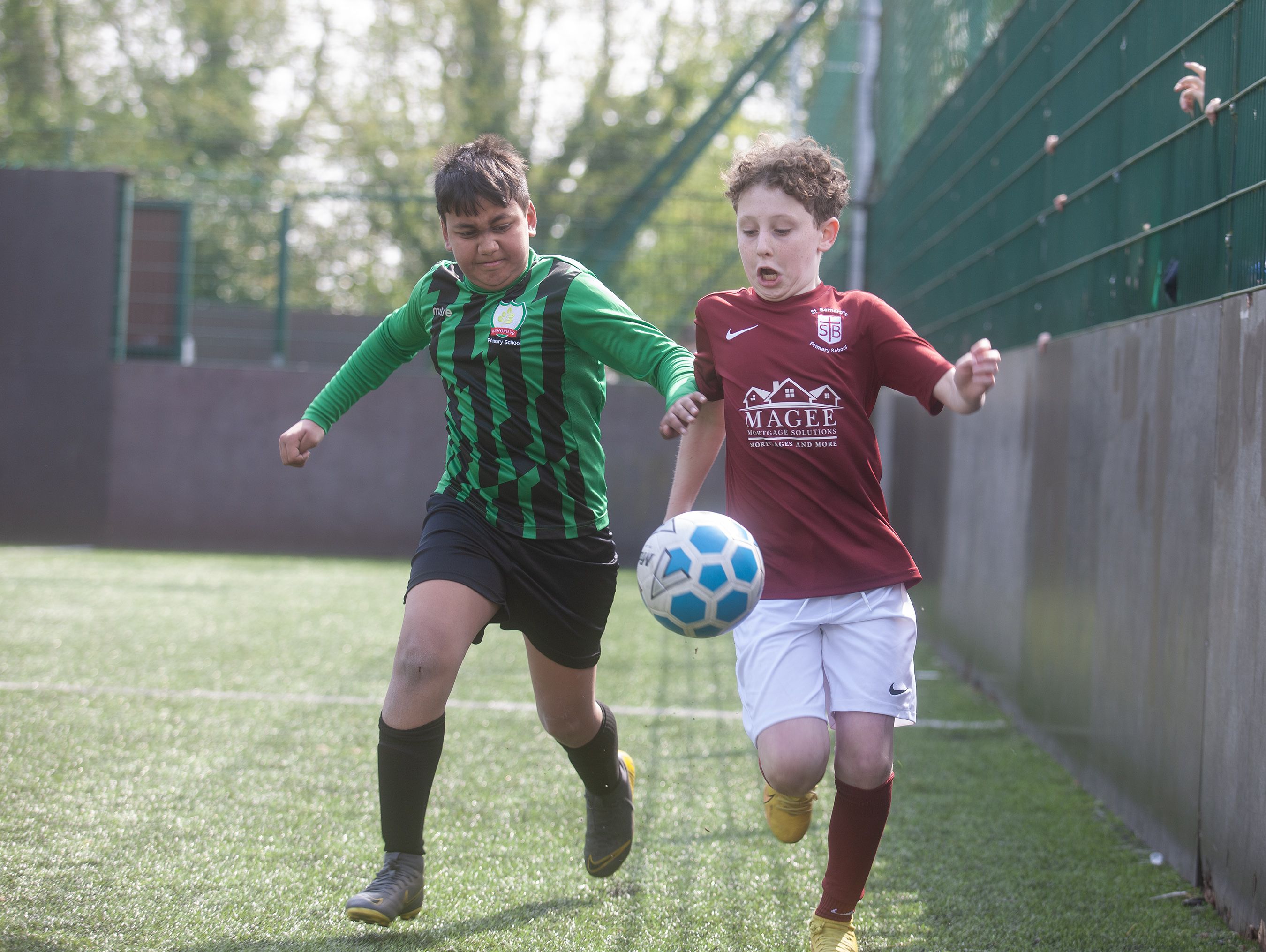 The final consisted of the organisers, St Bernard's facing off against St Therese of Lisieux and ultimately saw St Bernard's lift the cup, a big achievement for the school as they came runners up in last year's tournament.
Neal McGrath from St Bernard's who organised the event said it was a brilliant event and every team thoroughly enjoyed themselves.
"It was fabulous to have football back up and running for the second year in a row," he said.
"It was organised by myself here at St Bernard's much in the same fashion as last year only with a few different schools this time. 
"It was a brilliant day but also I do want to say there aren't many opportunities for children at this age to engage in football in primary school. We're quite limited out in Newtownabbey and as we're out here we were told we couldn't compete in Belfast tournaments so we had to organise a tournament ourselves.
"We've had to take advantage of every opportunity we have, we've got Valley Leisure Centre so close to us and we've some fantastic relationships with schools close to us. We've a very close partnership with Glengormley Integrated Primary School.  We've played loads of friendlies against each other but there's only so many you can play before you want to bring some competition to the performances."
Congratulations to the P7s who were narrowly defeated in the final of the St Bernard's Cup today. They topped their group and went on win their semi-final. In an excellent final St Bernard's came out victorious. Well done on your excellent performances throughout the tournament! pic.twitter.com/Acxp7WFinn

— StThereseofLisieuxPS (@TheresePS) May 4, 2023
The North Belfast teacher thanked Damian McLaughlin and the IFA for helping to sponsor the tournament.
"I also want to say it was great to have Damian McLaughlin from the IFA involved and a big thank you for them providing financial backing and I also want to want to say a big thank you to Kavanagh's who very kindly donated a trophy and a shield for the tournament," he added.
"The kids were all buzzing and it was ourselves and St Therese in final and we were triumphant this year and myself and all the pupils were so delighted and elated, they really deserved it!. It was a fantastic end to the day."