NAFL Premier Division 
Crumlin Star 9-2 Killyleagh YC
EIGHTEEN points and 12 league positions separated Crumlin United and Killyleagh prior to kick-off in North Belfast on Saturday, and it took less than five minutes for this gulf in quality between the two sides to be demonstrated on the pitch. 
A few minutes into the first half and Crumlin midfielder Kevin Trainor found himself with far too much space in the Killyleagh box, following a well-delivered corner. The midfielder, who was the beneficiary of some shambolic defending from the visitors, lofted the ball over goalkeeper Miguel Conceicao's head before it was eventually cleared away by the boot of a Killyleagh defender, leaving the travelling coaching staff and players incensed, as they believed the ball had not crossed the line. 
However, referee John Rossborough could not have been better placed and awarded the goal. 1-0 to Crumlin inside five minutes and Killyleagh, who have yet to register a point all season, looked to be in for another long afternoon. 
Minutes later and things were now going from bad to worse for McIlroy's men, when Aidan McNeill was allowed too much time on the ball down the left-hand side. 
The full-back picked out Kevin Lynch on the penalty spot who had the easy task of slotting the ball home – 2-0 to the home side and Killyleagh had yet to get out of their own half. Despite the lack of competitiveness on the score line, one or two tempers were beginning to flare up, and rather surprisingly from the home set of players, who at this stage were in total cruise control. 
➡️𝗖𝗿𝘂𝗺𝗹𝗶𝗻 𝗦𝘁𝗮𝗿9️⃣-2️⃣𝗞𝗶𝗹𝗹𝘆𝗹𝗲𝗮𝗴𝗵⬅️

⚽ Kevin Trainor🔥🌟𝗠𝗢𝗧𝗠
⚽⚽⚽ Kevin Lynch
⚽ Breandan O'Neill
⚽⚽ Fra Nolan
⚽ Barry McKervey
⚽ Stephen Smyth

Happy Saturday guys 😎✌️#WeAreCrumlinStar💚🌟 pic.twitter.com/IGQ7ERLTRB

— Crumlin Star Football Club💚⭐ (@CrumlinStarFC) January 28, 2023
A comment from Crumlin midfielder Joseph McNeill towards the Killyleagh bench looked, for a few minutes at least, as if it might spark a Killyleagh revival. 
Moments after McNeill reminded the Killyleagh bench of the score, Nathan Cousins grabbed one back for the visitors with what turned out to be the goal of the afternoon. A hopeful ball in behind for the striker to chase left Cousins with enough time to look up and spot goalkeeper Ciaran McNeill off his line. 
The striker lobbed the goalkeeper beautifully from forty yards out with a first-time strike and by doing so, gave Killyleagh a foothold back in the game. 
However, any hopes of a comeback were quickly put to bed just minutes later when yet again some disastrous defending from Killyleagh on a set piece gifted Crumlin with not one but two free headers from a Francis Nolan corner, and allowed Lynch to grab his second of the afternoon. 
Before the half-time whistle, there was time still for a scuffle between coaches and players, a few yellow cards and a Crumlin fourth, which all but ended Killyleagh's hopes of leaving North Belfast with anything. 
Once again, some half-hearted defending from Killyleagh allowed McNeill to fire a low cross into the box. The ball fell for Lynch whose shot was blocked, rather painfully, by his own teammate, before falling at the feet of Brendan O'Neill who tucked it away neatly. 4-1 going into the break. 
As the second half began, it didn't take long for Star to pick up where they left off. 
Two minutes into the second half and once again the ball was in the back of goalkeeper Conceicao's net, and once again it was Lynch inflicting the damage. The striker wandered into the Killyleagh box unmarked before latching on to a loose ball and stabbing it home from twelve yards out to round off a hat-trick of goals for the number nine.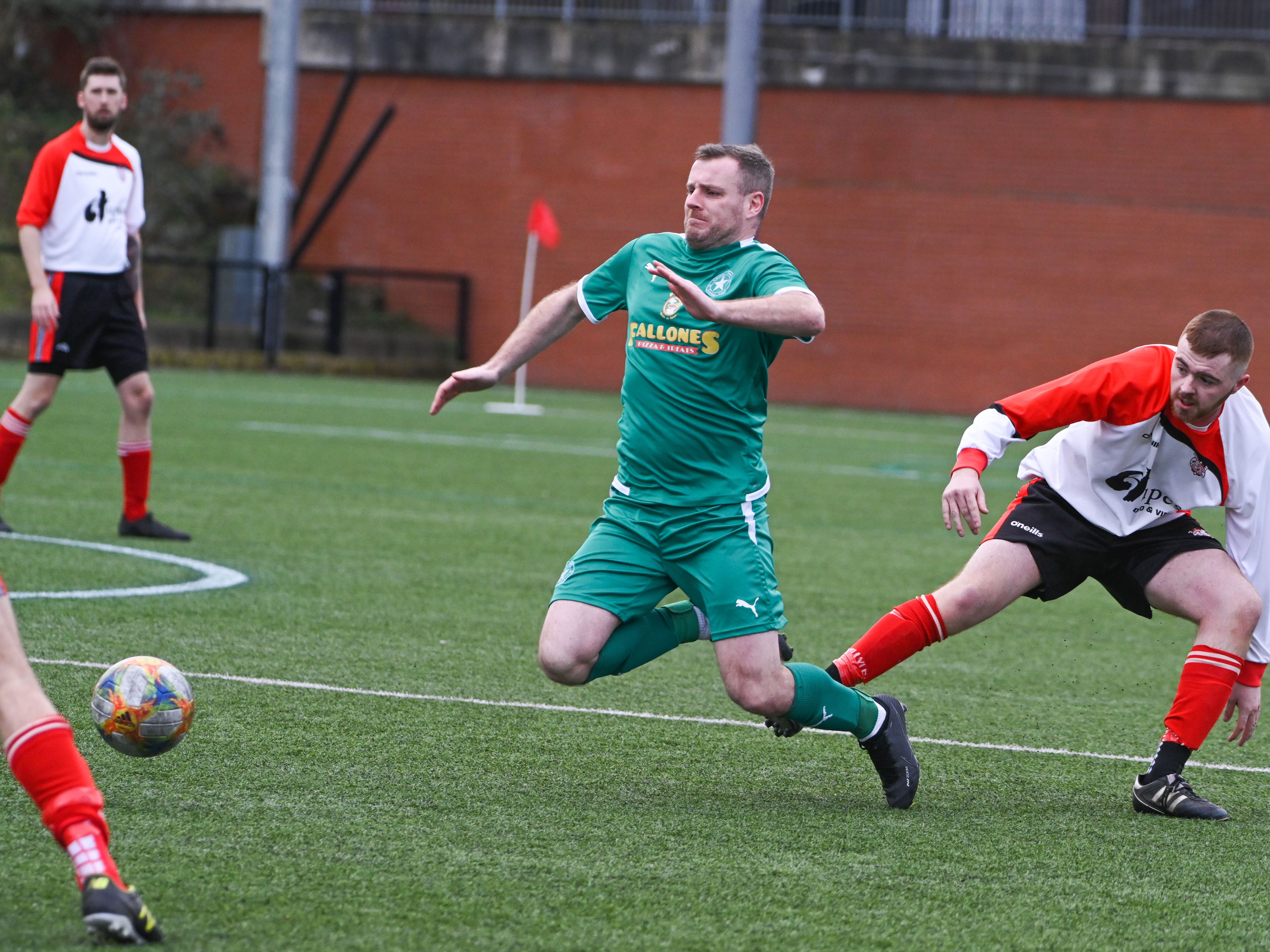 A quickfire brace from Francis Nolan midway through the second half and the celebrations from Crumlin were now becoming increasingly muted. 
However, striker Nathan Cousins wasn't finished demonstrating his potency in front of goal and grabbed his second of the match from only his second shot on goal. A delicate through ball from Dean Shaw into the path of Cousins, who didn't have to break stride, and the Killyleagh man beautifully placed it past goalkeeper McNeill for his and his side's second of the afternoon. 
A beautiful one-two on the edge of the Killyleagh box allowed captain Barry McKiervey to get on the score sheet before Stephen Smyth wrapped up the scoring for the evening with a tidy, but once again far too easy, finish at the back post. 
The result moves Crumlin Star up into second place, with three games in hand over league leaders Derriaghy.
CRUMLIN STAR: C McNeill, K McLaughlin, A McNeill, N Hawkins, B O'Neill, J McNeill (P McConnell), F Nolan, K Trainor, K Lynch (P Prigent), S Smyth, B McKervey (P McIlkenny).
Goals: K Trainor 3; K Lynch 4, 38, 45; F Nolan 49, 51, 70; B McKervey 58; S Smyth 89
KILLYLEAGH YC: M Conceicao, R Fitzpatrick, P Russell, D Heaney, T Murdoch, R Blaney, J O'Hare, D Shaw, N Cousins (J Coulter), S Carson (N Williams McCabe), K Moore.
Goals: N Cousins 32, 54