A HOST of local teams will be thrust be into competitive action as early as next week after the IFA announced more details regarding the completion of a number of cup competitions. 
With the Irish Cups semi-finals set to take place later this month, the Junior Cup semis have been scheduled for next Monday, July 20 with Willowbank taking on NFC Kesh at Holm Park, Armagh (7.45pm) while holders Enniskillen Rangers meet Bessbrook United at Annagh (7.45pm). 
The four remaining sides in the Intermediate Cup have all been put on standby with the semi-final and final set to be run off before July 30. 
Newington take on Belfast Celtic in a repeat of the Steel and Sons Cup semi-final clash between the sides while St James' Swifts face Dollingstown in the other semi. 
While venues and dates have yet to be confirmed for the Intermediate Cup, it is believed the IFA are exploring the possibility of playing the games at Solitude, either as a double-header or two separate games. 
The IFA are also expected to confirm details of the Youth Cup final between Cliftonville Strollers and Institute U18s in the coming days. 
The Co Antrim FA, meanwhile, have announced that the Junior Shield semi-finals will take place as a double-header at Seaview on Saturday, July 25 with the final taking place at the same venue on Wednesday, July 29.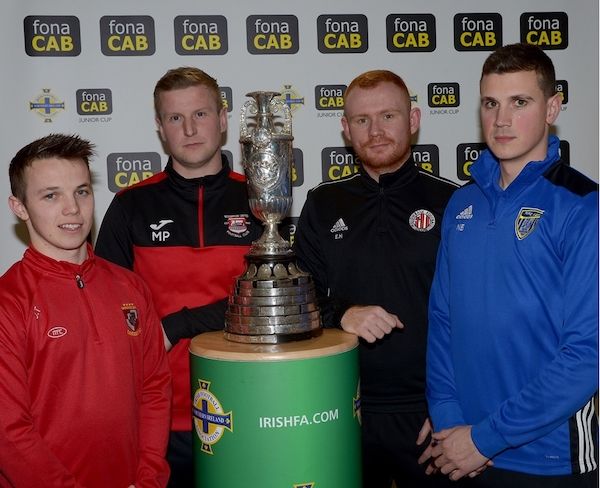 One semi-final will take place at 2.30pm with the other at 6.30pm. North Belfast side Shamrock FC face Ahoghill Thistle in the last four with East Belfast II taking on Harryville Homers in the other game with the timing of each game yet to be confirmed. 
Willowbank manager Declan McCrory says the club were only told about their forthcoming Junior Cup semi-final on Tuesday and is hoping his side can put their best foot forward against Kesh next Monday night. 
"We found out about the Junior Cup on Tuesday – six days before the game," said McCrory. 
"We had half an idea the game would be played because they were going ahead with the Irish Cup. We had been ticking over on the basis that the game would be played. 
"It is completely different now from when the draw was made before lockdown. Some of our boys have been keeping their fitness up, but it is an amateur club and you can't demand the boys are running the roads every night. 
"We ran 5K competitions to give the boys something to do over lockdown, but match fitness is totally different. You can keep that at training. The boys were giving it their all in terms of intensity, but their touch wasn't there. 
"To be fair, they have picked things up again quickly and are getting back to our way of playing – we just don't know until we get back on to the pitch. 
He added: "I don't know what the rush is to get the games played? It could have been played pre-season and I think that would have been better for all the teams. The IFA seem determined to have all the games played before the end of July and they are sticking to it.
"We know very little about Kesh other than the fact that they play out of the Fermanagh and District League. It is a very strong league and we lost out to a team from that league Tummery Athletic in the semi-finals last year. 
"We are expecting a hard game – any team that gets this far in a cup competition has to be respected. I'm hoping they are a footballing side like ourselves." 
Newington manager Conor Crossan, meanwhile, is happy the Intermediate Cup will be played to completion, but is still in the dark as to the timing of the semi-finals. 
The North Belfast side renew rivalries with Belfast Celtic after winning the Steel and Sons Cup semi-final meeting between the sides earlier this season. Crossan's men subsequently lost out to Linfield Swifts in the Christmas Day decider at Seaview. 
"We've been told the Intermediate Cup will be played between July 20 and July 30 – we haven't heard anything else about dates or venues," stated Crossan. 
"We received an email last week from the IFA saying the competition would be played before the end of this month and, basically, that was it. It was short and sweet. 
"One thing I will say is that we are just happy that the games are being played. 
"I know every team is the same boat, but I'm not worried about other teams, I'm only worried about my own team. 
"We can't play a friendly until July 17 so it is short notice to organise friendlies. We can't even organise friendlies for next week because we don't know what date the semi-finals are going to be played. 
"Preparations aren't going to be ideal to say the least, but we just have to get on with it. 
"I'd prefer to be going into the Intermediate Cup semi-final off the back of a few competitive league matches. Obviously, that can't happen. 
"Hopefully, we can get a friendly or two sorted before the semi-final, but we need to know the date so we can plan our games." 
Crossan also feels the absence of supporters shouldn't concern his players too much, but admits it is disappointing for local football fans to miss out on the chance of seeing the eagerly-anticipated meeting between Newington and Belfast Celtic. 
"Certainly from a financial point of view it is disappointing. I'm not sure what way they are going to work thing out in terms of the gate and prize money," said Crossan. 
"That's something for the committee to worry about. It is something that is out of our control. I don't know if it will make much difference to the players or Belfast Celtic. 
"I'm sure plenty of neutrals, people from the Premier Intermediate League and the Ballymena League would have liked to have watched the game. We just have to concentrate on what we do on the field. If there is a crowd there or not, we'll not worry too much about it."