THE FUNERAL of a prominent human rights campaigner and founding member of Relatives for Justice, Jim McCabe, has taken place.
Jim, whose wife Norah was killed by a plastic bullet fired by an RUC man in July 1981, died peacefully at home on 21 January.
Reflecting on Jim's life during his Requiem Mass, Fr Tony Devlin addressed Jim's children directly.
"After Norah was so tragically and terribly murdered in 1981, he had the responsibility of looking after you. But my goodness, the help that he got in loving and caring for you was just absolutely amazing," he said. 
Funeral arrangements for Jim McCabe: 12.30pm leaving family home Springfield Rd. 1pm Mass St Paul's Cavendish Street pic.twitter.com/YaWA02TaGe

— Relatives 4 Justice #NeverGivingUp (@RelsForJustice) January 25, 2023
"We thank God for that love that you had as a family in pulling together, because I am sure in those days, he was saying to himself 'how am I going to do this?' And he needed help.
 
"He needed the help of today's Gospel, people seeing his need and coming to help him, especially family.
 
"You grew up in that love. When we look back to your home and family, it is always nice when we can say it was an absolute mad house. Full of everybody, full of children all of the time.
 
"Not just his own, but all the other ones as well. It was a house full of wee ones and that is what we remember about him today, the different titles you gave him – the Quiet Man, Stoneface, the Quizmaster after all the times he did the quizmaster in the Blackstaff. He loved it and he loved the companionship of it.
 
"He loved being around people, he loved doing for people."
 
Fr Devlin told the congregation that Norah's death had a massive impact on Jim's life.
"I know this Mass is for Jim, but it is really for the two of them completing and being together in God's peace," he continued. 
"That is what we see and that is what we believe. We have a wee image in our heads of going to God and being greeted by those who loved us the most – his parents Frank and Maureen, his brother Tommy and Norah.
 
"God bless us, he would be so delighted to see her. This is where we settle our hearts, this is what gave you, his children, grandchildren, brothers and sisters your peace that he is completely at peace now."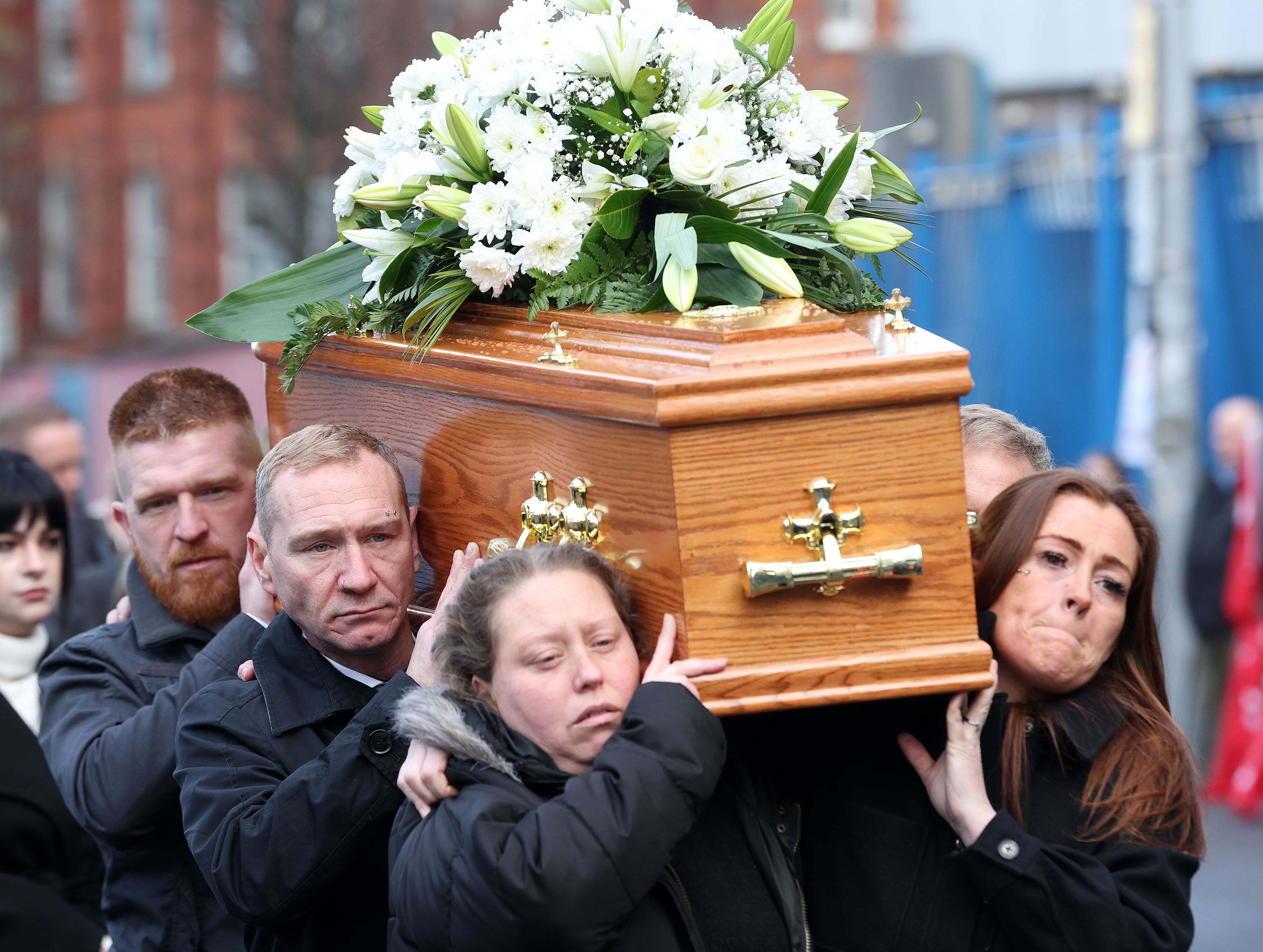 Reflecting on Jim's life as a campaigner against the use of plastic bullets, the congregation heard how much it meant to Jim to be able to help others. 
 
"He knew his own pain, and when he sat down with others he knew their pain too. He was a founder member of the group Relatives for Justice. He understood the pain of others," Fr Tony continued. 
 
"While in the first instance, the Gospel is about how he received help for you his children, it also is for him as he reached out his life and helped other people and worked hard on that campaign for justice for families.
 
"He cared immensely about where they came from and their pain, their difficulties, their sorrows, and sadness. But their religion wasn't a matter for him."
 
Recalling a story from visiting the family home in recent days, Fr Tony said: "I was told about him being in a wee group. There was a person on their own and he saw them, sat with them and made sure that person got the help they needed.
 
"This is who we bring before God. Jesus himself said that whatever you do, at least you have done it for me. That is what brings you forward into the Kingdom of Heaven.
 
"He was a true confidant for so many, many people.
 
"He was a voice of reason, and he was very cheeky. I think it was his cheekiness that got him through many a sticky situation.
 
"As he goes before God, his first greeting we hope is with Norah who will say well done, you did well by them. You really did well by them, now it is time to come, rest and let them get on with it to live life the best they can."
Jim's remains were then taken to the City Cemetery for burial. He is survived by his children Paul, Jim and Áine, grandchildren and wider family circle. 
Ar dheis Dé go raibh a anam