LAST night saw the launch of Féile an Phobail's first ever Virtual Féile.
Due to the continuing COVID-19 pandemic, the 32nd annual Féile was launched with an online video broadcast on social media.
Speaking ahead of Virtual Féile 2020, Féile an Phobail Director Kevin Gamble said:"Since our first Féile in 1988, we have always found a way of putting on our annual August Féile, the biggest community arts festival in Ireland.
"This August, due to the ongoing Covid-19 pandemic, Féile an Phobail took the decision to make several important changes.
"Our August festival programme is going ahead in the form of a 'Virtual' Féile where you can relax safely at home and still enjoy what Féile has to offer. 
This is going to be amazing.
Scribes at The Rock- @molloy1916
Noam Chomsky
Ireland's Call- @johnconnors1990
Virtual Graveyard tour - Tom Hartley
And so much more.

Ádh Mór @FeileBelfast https://t.co/FXC5WRJbEJ

— Anto Finnegan (@AFinn73) July 7, 2020

"We have over 100 online events from Thursday 30th July to Sunday 9th August.

"The online programme includes a series of music concerts, high profile debates and discussions, theatre, visual arts, workshops and community events for everyone to get involved in.

"The community of West Belfast is a proud and talented community. Virtual Féile will show our love of arts, sport, music and culture, and will be a display of the adaptability, imagination and resilience of this wonderful community. 

"We want to give everyone a Féile to enjoy and be part of, while also ensuring we keep people safe.

"Our entire team of staff and volunteers have worked very hard right throughout the lockdown to ensure we put on a programme of events which is high quality and high calibre.

"Together we will make it a Féile to remember.

"We want to thank all our partners, funders, sponsors and stakeholders, and most importantly our local community for their continued support and encouragement during this unprecedented time."

What should Europe do? (As opposed to the comedy of errors coming out of Brussels, Frankfurt & Berlin) Here is DiEM25's videoed answer: https://t.co/9Ha7dY2UbK And here it is in text form: https://t.co/3vDPFDyI66

— Yanis Varoufakis (@yanisvaroufakis) March 26, 2020
VIRTUAL FÉILE 2020 Top 10 Highlights:

A star-studded DJ line-up for this live Féile concert
Live at Clonard Monastery

Bernadette Morris, Gráinne Holland and Rioghnach Connolly perform live on the altar of the world famous Clonard Monastery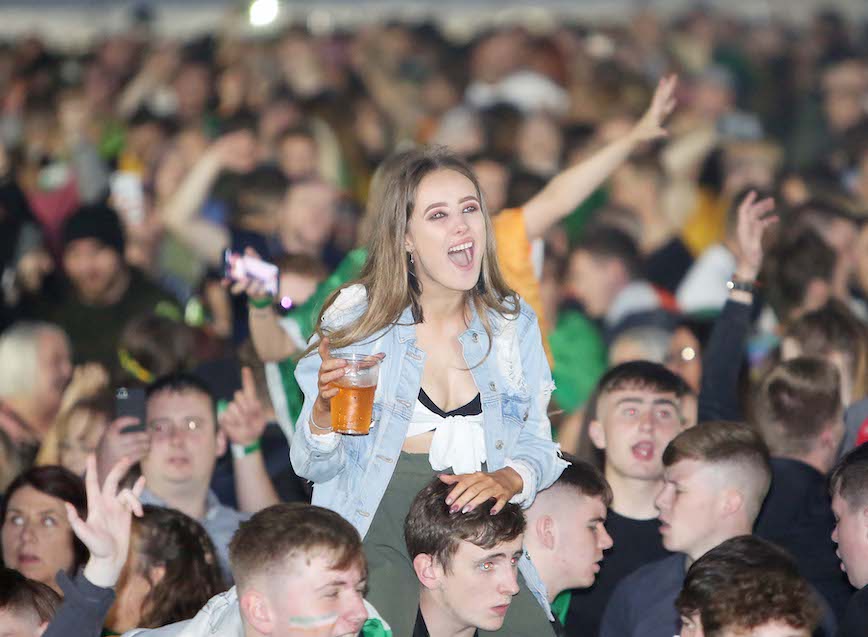 THEATRE

Ireland's Call with John Connors

The leading Irish actor stars in this theatre production which will be shown online to a limited audience
Live Q&A follows the performance 
Tickets £10 from Eventbrite 
Political leaders from across the island discuss the topics of the day
Participants: Sinn Féin, Fine Gael, Fianna Fáil, DUP, Alliance, UUP, SDLP, Green Party
The World after the Pandemic 

The world renowned social critic and political activist gives his analysis of post-covid society
Impact of the Virus on the Global Economy: In conversation with Padraig O Muirigh

The world economist and former Greek Finance Minister examines the economic fallout of the Coronavirus
The Existing All-Ireland Economy

Ireland's leading economist discusses the development of the economy on an all-island basis
Chairperson of the powerful House Ways and Means Committee, and Chair of Congressional Friends of Ireland 
The Ratline with Philippe Sands

Love, Lies and Justice on the Trail of a Nazi Fugitive  

Philippe Sands offers a unique account of the life of a senior Nazi and fugitive.
A range of virtual activities for families to enjoy, primarily aimed at children aged 0-4.
Our front-page picture shows Noam Chomsky.