A PRIMARY 2 schoolboy from West Belfast has been wowing teachers and pupils at his school with his remarkable talent for Geography.
 
Five-year-old Sriyan is a pupil at St John the Baptist Primary School on Finaghy Road North and has been astonishing staff with his extraordinary skill for pinpointing the exact location of countries from around the globe.
 
His superb talent was discovered when he tried his luck using the Geoguesser online game. Sriyan proved himself a Geography genius, pinpointing everywhere from Sudan to Bolivia on the empty map of the world.
 
Sriyan is one of five pupils who are taught in the Social and Communication unit within the school. The centre was established to help cater for children who struggle to learn in the capacity of a normal classroom. The children who are taught in this classroom are helped to learn in a quieter environment and are taught the same subjects as their peers, within St John the Baptist's Butterfly Room.
 
Patricia O'Kane teaches the pupils within the Butterfly Room and explained the importance that a classroom such as this can have in helping children who have been diagnosed with autism, or who are awaiting a diagnosis.
 
"It's really important that children who are part of our Social and Communication unit are taught with the use of their interests to help motivate them to learn," she said. "We have a system in place that allows them to do their work and they get rewarded with the use of their free time. This is how Sriyan uses the interactive whiteboard to name all the countries across the globe." 
 
She said the Butterfly Room is a special place with a nurturing environment for the pupils to establish their skills.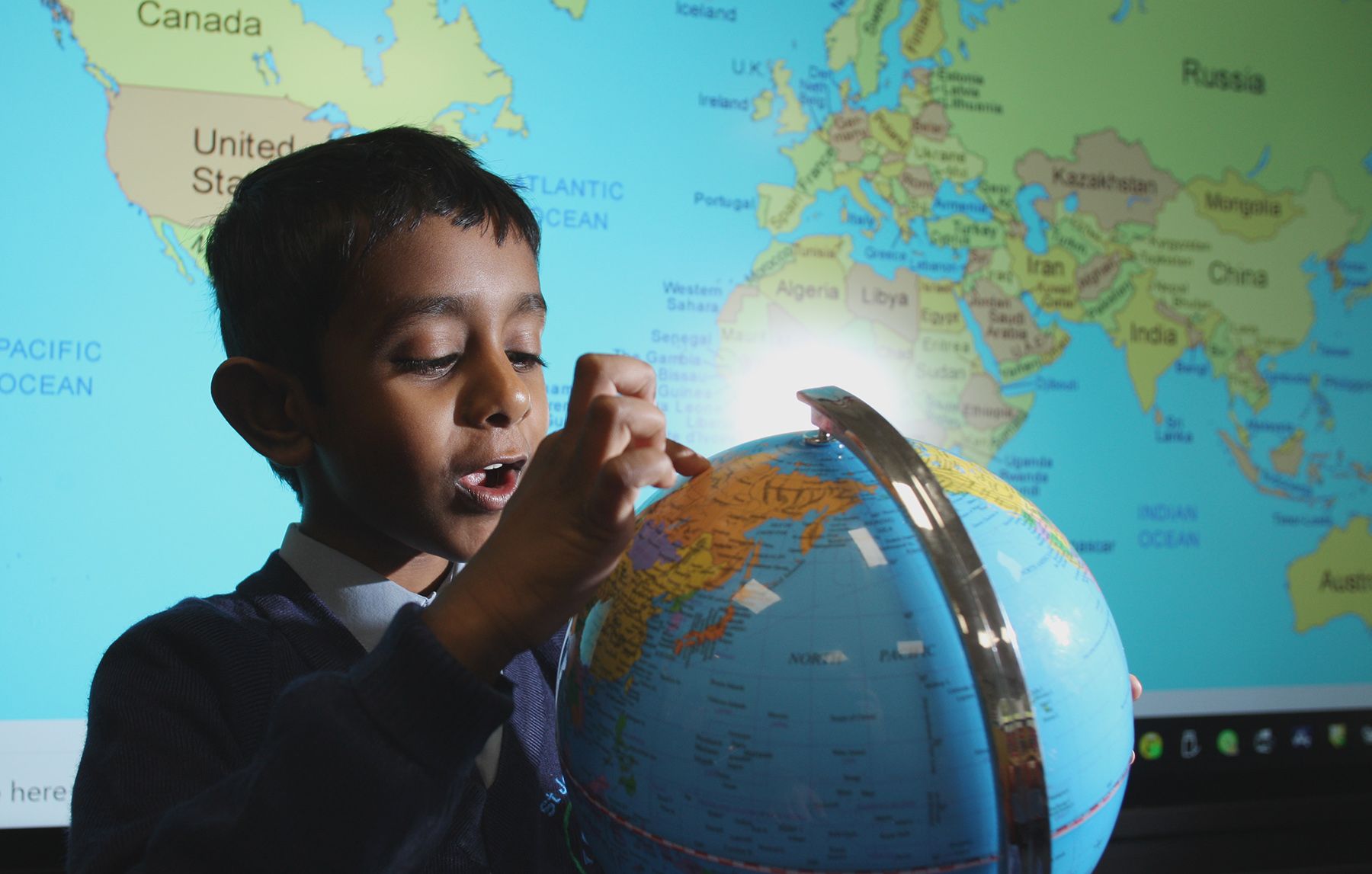 "It is a place where the children can grow and develop confidence in order to help them show their skills, which in a normal classroom may go unnoticed because there are so many other children."
 
Patricia continued: "The children get their one-to-one time with a teacher or classroom assistant and once they've finished their work, this is where we allow them to get a choice task and Sriyan loves using the whiteboard to pinpoint the different countries on the map. His talent is nothing short of incredible and is something we really encourage here at St John the Baptist."
 
Eamon McQuillan is a classroom assistant within the Butterfly Room and he explains how Sriyan started his interest in Geography.
 
"Ever since I moved into the Butterfly class I noticed that Sriyan had a really good interest in the globe, and the Oxford Rainbow Atlas and all aspects of Geography. Every morning when he enters the classroom when he hangs up his coat he goes straight for the globe.
 
"Mr Donnelly (principal) had a competition on for P6/P7 to study 32 counties in Ireland. I thought to myself, well let me show him what a P2 can do. Mr Donnelly was in shock and came up for a visit to see Sriyan do it on the interactive board. It's a pleasure to be an assistant in Butterfly class and to see how well Sriyan is getting on is incredible," he added.
Most adults would struggle with this, but Sriyan, a P2 pupil in our Butterfly Class, has mastered the location of many countries across the map. What a superstar! 👏👏🌟🌟 pic.twitter.com/imzadi9htf

— SJB Primary School (@SJBPS11) March 14, 2023

 Sriyan commutes to school with the help of the Education Authorities transport service, and even on this journey he is pointing out all the landmarks and areas that he passes within Belfast.
 
St John the Baptist principal Chris Donnelly spoke of how impressed he is with Sriyan's Geography talent.
 
"This talent appeared from an initiative which we run for older pupils, mainly P6 and P7, where we have a competition every year to see if they can pinpoint all 32 counties in Ireland to win some sports gear. Sriyan had a go on the global one and he was just phenomenal – especially as he is a Primary 2 child – and he has taken it to another level, Bolivia, Tanzania, Canada, Nigeria all pops up and he will tap on the map of the world, and he gets it exact every time."
 
Mr Donnelly continued: "It really is amazing that a child of his age can so effortlessly identify where these countries are across the globe and it's remarkable. I bring staff and adults in to watch him and then have a go themselves, and they'd struggle to pronounce the countries' names let alone where they are on the map.
 
"We opened the Social and Communication unit in September and it really is the perfect place to teach a broad curriculum and help children learn in a way which encourages them to learn within our school.
 
"Our school here allows children to hone their academic ability but also any special skill that they have or interest for that matter. We offer so much freedom at the school and it really helps the children to showcase their talents but also learn the core subjects within a safe and caring environment."