ONE of Ireland's oldest and best-loved marching bands has formally disbanded after 120 years in existence.
 
St. Peter's Brass and Reed Band has taken the decision to fold due to a dwindling membership. However, for its final act, the band has donated a total of £9,000 remaining in its coffers to Suicide Awareness and the Welcome Centre.
 
Formed in 1900, the outfit from St Peter's Parish in the Falls area were a fond and familiar sight at church events and community processions across Belfast and beyond. For the best part of a century they took in countless young recruits from across the district, who would hope to one day line out for the senior band.
 
78-year-old Tommy Morris, who served St Peter's in a number of capacities over the years, recalls joining the band in the early 1940s when it was going from strength to strength.
"We had quite a big band when I joined," he said.
 
"There were about 100 kids there and then that got whittled down to about 60 and we continued from that and amalgamated with the senior band, which was well established."
Musicians of their kind or calibre are few and far between nowadays, but St. Peter's was one of the most renowned bands in Ireland and attracted and developed top talent.  In February 1923, 27 of its members famously were famously "attested" into the newly formed Free State Army after partition. Most gave their occupation as "musician" and were assigned to the army's Special Brass Band. Tommy said the men likely joined because there was no work at the time. Of course, this was before Tommy's era, but he is lucky enough to have played in what could arguably be called the band's golden era – before the band fell victim to the loyalist pogroms of in 1969.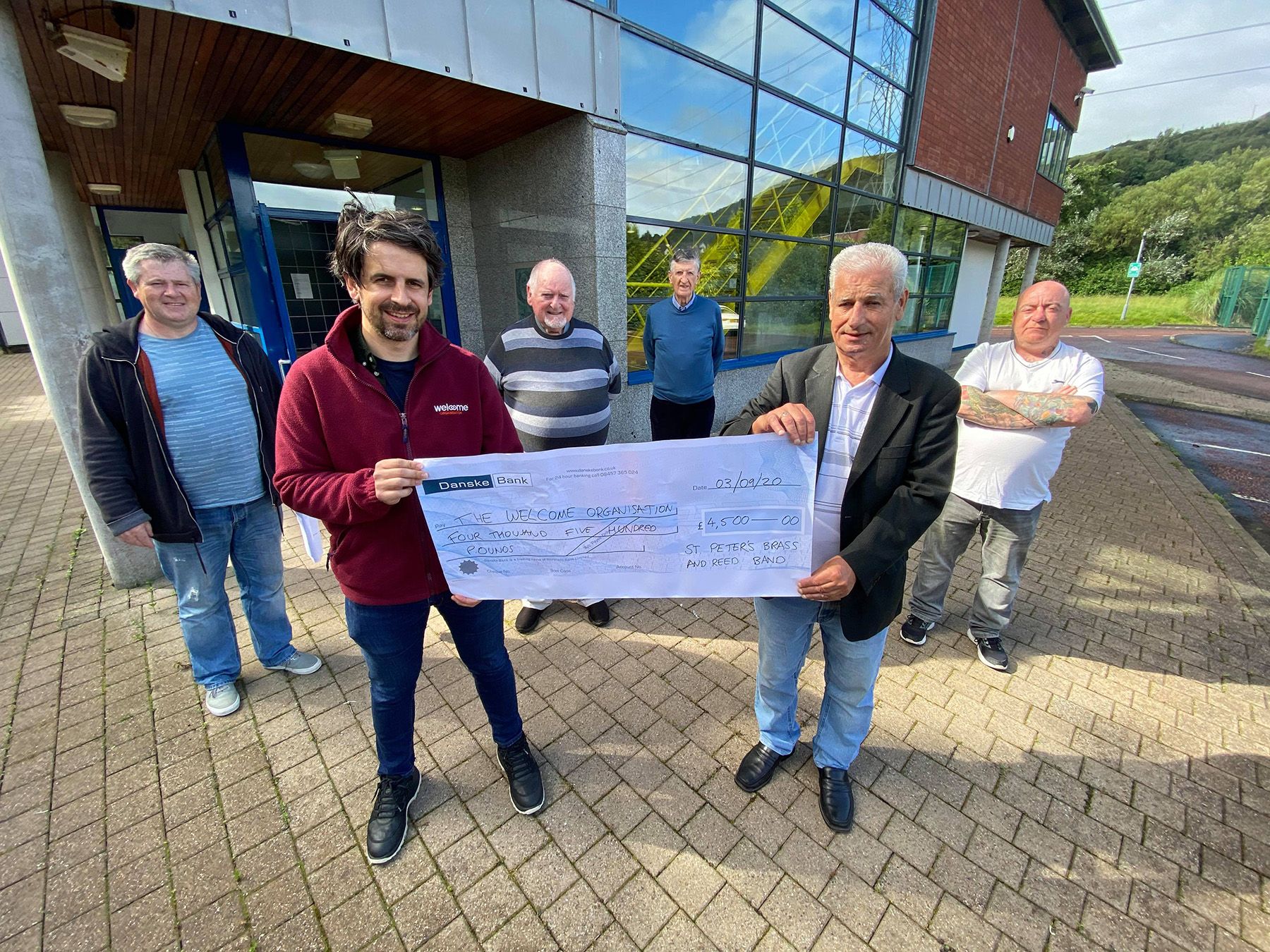 "Our band rooms were in Dover Street above the Sarsfields GAA club then," Tommy recalled.
 
"A crowd came down from the Shankill to burn the GAA club and we were two floors above them so we lost everything – we lost all our instruments and our whole music library.
"We were nomads for a few years after that.
 
"We used St Peter's Scouts club for a while, then we were up in the boys' home on the Glen Road, and then we ended up in the CBS school.  It was difficult because we didn't have premises to store anything. In fairness, there was a band called the Belfast City Transport Band and a lot of our members were in it as well, and they gave us their music library and we were able to play again."
 
Despite their historic roots in the 'Lower Whack', St Peter's eventually found a permanent home in Glen Community Centre in the early 80s.
 
The band continued to use the centre right up until they finally hung up their instruments.
"We started numerous classes and kids were joining, but I think it wasn't what they were expecting," Tommy said.
 
"With a wind instrument it can take a bit of time to produce any sound.
 
"With a guitar you can just strum it or a piano you just press the keys. When you start of with a wind instrument it doesn't sound very good because the sound isn't pure.
 
"When people get around a year in they start to realise what's involved and what it takes and most of them left.
 
"We had a few different classes and I was trying to teach them myself, going up on a Saturday morning and through the week, but we only had about eight guys left who could play a bit so we just decided to call it a day."
 
Big outings, parades and events are one thing, but above all else Tommy said he will miss "just getting together and playing".
 
"Even the rehearsals were good fun," he enthused.
 
"You were getting to play music that you couldn't play anywhere else. It was good to get together like that and play in an ensemble."
 
Though St Peter's Brass and Reed has,  sadly disbanded Tommy said it's good to go out on a sweet note by helping out both Suicide Awareness and the Welcome Organisation, who have each received a cheque for £4,5000
 
"It's great that we can help some local organisations," Tommy said.