Some are finding it hard to split Luis Alberto Lopez and Michael Conlan ahead of their featherweight world title fight on Saturday (9pm, live on BT Sport), but the West Belfast man is determined to fulfil his destiny
AT the top end of sport, fine margins often differentiate between winning and losing.
For example, take a look at Luis Alberto Lopez's world title win over Josh Warrington in December: Howard Foster scored a 114-114 draw, while Mike Fitzgerald and Adam Height both saw it 115-113 (seven rounds to five) in favour of the Mexican. Had one of the two opted to give Warrington one extra round, the IBF featherweight title would have stayed in Leeds on a majority draw and we would not be talking about 'El Venado' coming to Belfast for the first defence against Michael Conlan.
Indeed, last March, Conlan was looking well on his way to the WBA title against Leigh Wood in Nottingham with the fight into the 11th round - one that Conlan was likely to claim to put him out of sight on the cards - but a punch landed as Conlan slipped and suddenly, a 10-9 round to the West Belfast man became 10-8 the other way with a knockdown ruled that may not have been given on another day.
The result was he was forced to gamble in the final stanza and the tank emptied at the worst time, leaving him down, out and heartbroken. Fine margins.
On Saturday night, the 2015 world amateur champion gets his second shot at completing a unique double by becoming a champion in both codes with Lopez rolling into town for a fight that many feel is too close to call.
Both men have proven their worth at world level and both have tasted defeat in their respective careers before rebounding: the champion to Abraham Montoya and Ruben Villa early before rebounding with victories over Gabriel Flores Jr and Isaac Lowe that set him up for his crowning night against Warrington; Conlan losing that Wood fight and then bouncing back to defeat Miguel Marriaga and Karim Guerfi.
The 29-year-old champion from Mexicali (27-2 with 15 wins by knockout) will not feel daunted on enemy turf as he silenced the notoriously hostile Leeds crowd before Christmas, so the boos and jeers he will receive at a packed out SSE Arena will simply make him fight harder and aim to spoil yet another party.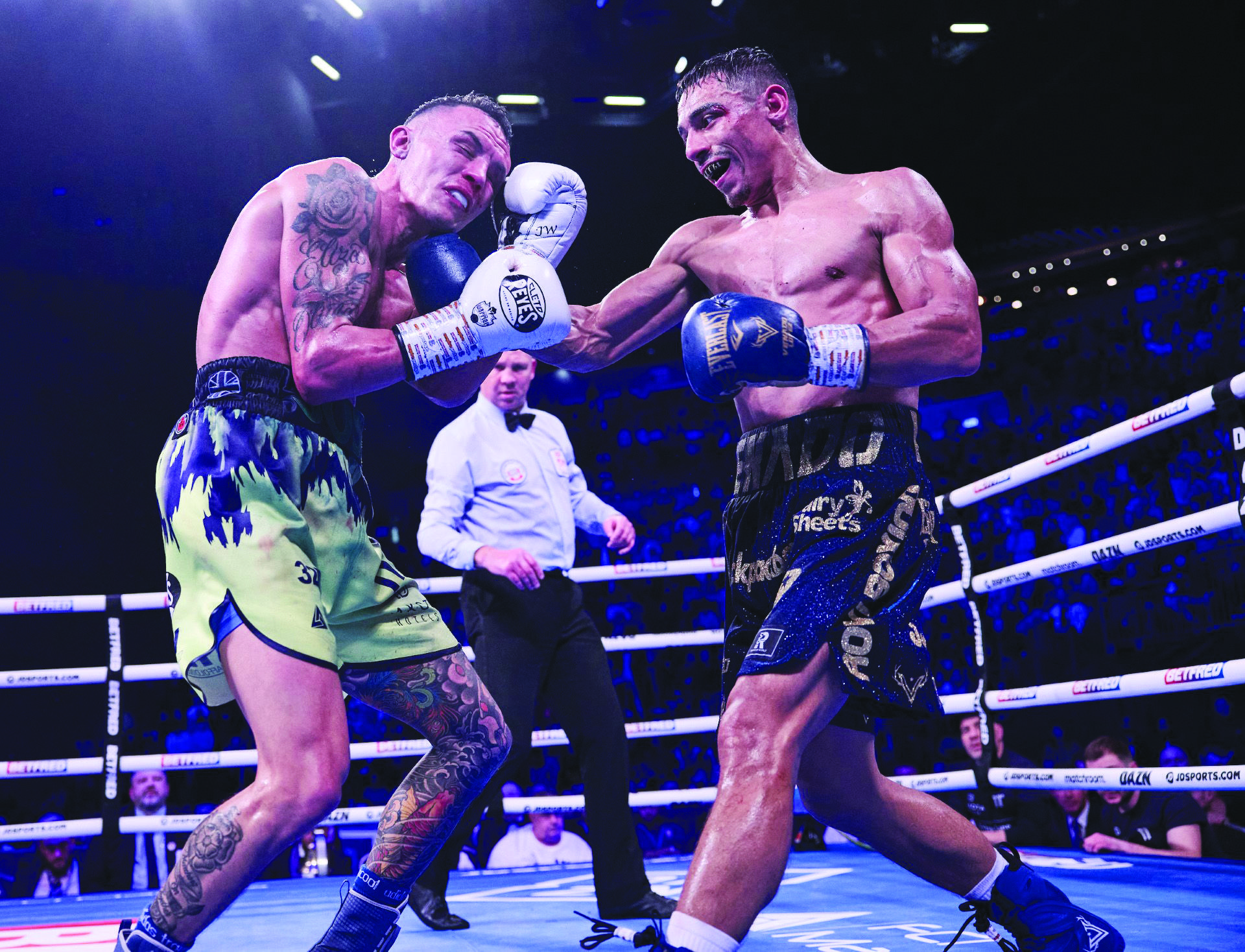 "I've always been the 'B side' in all my fights and beaten all the prospects, all the fighters Top Rank have given to me," said the champion who actually had a small cheering section at the Europa Hotel at Thursday's press conference.
"This Saturday I want to prove I'm a true champion and after beating Michael Conlan I will go for the other champions.
"I respect Michael Conlan - he's a great fighter - but every fighter wants to be a world champion and for me, it's a been a really tough road.
"Don't forget I'm the champion and will be going back with the championship to Mexico."
To study the champion is almost an exercise in futility as he can often fight without pattern and throws from some unorthodox angles and on one hand is the opposite to what one would expect from a Mexican fight, yet on the other carries many of the traits of his countrymen as he likes to apply pressure, is tough with a solid chin and has absolutely no fear.
Lopez carries power in both hands, dropping Lowe with the left (his first shot thrown when they met) then with a right in the second before a body shot closed it in seven, but then he too is there to be hit as can get a little wild with his approach.
"I know he isn't a fan of the southpaw style and what I've been perfecting over the last number of years is southpaw boxing and I believe that will be his kryptonite," Conlan predicts.
"He will come hard very early and put a big push on like he did against Josh Warrington.
"He gassed a little at the end, but he will come much more prepared this time and with much greater belief and confidence in his ability.
"I expect myself to be technical as always and possibly could get the stoppage down the line in the fight. That's something I'll aim for and I'm excited about it."
A world title fight in your hometown... it doesn't get better than this 🥊🏆

Luis Alberto Lopez 🆚 Michael Conlan is a fight you don't want to miss! 🔥#LopezConlan | Saturday, 9pm Ring Walk | BT Sport 1 pic.twitter.com/wRNmlcF928

— Boxing on BT Sport 🥊 (@BTSportBoxing) May 24, 2023
You win or you learn in boxing and Conlan certainly learnt that getting dragged into a war as he did against Wood can spell curtains.
In his comeback win against the big-punching Marriaga, he was much more measured and even when scoring a hat-trick of knockdowns, didn't get overexcited and careless.
Indeed, he was forced to rally after being tagged hard and perhaps that was the best thing that could have happened to banish any demons from the Wood fight in terms of chin and punch resistance.
The Wood fight was a unanimous winner of Fight of the Year for 2022, but that is cold comfort for the vanquished and this time, the West Belfast man knows that he must stick to the plan, pace the 12 rounds and not allow Lopez anything easy.
There has been a narrative that Conlan is not a big puncher, but nine of his 18 wins have come inside the distance, so he can clearly wallop, especially to the body, and his one-round demolition of Guerfi plus the heavy knockdown of Wood proves he can be concussive to the head.
But the lessons of Wood will be foremost on his mind: don't allow the fight to play out on your opponent's terms.
"When you're in a fight like that at 100 miles per hour, it's all about momentum and the momentum shifted in the 11th round," Conlan reflected.
"Throughout that round, I was punching the head off him and then the momentum shifts (from the knockdown that could have been called a slip) as all of a sudden, there was the drainage of energy and changes how the fight ended.
"That's something I could have changed had I been smarter in the fight and had the experience of when to push and when not to - all the little things I understand now. You can be taught it, but you have to experience it and I paid the ultimate price by losing and being knocked out."
Therefore, the prize on Saturday is the red IBF belt and not any consolation accolades for glorious defeats. The bottom line is getting the win.
No stranger to enemy territory 🏆@VenadoLopez1 x #LopezConlan pic.twitter.com/J1siDTprVn

— Top Rank Boxing (@trboxing) May 24, 2023
"It has the potential to be a fight of the year, but I'm planning it to be more like a Marriaga fight," he continued.
"I learnt that I don't need to be mixing it with these kinds of guys. It will be different to Marriaga because of his style.
"Marriaga tried to be a counter-puncher against me, which is the worst thing he could have done, but while Lopez is a counter-puncher, he's an aggressive one and will attack to counter-attack.
"There will be plenty of opportunities for it to break into a firefight, but my plan is to not let that happen."
That is perhaps the wisest approach as Lopez will be thrilled if Conlan ditches his attributes of boxing clever and using his skills to bamboozle and bank rounds, perhaps forcing the champion to gamble and walk into a big shot.
Although Ionut Baluta is not at the same level as the Mexican, coming through against a man with an equally unorthodox style in the past may serve Conlan well as he will be slightly better prepared to expect the unexpected.
Lopez has been riding the crest of a wave and his confidence is sky-high given the run he has been on with a run of upset victories, so will coming in as the hunted, rather than the hunter, make any difference?
For Conlan, this could be his last chance as at 31, a second world title defeat will push him down the pecking order.
He has the ability to get the job done this time but will have to be disciplined against a top-class operator.
It will be fine margins that determine the winner, but the Belfast man has the tools to make it his night.