AROUND this time last year, Conor Quinn was in a form of boxing purgatory.
Having returned from Australia at the outset of Covid-19 with two professional fights and wins under his belt, it was assumed that once issues around the pandemic subsided, the former Clonard amateur would be straight down to business.
However, complications with obtaining a licence due to a brain scan revealed complications from a hole in his heart that he knew nothing of.
One year rolled into the next and while he continued to train away under the tutelage of Dee Walsh, shows came and went with no sign of him getting to lace up the eight-ounce gloves on fight night.
But finally, good news came and he returned after just over two and a half years at the Europa Hotel last September.
It wasn't the easing in that one would expect, as he faced a very dangerous opponent in Darwin Martinez and an understandably rusty Quinn had to settle for a draw.
But the next outing against Mikey Young saw Quinn back in the groove, forcing a stoppage and two further wins either side of Christmas has led him to a huge opportunity on Saturday night when he takes on Juan Hinostroza in what is a major step-up over eight rounds on Saturday.
A look at the record of the man from Spain by way of Peru (11-10-2) may suggest he is firmly in the upper bracket of journeyman, but far from it, as the veteran has previously held the European Union flyweight title, drew with Angel Moreno for the European title in 2021 having lost out in a bid to previously win the same belt against Vincent Legrand in 2018.
Other names on his CV include Paddy Barnes and Charlie Edwards, so this is undoubtedly a huge step up for the 25-year-old West Belfast flyweight.
Big performance incoming from @cq_magnificent fighting former EU champ in his 6th fight! #May27th #LopezConlan https://t.co/GdHlys64bj

— Conlan Boxing (@ConlanBoxing) May 16, 2023
"This guy has been in with some of the best and won the EU title when he knocked out a guy who was 11-1 (Moncho Miras), fought Paddy Barnes, Charlie Edwards and very recently, Angel Moreno, who is a former world title challenger and got a draw," said Quinn, whose record stands at 5-0-1.
"This is my first proper test as a professional so I'm looking forward to putting on a show.
"I sometimes see it that I've only just started boxing as a professional because, for a long time, I was training but wasn't able to compete.
"I've only held my licence for around eight months and when you are getting offered this type of fight and hearing that a title may have been on the line is unbelievable to be deemed worthy of these opportunities. Usually, it would be two or three years down the line before you would think you'd be calling for them.
"It gives you that extra kick in training as you are thinking 'this is what professional boxing really is' and you're not just making up the numbers. You're in real fights now and there are real rewards for the winner to kick on."
Quinn is scheduled for an eight-rounder, but the big-punching prospect is yet to go past six despite his last outing being slated for eight.
It took two rounds to cut through Steven Maguire at the Europa Hotel in February but this weekend, he will not have it anywhere near as easy as while Hinostroza is a real threat, he is also durable as he has never been stopped.
The 38-year-old southpaw knows his way around the ring and will really test Quinn's credentials as to whether this leap is too much, too soon, but the Belfast man, who spent last week sparring IBF flyweight champion Sunny Edwards, is prepared for a battle and believes he has the ingredients to produce a statement win.
"This a 10-round fight and I'm training for that," he insists.
"We've trained for a tough test as nobody has taken this guy out before. He's really durable and has proven that, but I don't think he's fought anyone with the natural power at flyweight that I have or the bit between their teeth.
"It's a really good test for me and when I do get through it, I know it will be well deserved."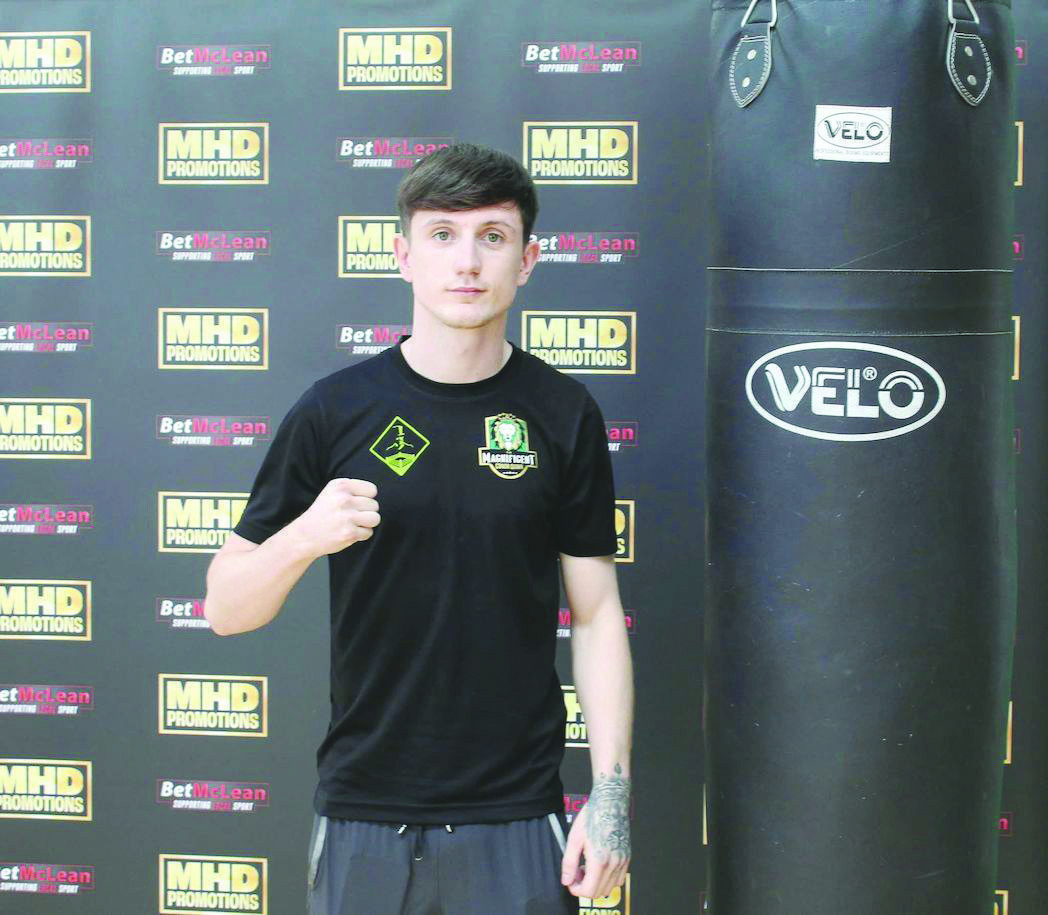 It's a massive opportunity for the affable Quinn who is thrilled to get such an opportunity on a huge show that will be beamed live on both sides of the Atlantic through BT Sport and ESPN.
Those major broadcasters only arrive for the big nights and this is absolutely one of them, undoubtedly the biggest since the heyday of Carl Frampton.
Michael Conlan's bid to dethrone Luis Alberto Lopez is the main attraction, while established Belfast names such as Anthony Cacace and Padraig McCrory attract attention in their own right.
But for Quinn, part of the city's next generation of hopefuls, this is a major chance to announce themselves to the wider boxing public and he is aware that such opportunities don't come around too often, so he pans to make the most of it this week.
"People maybe don't understand boxing in the business terms," he explained.
"Guys like Michael Conlan, Padraig McCrory and Anthony Cacace are paving the way for people like me.
"Obviously, I have my own goals and ambitions, but if it wasn't for those lads, I wouldn't be boxing on TV on May 27.
"BT Sport and ESPN give you the opportunity to prove yourself and if you do, they'll get behind you, but they don't come here for nothing.
"The fact you've those guys at the top, bringing these opportunities to Belfast, gives the likes of me and the other guys on the show the opportunity to grab with both hands.
"This is my first time fighting on a world title undercard and for it to be in the SSE Arena, Belfast, is even better, especially with Mick and all the other local lads on the show - it's a dream come true."