AN Antrim Road woman who fulfilled her dream of writing a novel has held a successful launch of her book at McHugh's Bar in the city.
Margaret McMahon's novel 'Crescent Witches: A Haunting Belfast Tale' is set in Belfast 150 years ago and follows the adventures of two witches who live in the city's iconic Albert Clock.
The book was published by Shanway Press and revolves around the adventures of witches who live in the Belfast landmark. Their world exists behind a magical veil which allows them to travel between the magic world and the real world. Many locations throughout the North have been reimagined in the story. Carrickfergus Castle is a magical school and the Giant's Causeway is a hidden city in which every stone represents a house.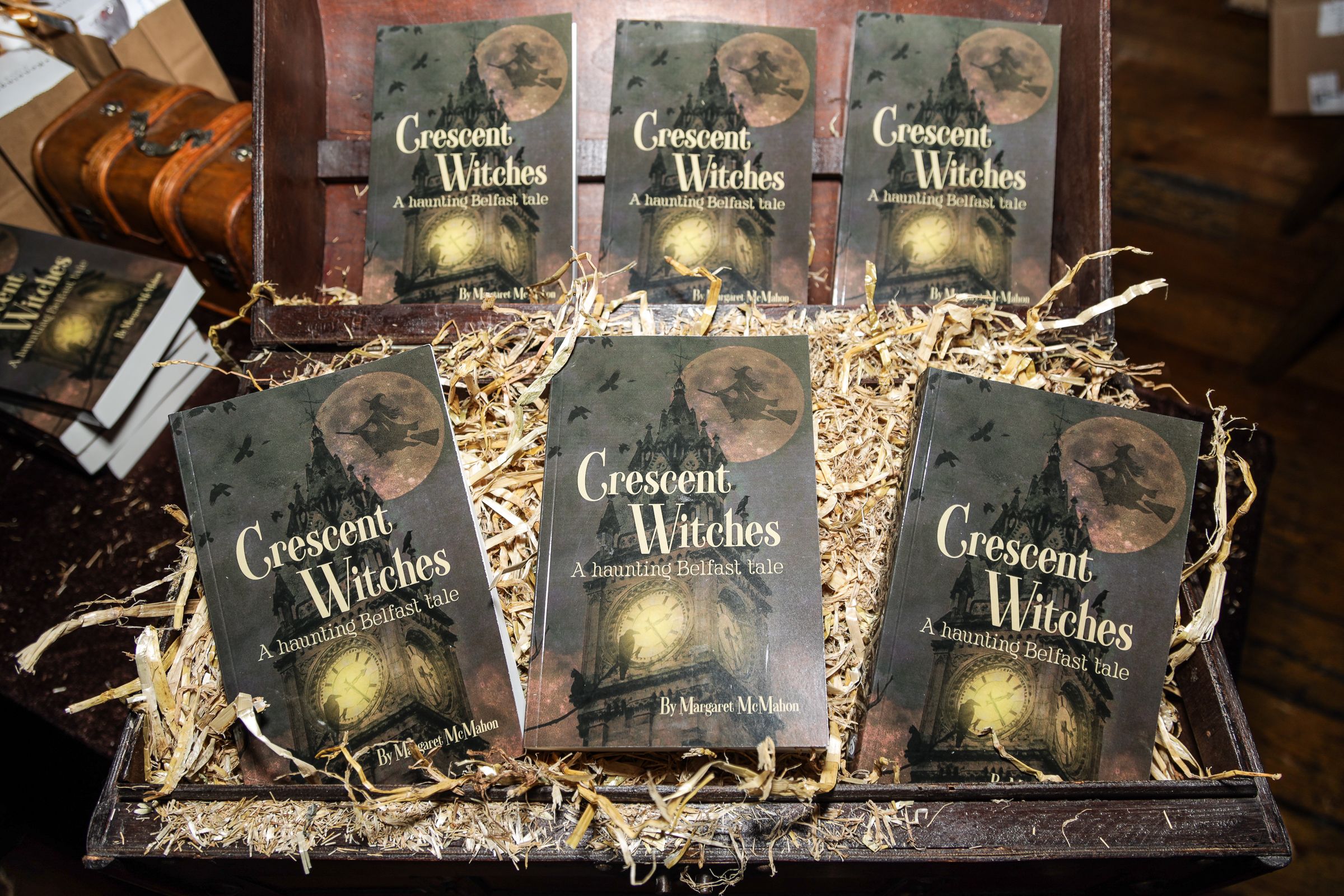 Margaret took up writing the book after being encouraged by her son and daughter who were inspired by the stories she told them when growing up. Margaret said in school she struggled with dyslexia and it affected her confidence and learning, however, having now written and published the book, Margaret confirmed she is currently working on a second novel.
On Sunday at McHugh's Bar for the launch of the novel the venue was packed with friends and family.
Margaret said: "The launch started at 2pm and we were there until around 6pm. I thought people were going to show up throughout the day but from 2pm people were queuing along the top and down the stairs to get in! Everything went really well.
"I found out one of my books is going to Australia which is amazing and my friend Maureen came the whole way over from Liverpool for the launch and totally surprised me. The second book – the sequel – is well under way at the moment so by the time it comes out everyone should know the characters and we're looking forward to the second launch.
"I would like to thank my daughter Emma Jane, my sister Geraldine and John and Cara from Belfast Books who took care of all the book sales on the day and were a massive help. I also want to thank the staff at McHugh's Bar for all their help – they were excellent."
These are the kind of things that happen when you've got the biggest selling debut local fiction novel about two witches who live in the Albert Clock.

We've stock at our York Road shop and for worldwide home delivery. https://t.co/kVFHDN8yis pic.twitter.com/jLE9uJV31H

— Belfast Books (@BelfastBooks) April 3, 2023
The book is currently available at Belfast Books, Shanway Press and Waterstones but Belfast Books currently have the last remaining first edition copies signed by Margaret.
You can purchase the book here.