Tailteann Cup, Group 4
Antrim 3-13 Fermanagh 1-12
TWO late goals sealed a third victory in the Tailteann Cup for Antrim as they overcame Fermanagh at the Box-It Athletic Grounds in Armagh as they finished top of Group 4 to move straight into a home quarter-final in a fortnight.
The Saffrons had to rally after the Ernesiders roared into the second period to quickly turn a tow-point deficit into a four-point lead, but Antrim half their nerve and worked back into the game with an Adam Loughran goal midway through the second period.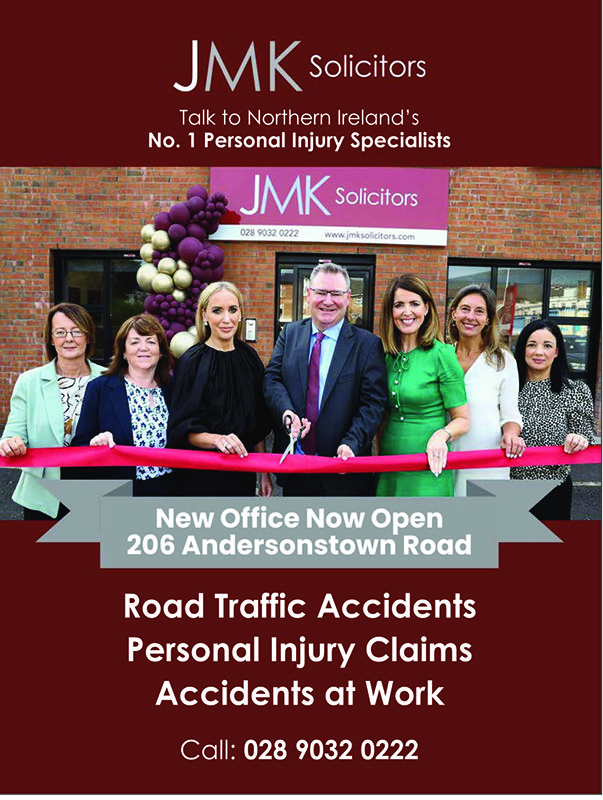 The winning margin of seven suggests it was an emphatic victory, but this was a disservice to Fermanagh who were just one adrift in stoppage time as they pressed for a winning goal they needed to leapfrog the Saffrons into top spot, but Andy McEntee's men enjoyed a little good fortune with Oisin Doherty lobbing Sean McNally with a shot that seemed to be designed to go over, while a last-gasp goal put a seal on their win.
"We found a way to win, whereas games earlier int he season we found a way to lose," said McEntee.
"I'm really happy. We were slow out of the blocks at the start, went 4-1 down. But 4-1 down to 7-5 up (at half-time) was a 6-1 swing and when we inject pace into it we look a little more dangerous after being a bit ponderous at the start.
"We went four down again at the start of the second half, but we talked a lot about character. That was a hot day, we're I the next round regardless (if lost) and lads had loads of reasons to say 'not for me today', but they didn't do that.
"The subs we brought on, young 'CJ' (Conhuir Johnston) makes a big difference. I have to mention Cormac McGettigan who was out on his feet, but turned over a kickout over on the far side with his last act and that led to a score straight away. I think lads showed great character."
The #TailteannCup Group 4 Table after Round 3

Fermanagh 1-12 v 3-13 Antrim
Leitrim 1-12 v 1-16 Wexford

Antrim have qualified for the Quarter Finals.
Fermanagh and Wexford have qualified for the Preliminary Quarter Finals. #gaaleaguetables #gaa #football pic.twitter.com/KnN1HLWDdO

— GAA League Tables (@GAALeagueTables) June 4, 2023
Fermanagh were on the board after just 19 seconds through Ultan Kelm with Dominic McEnhill levelling from a free just after, but the game became extremely turgid for a long time, neither side troubling the scoreboard until Fermanagh enjoyed a decent spell.
Sean Quigley kicked two beauties out on the right either side of one for Tommy McCaffrey that came from a round when Michael Byrne made a good stop from Ryan Lyons.
Antrim had gone scoreless for 20 minutes until McEnhill ended this barren spell from a free and this sparked the Saffrons to life after they absorbed a lengthy spell of Fermanagh possession, broke from the back with Adam Loughran finishing.
McEnhill then toed the game from a free and Antrim edged ahead with Creggan's Ruairi McCann thumping over from deep.
Quigley got his fist to a dropping ball from Lyons that just bounced with and from the next Antrim attack, they too went route-one with Loughran's ball carrying all the way off the top of the cross bar and over.
Fermanagh had now gone 20 minutes without a score until Quigley curled over his third, but Antrim would take a 0-7 to 0-5 lead into the break as Peter Healy burst forward to score with the last act of the opening period.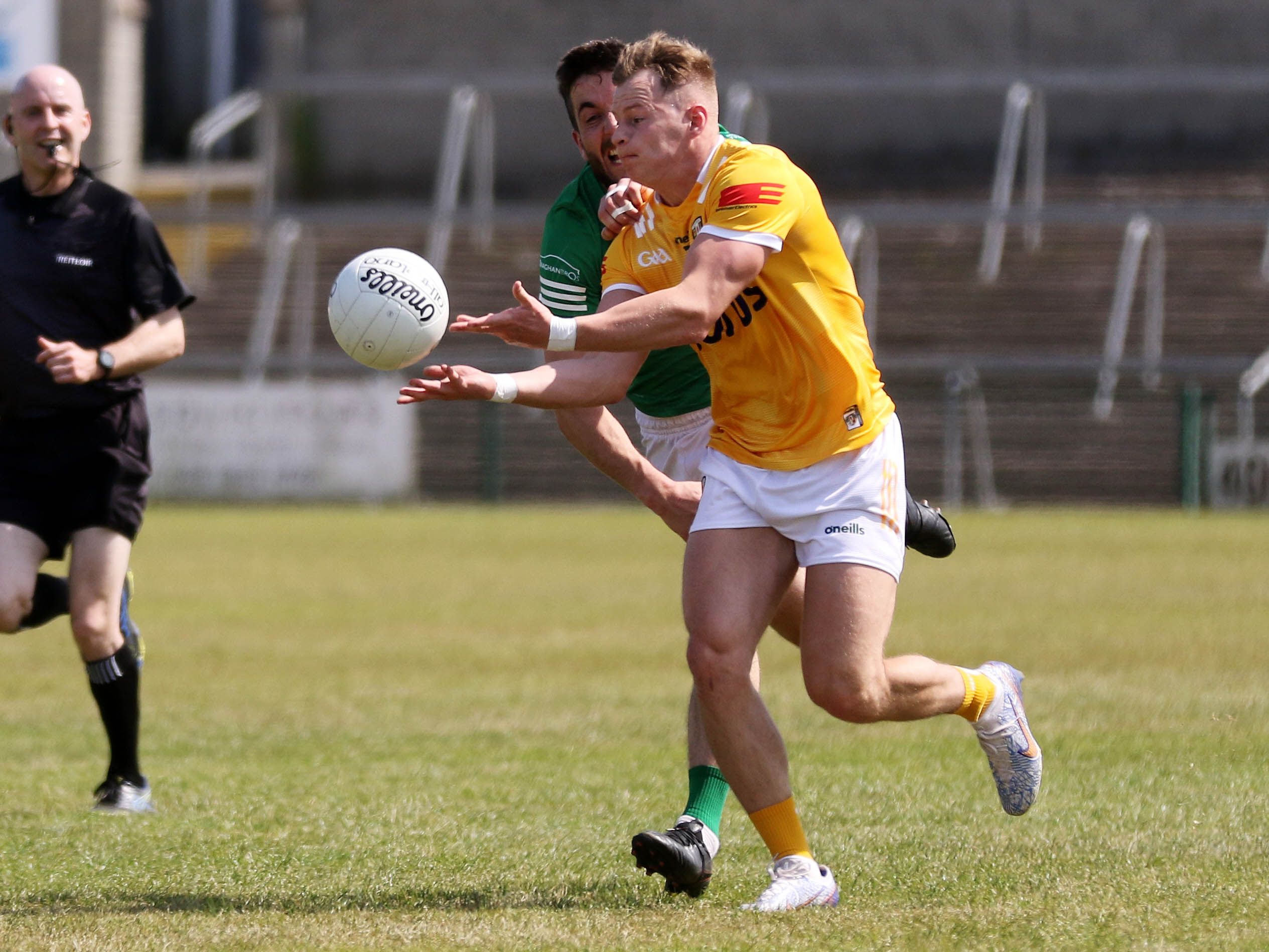 Fermanagh couldn't have asked for a better start to the second period as again, Kelm was on target within 19 seconds but this time they put their foot on the gas.
Ryan Jones levelled and then a good ball inside found Tommy McCaffrey who popped in Ryan Lyons to blast low to the net.
Another Kelm score pushed the gap out to four, but Antrim managed to weather this storm and a McEnhill pointed free saw them steady.
Fermanagh did have another goal chance for McCaffrey, but his shot was blocked and the pendulum would then swing back to wards Antrim as after Patrick McCormick landed an excellent point tight on the right sideline, substitute Conhuir Johnston's first act was to play Adam Loughran in to lash home and put the Saffrons back into the lead.
It was all set for a tense finishes as twice Fermanagh got back on terms, but points from Loughran and Creggan's McCann put a little bit of daylight.
Quigley pulled one back from a free and thenAntrim got a huge let-off when Kelm intercepted Byrne's kickout and thumped towards goal, but the Antrim goalkeeper recovered.
The margin remained one in stoppage time when Antrim hit those two goals, the first a rather fortuitous effort as Oisin Doherty looked to be going for a point, but mishit it and it dipped into there net, while Roan Boyle put Aghagllon's Ruairi McCann in to blast home another to put a gloss on Antrim's victory that sees them straight through to a home quarter-final, while Fermanagh got into next week's preliminary round.
For Antrim, they are one win away from Croke Park where the semi-finals will be held and with three wins on the spin, it is certainly proving to be a very good campaign to date.
That man McCann - goal pic.twitter.com/76pNNUlFry

— Antrim GAA (@AontroimGAA) June 4, 2023
"They've been brilliant," McEntee said how how his players have embraced the competition.
"Some people, your ego mightn't allow you to admit the Tailteann Cup is the place we should be, but it is where we should be. That's the level we're at, at the moment. Our lads' egos aren't that big, they accepted that's where we should be, but they also accepted we've a real chance of doing something in it.
"That's the attitude they've brought to training and the last three matches.
"One more (win from Croke Park), and then we'll see. Obviously the next one's going to be huge up in Corrigan, and I'd like to think the place will be buzzing. There's such a real good GAA population in Antrim, I hope everybody gets behind this.
"That's one of the things the lads want to change, they want to give Antrim supporters something to shout about. And I think in general, even though some games haven't gone our way, we've given people something to be positive about."
Antrim lost to Fermanagh in the League in gut-wrenching fashion and they were caught at the end when seemingly out of sight, but there seems to have been real growth since as they are now seeing games out.
"You have the experience of losing those games and that's what steels you for the future," McEntee continued.
"If you've suffered at the hands of Down and Fermanagh, and we did suffer as they were hard defeats to take, but you have those in the memory bank and hopefully you learn a bit from them. It steels you a little bit as you can't buy experience in the shop, you have to gain it and most experiences you gain will be bad experience - the ones you learn from most."
ANTRIM: M Byrne (0-1, 45); P McCormick (0-1), P Healy (0-1), E McCabe; D McAleese, C McGettigan, M Jordan; C Stewart, C Hynds; C McLarnon, A Loughran (1-3), R McCann (Creggan, 0-2); P McBride, R McCann (Aghagallon, 1-0), D McEnhill (0-5, all frees).
Subs: C Johnston for C McLarnon (46), D Lynch for C McGettigan (52), R Boyle for D McAleese (64), O Doherty (1-0) for R McCann (Creggan, 70+1)
FERMANAGH: S McNally; L Flanagan, C Cullen, L Cullen; S McGullion, J Cassidy, C McManus; R Jones (0-1), B Horan; C McShea, R Lyons (1-0), R McCaffrey (0-1); U Kelm (0-3), T McCaffrey (0-1), S Quigley (0-4, 1 free). 
Subs: G Cavanagh for C McManus (35), G Jones (0-2) for R Lyons (46), C McGee for B Horan (54), J Largo-Elis for S McGullion (64), D McGurn for S Quigley (67)
REFEREE: Liam Devenney (Mayo)