Antrim Hurling League Division Two 
St Paul's 1-18 Clooney Gaels 5-22
James O'Connell netted a hat-trick and finished with 3-11 overall as Clooney Gaels romped to victory over St Paul's at Shaw's Road on Sunday afternoon. 
The score line might suggest it was one-way traffic, but the opening half was anything but as both sides swapped the lead until O'Connell netted his first goal with the last play of the half to give his side a 2-11 to 1-10 advantage. 
It was a lead they would extend and three goals in a 10-minute spell between the 40th and 50th minutes ensured that the points were secure. 
Clooney started on the front foot with Ronan Graham and James O'Connell dropping the first two scores inside three minutes. 
Lorcan Philips responded for the hosts, but Clooney extended their lead with the game's opening goal. 
A slick attacking move opened up the St Paul's defence and Patrick Graham slipped the ball across to Colla McDonnell to flick home and give his side a 1-2 to 0-1 lead. 
St Paul's hit back as Aaron Carey floated over a point, though three unanswered points followed courtesy of PJ O'Connell, Colla McDonnell and a converted James O'Connell free. 
Back-to-back frees from Daire Stevenson in-between another placed ball from O'Connell had St Paul's within touch and an 11th-minute Lorcan Philips goal reduced arrears further, leaving a single point between the sides. 
St Paul's restored parity through a point from Declan Chapman, although James O'Connell converted his third free of the half and then swung over his second from play. 
Stevenson was first to reply with his third free of the half, Chapman then drew the sides level for the second time and Caolan O'Duibhfinn popped over to ensure his side were ahead for the first time in the half. 
James O'Connell's personal tally rose, converting another two placed balls in-between Chapman's third from play to draw the sides level at 1-10 apiece. 
Clooney would end the half strongly and regained the lead. Owen Neeson swung over an angled point and with the final move of the half a slick move saw the ball popped through the hands and finished with James O'Connell sending a low effort to the net to give his side a 2-11 to 1-10 lead at the midway point. 
The visitors extended their lead upon the game's resumption but points from James O'Connell and Owen Neeson. 
Tiarnan Auld would float over a reply from range, but 10 minutes into the second half the game was almost beyond St Paul's as Clooney fired in their third goal of the afternoon. 
It was another impressive attack that concluded with James O'Connell picking out Donal Graham to slam a low finish past Chris Murray and make it 3-13 to 1-11. 
Momentum was very much with the Clooney men as Ronan Graham sent over a terrific angled score and PJ O'Connell floated over another from distance. 
Points were traded between Daire Stevenson (free) and Eoin Graham before the final two goals of the game arrived. 
Midway through the half, Patrick Graham picked out James O'Connell to hammer home his second goal. 
O'Connell would secure his hat-trick 10 minutes from time as Colla McDonnell and Patrick Graham linked up with Graham's pop across the box dispatched by O'Connell at the back post to ensure his side was 5-16 to 1-12 to the good.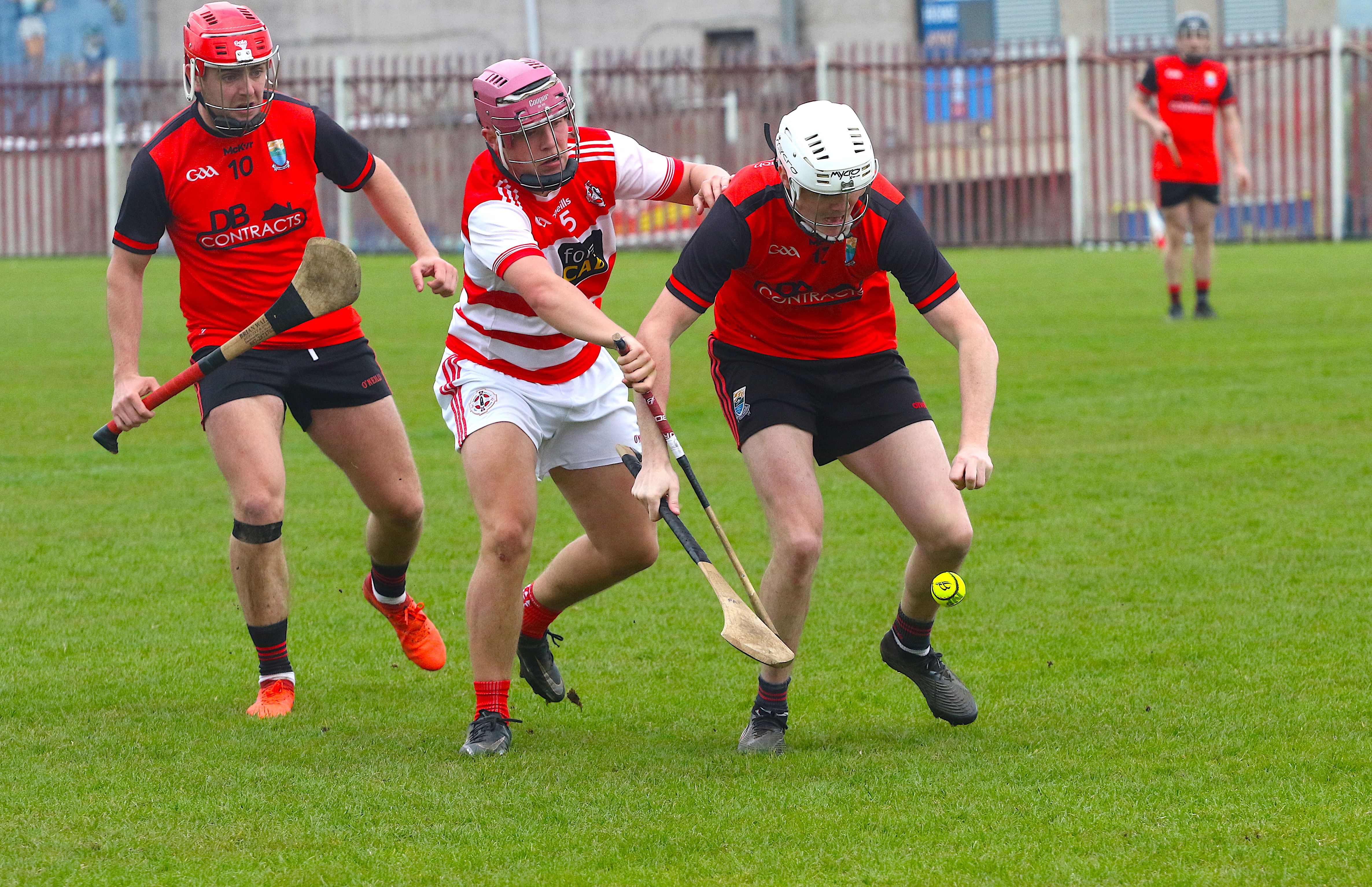 With the game well beyond doubt, St Paul's had a brief period response as Daire Stevenson notched up two further scores - one from distance and the other from a converted free, with Declan Chapman adding to his personal tally in between. 
Clooney matched that with three in a row themselves when Eoin Neeson clipped over his third point of the day and talisman O'Connell added another two points, one from play and the other from a free. 
The last six scores were evenly traded between the sides as substitute Declan McGreevy swung over and Marcus Munce landed a terrific point from range for the hosts, but O'Connell and Neeson replied each time for Clooney. 
Free-takers O'Connell and Stevenson each added a further point in the closing stages of a one-sided half as the visitors ran out 5-22 to 1-18 winners at the conclusion to leave Belfast with the points. 
ST PAUL'S: Chris Murray, C O'Carroll, M Munce (0-1), C Gallagher, T Auld (0-1), L Walsh, T Duff, S Lawell, A Carey (0-1), D Stevenson (0-7, 0-6f), C O'Duibhfinn (0-1), D Chapman (0-5), L Philips (1-1), F Sewell, B Burns. 
Subs: D Maguire for C O'Duibhfinn (33), S Munce for B Burns (37), D McGreevy (0-1) for S Lawell (45), Callum Murray for C Gallagher (55). 
CLOONEY GAELS: A Graham, H O'Donnell, J Magee, D Graham, F O'Neill, C McCloksey, D O'Neill, O Neeson (0-4), PJ O'Connell (0-2), R Graham (0-2), E Graham (0-1), P Graham, C McDonnell (1-1), D Graham (1-1), J O'Connell (3-11, 0-6f). 
Subs: S Madden for D Graham (46), C McGarry for C McDonnell (53), R Martin for PJ O'Connell (53), C Neeson for P Graham (57). 
REFEREE: Hugh Torney (Ballycran)