Ulster U20 Hurling Championship final
Derry 0-12 Antrim 2-13
AIDAN Scullion struck goals in each have and they proved pivotal as Antrim claimed the Ulster U20 hurling title over Derry at Owenbeg on Saturday.
It may officially be spring, but it was certainly more akin to a winter's day just outside Dungiven with the gloom giving way to sleet by the end of the game, yet the Saffrons handled conditions that bit better as they trailed by just one at the break despite playing into the strong wind and although it took them a while to break clear, Scullion's second goal on 47 minutes proved to be the moment that put the argument to rest.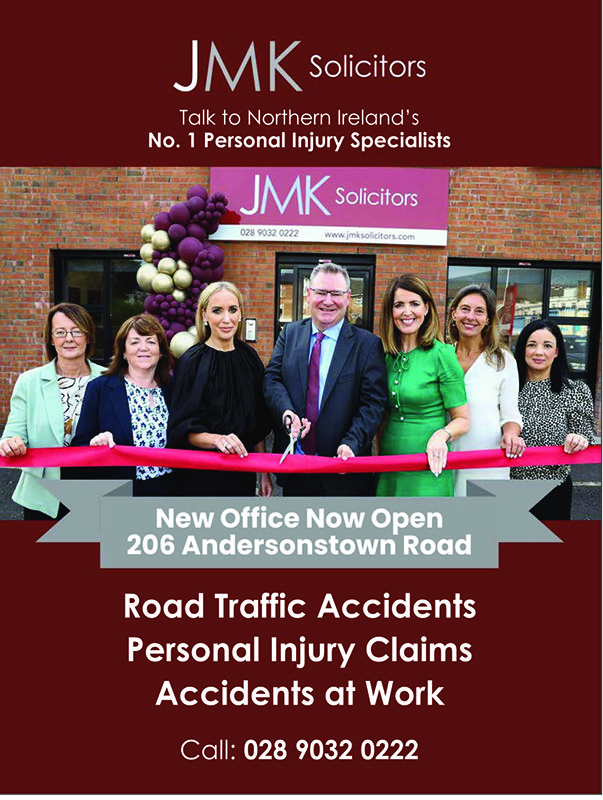 This was a day for dogging it out in heavy conditions, but that the pitch was in any shape for playing given the recent weather was a testament to all at the venue.
Still, it made it a day for digging in and Antrim managed to do that as they just had more in attack and vitally, on the bench to find the answers.
"We have been preaching to them to worry about our own performance and not just react to the opposition," said Antrim manager, Paudie Shivers.
"We're still trying to get that and today was not a vintage performance, but what our lads have in abundance is character and a bit of steel. 
"The lads we brought on: Jack McCloskey, Cormac McKeown, Sean (McIntosh), Darragh Pqterson and Ronan McCollum - they made the difference.
"Everything we've done in the gym over the last 14 or 15 weeks in the gym or on the pitch is to try and make these lads better. The effort the management team have put in too has been unbelievable. It's an Ulster trophy and we're delighted to be going home with it.
"Credit to Derry as they have steel and are gritty - everything that Derry hurling is - and you can see the work they've put in. There was nothing between us and anybody who says Antrim should automatically be beating Derry, well that's nonsense. This competition has shown there's nothing between the three teams (Antrim, Derry and Down)."
Captain of @AontroimGAA Eóin Trainor receives the Ulster U20 Hurling Cup from Ulster GAA Vice President Michael Geoghegan 🏆⚾️#UlsterHurling pic.twitter.com/4R5x4Jwe0r

— Ulster GAA (@UlsterGAA) March 11, 2023
The teams met in the opening round of the group stage at Dunsilly and they effectively picked up where they left off as the exchanges were tough and tight, with little leeway given to either side.
The Saffrons were playing into a stiff wind yet looked a little brighter early on with Aodhan McGarry bursting through, but his drive at goal was deflected up and over off the Hurley of John McAllister.
James Friel was excellent from placed ball in Dunsilly last month and he took little time to get into his stride again, pointing from a free inside his own half.
McGarry edged Antrim back in front with Ruairi Ó Mianain responding when turning back onto his right.
Antrim were working the ball about a little better with their striking crisper and this was exemplified but a score for Nial McGarel Lon 12 minutes as he gathered in the corner and despite the angle and wind to negotiate, managed to split the uprights.
However, this would be Antrim's last score for 15 minutes as Derry began to get a lot more joy around the middle with Friel landing a trio of points (two frees and one 65) but they really should have pressed home their advantage a little more as the wides began to stack up.
They were punished on 27 minutes as Antrim's barren spell came to an end in fine style as Aidan Scullion took and pass and shot low with Derry goalkeeper Cathal McElhinney getting down to the effort, but couldn't get enough on it to keep it out of the net.
McGarel added a point straight after, but the hosts finished the half well as Friel repelled from a free and Keelan Docherty intercepted the subsequent pic-out to drill over from out on the left, while a Friel 65 edged them 0-8 to 1-4 ahead at the half.
Antrim had the elements in their favour for the second period and they certainly had the better of the early exchanges as they upped their work-rate to start to get a grip around the middle, yet were faced with a tigerish Derry defence and particularly, Andy McBride in good form at corner-back.
Aidan Scullion clipped over the equaliser with Aodhan McGarry nudging them ahead and Joe McLaughlin finishing after a powerful run by Eoin Trainor, yet Derry were still well in contention with the margin down to the minimum when Keelan Docherty pointed off a break.
The game-breaker would come on 47 minutes as a long delivery from Daire McMullan's free broke and Scullion was quickest to react to touch home for his second of the day to put clear daylight between the teams.
Segdae Melaugh had looked lively for Derry when introduced and he pointed in response to Jack McCloskey, but Antrim suddenly found another gear and would finish well down the stretch with Ryan Mort (two), Cormac McKeown, Aodhan McGarry and Christy McGarry all raising white as the Saffrons took the title.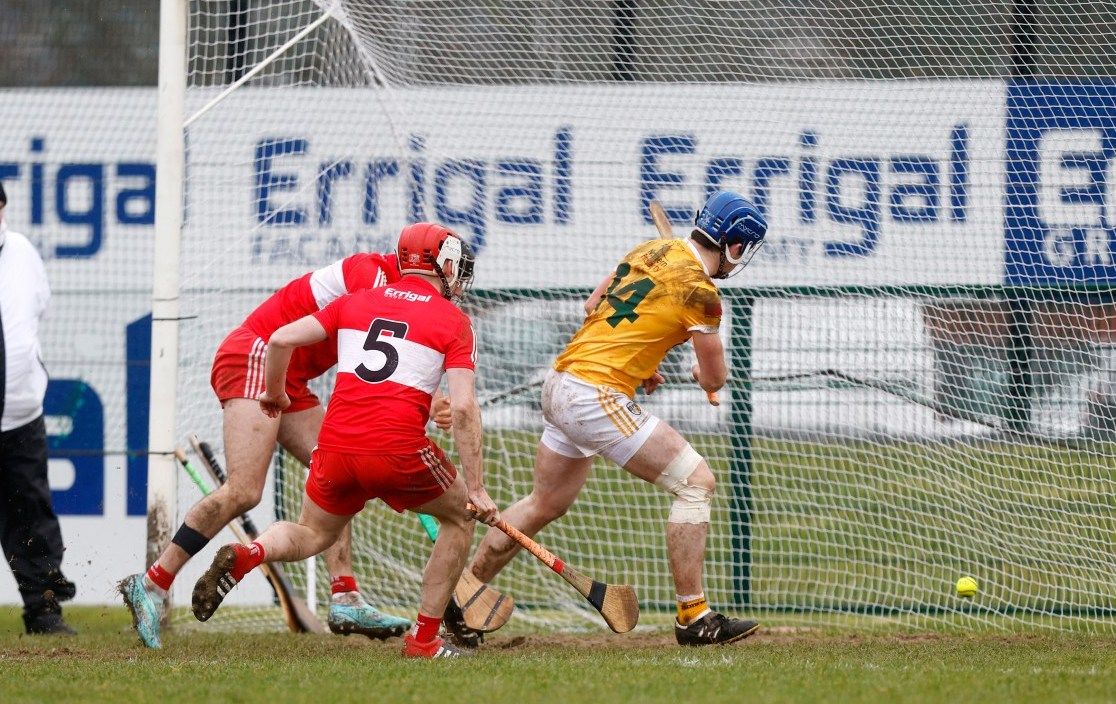 "We were well in the game (at half-time) but we knew we weren't performing to the level we could," Shivers added.
"They were dominating the middle third and the rucks, while we were standing off and seeing what would happen.
"Once Eoin McFerran, Aidan McGarry, Cormac McKeown, Ryan Mort and those lads got into the thick of it, then we started to motor and the longer the game went on, the more we were going to pull away."
The Leinster Championship is next for Antrim in three weeks' time and they will go in knowing that stiff tests lie ahead.
They will head in knowing they have the steel to dig in having won the Ulster title away from home, but the fact that the venue for both the U20 and minor finals was decided by coin toss was a source of frustration for the Antrim manager.
"We're just delighted to get the win as the conditions are more for Santa's sleigh than hurling," he continued.
"This competition has been good in terms of the games we got, but it's a sad state of affairs when Ulster GAA can't find a neutral venue for Minor and U20 finals. 
"We landed here today and the Derry footballers were training before us - that's just disrespect to these lads and to not find a neutral venue is crazy.
"But now we've won the Ulster title, it's into Leinster and we've got Meath, Westmeath and Offaly.
"We're under no illusions as to how difficult that will be, but what an opportunity it is for development."
DERRY: C McElhinney; J McAllister, M McEldowney, A McBride; A Duffin, J Friel (0-6, 4 frees, 2 65s), N McGonagle; R McNamee, C O'Kane; E Cassidy, E Boylan, R Ó Mianain (0-2); C Murtagh, J Cassidy, K Docherty (0-2)
Subs: S Melaugh (0-1) for C Murrtagh (HT), R McLaughlin for R McNamee (37), C Bradley for E Boylan (53), R Hendry for K Docherty (58)
ANTRIM: E Richmod; B McGarry, R McCormick, D Wilson; D McMullan, E Trainor, C Boyle; E McFerran, C Dickson; A McGarry (0-4, 1 free), J McLaughlin (0-1), C McGarry (0-1); R Mort (0-2), A Scullion (2-1), N McGarel (0-2).
Subs: D Patterson for C Boyle (HT), J McCloskey (0-1) for J McLaughlin (41), C McKeown (0-1) for E Trainor (41), S McIntosh for N McGarel (52)
REFEREE: James Clarke (Cavan)